Fred VanVleet's Girlfriend Shontai Neal Has Been His Supporter since Their High School Days
Fred VanVleet's girlfriend had his back since his high school days.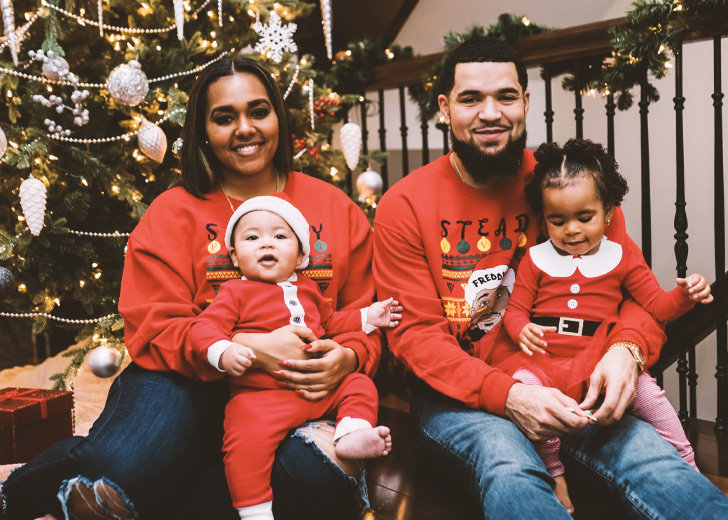 Fred VanVleet, point guard for the Toronto Raptors, went on to become the NBA champion of 2019 despite going undrafted in 2016. It was a result few foresaw given how teams were unwilling to draft him.
However, unlike the teams, VanVleet has had a loyal supporter who has always believed in him, his girlfriend Shontai Neal. The two have been together since their high school days and are still going strong.
Fred VanVleet And Shontai Neal Went To The Same High School And College
VanVleet and Neal started dating when they were both attending Auburn High School in Rockford, Illinois. During the time, he played for the school team and was even named into the All-State selection by the Chicago Sun-Times in 2012.
Because of his athleticism, VanVleet received offers from many college programs. He ultimately joined the Wichita State Shockers, and she followed him to Wichita, attending the same college.
The NBA champion joining the Wichita State Shockers was a much-needed addition to the team and helped them reach the final four in the 2013 NCAA Men's Division I Basketball Tournament in his freshman year. 
He also helped the 2013-14 team to the first 31-0 regular season in the NCAA Division I men's basketball history, earning him the accolade of Missouri Valley Conference Men's Basketball Player of the Year.
And while VanVleet was taking the Wichita State Shockers to greater heights, Neal was earning a Bachelor's degree in health/health care administration/management. She was doing great academically and was a Dean's Lister in 2013 and 2016.
Fred VanVleet Is Father To Two Kids
VanVleet and Neal are the parents of two kids. The couple welcomed their first child, daughter Sanaa, on January 29, 2018. Their family of 3 grew bigger on May 20, 2019, when son Fred Jr, was born in VanVleet's hometown of Rockford, Illinois.
VanVleet spent the night at home in Rockford, Illinois with his girlfriend & their newborn son, Fred Jr. He made the 90-min drive to Milwaukee this morning, got in around noon and squeezed in a quick nap. Hasn't had much sleep, but said the emotional high is carrying him through. — Josh Lewenberg (@JLew1050) May 24, 2019
Just a day prior to his son being born, he had helped the Raptors survive a double-overtime against the Bucks in game 3 and eventually beat them. After flying to his hometown for the birth of his son, he flew back the very next day to play in game 4.
VanVleet said the following about how welcoming a second kid had changed his perspective on things when talking to ESPN.
It makes you tired. It gives you a little perspective, I guess, on life. I had a lot of time to think. Had to sit at the hospital all day, had a lot of time to think, obviously a plane ride back. It just changes the way you are looking at things. You are not so down on yourself about everything.
The basketballer frequently takes to social media to share a picture of himself and his kids.
Neal does not make many posts, but often shares stories about her husband and her kids.
VanVleet and his girlfriend have been together for roughly a decade now and are parenting two kids.
The two aren't married yet, but it wouldn't be surprising if he took her as his wife in the near future.