Frank Skinner's Partner Cath Mason Declined His Proposal Four Times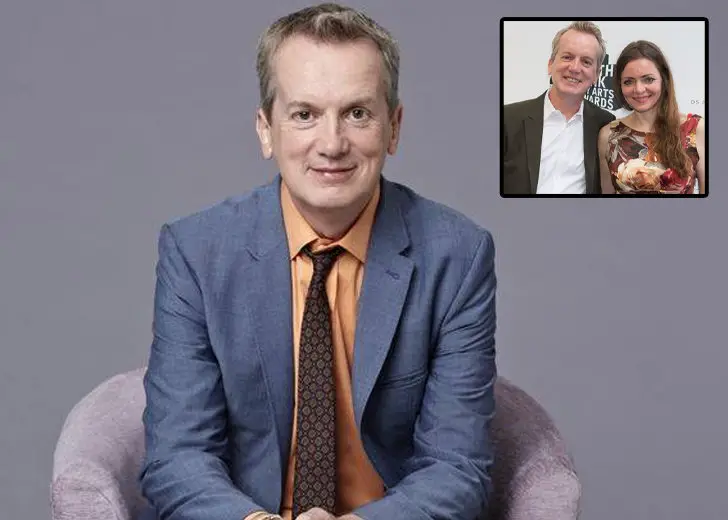 Frank Skinner is a respected comic in the industry and admittedly an avid thinker. One of the things he liked to dwell on was his relationship with his girlfriend, Cath Mason. 
The two of them have been together for almost two decades as of this writing and are still very much in love. 
But then again, Skinner has asked his partner to become his wife on not one, not two, but four different occasions, only to be turned down each time. 
Frank Skinner's Candid Relationship
In typical Skinner fashion, he describes his relationship with his partner without the glitz and glam Hollywood filter. 
Take his Dailymail interview as an example.
Skinner candidly admitted that Mason was difficult to be with and that she told him the same often. No wonder they fought a lot. 
They even split up multiple times. However, in time, both of them realized that they needed to sort things out if they wanted to be together — hence the couple's counseling. 

Frank Skinner with his partner Cath Mason (Source: Twitter)
The counseling helped, and the actor shared that they resolved quite a few things between the two of them. 
We found ways to resolve rows rather than just walk away, because I never actually wanted to walk away from her. 
Before Frank Skinner Met Partner Cath Mason
Before Skinner found his way to Mason, he was happily living the bachelor's life which entailed his newfound fame. 
He was well aware that the appeal he had came from the fact that he was on telly but was never bothered by the fact. He was never a ladies' man. 
"To be honest that didn't bother me," he confessed, "I thought it was great that women wanted to sleep with me."
He was slowly getting tired of that lifestyle when he met his partner, Mason. 
How Frank Skinner Knew His Partner Mason Was the One
"Then I met Cath and I showed her a documentary called Crumb, about an American cartoonist [the satirical and controversial Robert Crum]," he shared. 
At the time, he knew for a fact that if she loved the "weird, obscure" documentary, then she'd be the woman he had to spend the rest of his days with. 
"It's why I could never properly walk away. I love her," he confessed. 
It might be noteworthy that 'Teenage Dirtbag' by Wheatus was their song because both of them felt like a couple of misfits who found their way to one another. 
Frank Skinner Wanted Cath Mason to be His Wife
There were rights & wrongs in their relationship, but they were willing to deal with all of it as it came. 
Maybe that's why Skinner thought of making Mason his wife. To date, he has asked her to be his wife on four counts. Sadly, he was turned down on all four counts. 
Turns out, Mason didn't believe in the institution of marriage, but Skinner did. 
"I will keep trying," he still affirmed to the outlet. 
In another interview with Mirror, the comedian outed that through couple's therapy, he'd learned that his partner, who he very much wanted to make his wife, was not one to give in to change. 
He also found out that for a long time, he'd been getting in the way of their growth by trying to mold her to his liking and forcing her to accept the label of a wife. 
You either want to go out with Cath as she is, or you need to go out with someone else. That was quite a big thing for me and I became much more accepting.
That's when the realization hit him; the relationship would work much better if one person in the relationship did most of the giving in. 
At that point, he decided that he would be that person. 
The couple is parents to son Buzz Cody Skinner, born in 2012.