Is Frank Grillo Dating Anyone after Split with Ex Wife?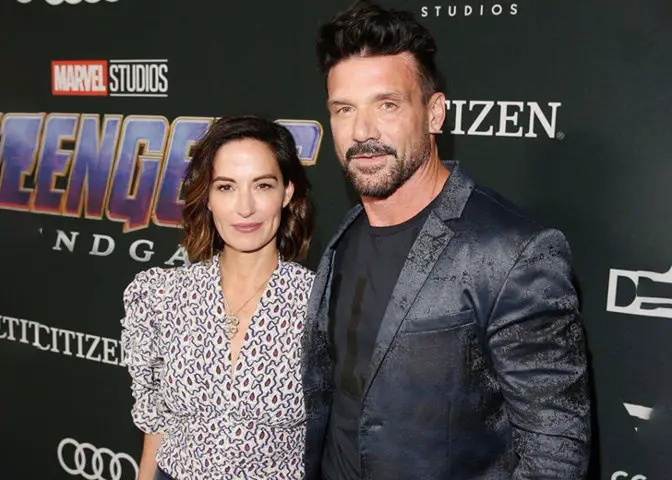 Frank Grillo and his second wife Wendy Moniz ended their relationship in 2020, after almost two decades of marriage. 
They had first met in the late 1990s on the set of the soap opera Guiding Light and fallen in love at first sight. 
Grillo recounted a scene from the comedy show where Moniz had shot him during his appearance on The Crew in 2017. 
"She kills me. It was love at the first shot," recalled the actor, bursting into fits of laughter. He also joked that he married Moniz because he couldn't stand her. 
Following a lengthy courtship, the duo tied the knot on October 28, 2000. 
Frank Grillo Divorced His Second Wife in 2020
Grillo and Moniz welcomed two kids into their family. Their first son, Liam Grillo, was born in August 2004, and their second son, Rio Joseph, was born in 2008. 
The couple also parented Grillo's other son, Remy, from his previous marriage with Kathy Grillo.

Frank Grillo and his ex wife Wendy Moniz at the premiere of 'Avengers: Endgame.' (Photo Credit: YouTube)
Grillo and his spouse bought a four-bedroom home in Pacific Palisades in California in 2017. While their marriage seemed to thrive on the surface, it apparently wasn't the case. 
In March 2021, People magazine reported that the married duo had filed for divorce. The news outlet mentioned that their separation date was February 21, 2020. 
Grillo's former wife had asked for joint legal and physical custody of their two sons, Rio Joseph and Liam, who were 10 and 15, respectively. 
Frank Grillo Moved on From Ex Wife
After his separation from Moniz, Grillo started dating Australian actress Nicky Whelan. The two were first pictured together in July 2020 during their coffee outing. 
The same year, Grillo traveled to Rome to film Ferruccio Lamborghini's biopic. 
He was spotted enjoying a romantic getaway with his girlfriend in the Mediterranean country on September 22. They were even recognized paying a visit to the Uffizi museum in Florence. 

Frank Grillo with his son Rio Joseph. (Photo: Instagram) 
In August 2021, they were announced to be starring opposite each other in the forthcoming movie Hounds of War.
While the project is in pre-production, Grillo's relationship with Whelan has ended as of this time of writing. The pair broke up around mid-2021. 
Is Frank Grillo Dating Anyone?
Grillo shared about his singlehood while talking to the photographers present at Craig's restaurant in West Hollywood on November 3, 2021. 
The revelation (via Just Jared) came when one photographer interrogated Grillo about his dating status, asking if he was dating an Australian girl. In response, he stated, "No, that's over. I am single." 
He also mentioned there was "no difference" between American and Australian girls. "They are all the same. They are great," Grillo remarked. 
When asked if he was using apps to get back in the dating game, the Purge star said he had no idea "how to do that." He joked he was "100 years old and a [explective] dinosaur."
Apparently, the famed actor is still single. No news of his love life has surfaced after the interview.