Florence Pugh's Dad Taught Her How to Cook from an Early Age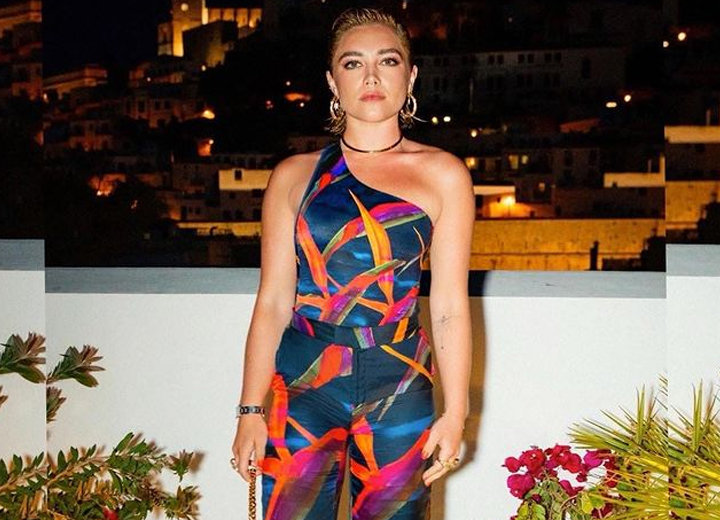 Florence Pugh has always talked fondly about her parents — dad, Clinton Pugh, and her mom, Deborah Mackin. 
Her dad is a successful restaurateur, while her mother is a dancer and renowned actress who probably passed down her love of performing to her daughter.  
But that does not mean Florence inherited nothing from her dad. On the contrary, she had learned to cook from him and utilized it to start a mini cooking series on her Instagram during the pandemic.
She noted she had felt a little off during the pandemic when her father called her and suggested she try cooking again, a hobby she had forgotten about. So she did.
The actress shared all the recipes that her father had taught her as a kid. In the first video, she taught her fans to cook "banged up veg [vegetables]." In another tutorial of herself making toast, she gave all the advice her father had passed down to her. 
"A crucial part of this recipe that I got taught very early on from my father is that there's no point in having a good piece of toast unless you've got good butter with it, too," said Florence. 
Who Is Florence Pugh's Dad?
Pugh's dad is more than just a successful restaurateur. Clinton is said to have single-handedly transformed Cowley Road in Oxford, England, into the cool hub it is now. 
The restaurateur came from a family with a catering background, and his parents once owned and managed a modest hotel. So he always knew he wanted to work in catering, and he earned a diploma in restaurant design.
With passion and hard work, Clinton opened the glamorous Baedekers to Cornmarket, the Mexican La Cantina Kazbar, and Cafe Baba. 
He also had a fine dining establishment, The Lemon Tree on Woodstock Road, the sophisticated Grand Cafe on the High Street, and many more. But the most famous one was Cafe Coco.
Clinton built Cafe Coco from the ground up, and it has a special place in his heart. He designed the entire cafe on his own and opened it in 1992. 
However, in 2019, the designer sold some of his restaurants even though they were doing well. At 61, Clinton was tired and wanted to take a break. 
Clinton Pugh Is a Loving Father
One would probably think that with that many restaurants to manage, Clinton sacrificed his family for his career. But that's not true. 

Florence Pugh with dad and mom at the Oscar. (Source: Instagram)
Clinton is a family man who loves his children and wife dearly. Apart from Florence, he is also a father to Arabella Gibbins, Toby Sebastian, and Rafaela Pugh. 
In August 2022, during an episode of Running Wild with Bear Grylls: The Challenge, the Little Women star said her parents and siblings moved from England to Spain during her childhood because of health reasons. 
She revealed she had asthma and tracheomalacia, which caused breathing issues. The doctors advised that a hotter climate would be better. And so the Pugh family packed up and moved to Spain. 
"My parents were young and had three kids and decided to just 'vamanos.' So I want to do that when I'm older, as well. It's such a nice way of just thinking and looking at things, and just picking up and going and living somewhere," said the actress.