'Teen Mom' Star Farrah Abraham — Then and Now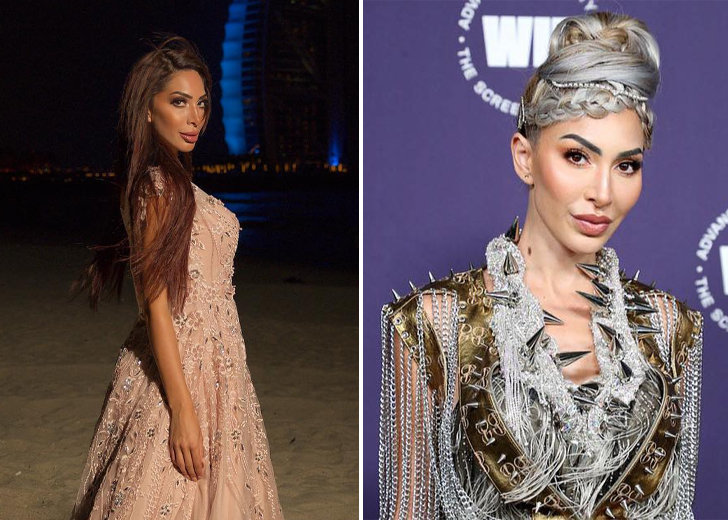 Farrah Abraham gained popularity after being cast in 16 and Pregnant and later in Teen Mom.
There is a lot of difference between then and now when it comes to Abraham. 
She started as a reality TV star, but now, she is a singer, activist, student, and author. Here is everything about her, from her then and now transformation, boyfriend, and what she is doing now. 
Farrah Abraham — Then and Now
Abraham's transformation throughout the years has been admirable. When she was 17, she was chosen to feature on the MTV reality series 16 and Pregnant in 2008.
She was a cheerleader who got pregnant by her boyfriend, Derek Underwood. She also had a rocky relationship with her mother, Debra Danielsen. 
Danielsen did not like her daughter getting pregnant but did not want her to have an abortion.
Moreover, Underwood died in an automobile accident almost two months before his child was born. 
Because of these issues, Abraham had a stressful pregnancy — both mentally and physically. Regardless, she gave birth to a beautiful baby girl, Sophia, on February 23, 2009. 
After 16 and Pregnant, the reality TV star joined Teen Mom alongside her castmates, Maci Bookout, Amber Portwood, and Catelynn Lowell.
The show featured the rocky relationship between Abraham and her mother. 

Farrah Abraham posing with her daughter, Sophia. (Source: Instagram)
In January 2010, Danielson was charged with assault in an Iowa court for punching Abraham.
The latter began attending a therapist to work through her mother's behavior, and feelings about Underwood's death.
To make matters worse, she was also sued by Underwood's mother.
After proving Underwood's fatherhood to his family with a paternity test, Abraham was sued by his mother for visiting rights. 
The reality TV star joined the music industry on August 1, 2012, and released her debut album, My Teenage Dream Ended. The same year, she released her memoir of the same name. 
After that, she has released four books — Passy Perfume in 2012, Celebrity Sex Tape: In The Making in 2014, Celebrity Sex Tape: The Secret's Out in 2014, and Celebrity Sex Tape: Love Through Limelight in 2015.
In 2013, she was found guilty of driving under the influence. She pled guilty and had six-month probation and court-mandated sobriety.
Additionally, she was fined $500. Similarly, in 2018, she was arrested for trespassing and misdemeanor battery. 
She was charged for allegedly assaulting male security at The Beverly Hills Hotel. 
After Teen Mom, she appeared in other reality TV shows like Celebrity Big Brother, Couples Therapy, and Being Farrah. 

Farrah Abraham with her daughter, Sophia, in Venice. (Source: Instagram)
She also filmed two adult films with the adult star, James Deen, named Farrah Superstar: Backdoor Teen Mom and Farrah 2: Backdoor and More. 
It is obvious from Abraham's then and now pictures that she has undergone plastic surgery. She has had rhinoplasty, boob jobs, lip fillers, and chin implants done on her body. 
Farrah Abraham Boyfriend - Then and Now
After Underwood, Abraham has had a few public relationships. Her first serious boyfriend after Sophia's birth was  Simon Saran. 
The two had an on-off relationship, which was frequently featured on Teen Mom OG. However, after dating for almost two years, the couple split in 2017.
Abraham then dated Aden Stay, a Hollywood stuntman, in 2018 for a short time.
In February 2020, the reality TV star's boyfriend was Daniel Ishag, but the relationship lasted only a couple of months. 
The Sun reported that Sophia broke off their relationship, claiming that Ishag was immature. It is unknown if Abraham is dating anyone.
However, she is still devoted to her dead partner and her daughter's dad. Both Abraham and Sophia pay tributes to Underwood on their Instagram often. 

Farrah Abraham with her daughter, Sophia, in Ski Dubai. (Source: Instagram)
What Is Farrah Abraham Doing Now?
Abraham and Sophia released their single, 'Jingle Bell Rock' in 2020. The two often post pictures together and do Instagram sponsorships as well. 
According to Abraham's Instagram Bio, she is currently studying law. She usually makes videos on it for her social media and teaches her fans how to study effectively. 
Talking about reality shows, Abraham is returning to her roots for Teen Mom: Family Reunion. The show was released on January 11, 2022, but she teased it a little in an interview with People. 
She revealed she was attacked physically but did not reveal who did it.