Eugenio Derbez's Elaborate Theatrical Proposal to His Wife Alessandra Rosaldo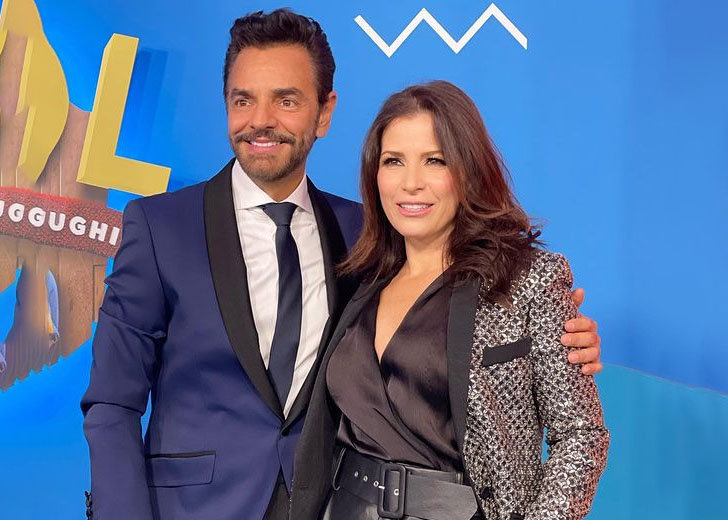 In 2012, actor Eugenio Derbez asked his wife Alessandra Rosaldo if she would marry him.
However, Derbez's proposal wasn't a run-of-the-mill act. 
He hired street artists comprising performers and musicians to accompany him while he strolled toward Rosaldo.
Eugenio Derbez's Proposal to His Wife Alessandra Rosaldo 
On the day Rosaldo got proposed by her then-husband-to-be, she was enjoying a meal at a restaurant in Mexico.
Soon after, music from a bagpipe being played caught her attention.
At this moment, she noticed that a marching band had started performing right in front of her.
The act became more interesting after a stilt-walker approached Rosaldo, leaving her in amusement.
Later, an individual, disguised as a masked prince, wearing a white outfit and riding a white horse, made their way toward Rosaldo.
Right when she was trying to comprehend the events unfolding before her eyes, the horseman took off his mask and knelt before her.
The mystery man in question was later revealed to be her current husband Derbez, who opted to propose to Rosaldo in a theatrical manner.
Tears of joy were spotted on her face after Derbez flashed a ring in front of her.
Rosaldo, who looked completely overwhelmed with emotions, gave Derbez a close embrace.
After the mystery was uncovered, the couple who looked relived in each other's company was cheered on by the watching crowd.
Among the mass of people surrounding the love birds were the performers who began singing and playing music to make the moment more special.
Actress Rosaldo later left the scene riding along with Derbez on horseback. 
The entire proposal was caught on television camera and later televised on Mexican television.
According to Elcomercio, the couple married in the same year on July 7 at the Temple of Regina Coeli, located in Mexico City.
Fans watched their beloved actors get married after their wedding was televised in Mexico.
Reportedly, around two hundred police officers were deployed to guard the perimeter to keep the commune's tranquility undisturbed.
Inside Eugenio Derbez and Wife Alessandra Rosaldo's Married Life
Earlier in 2021, the husband and wife celebrated their ninth wedding anniversary. 
To mark the occasion, Derbez took to his official Instagram account and posted a montage featuring their intimate moments together as a couple.
The actor also wrote a touching caption where he thanked his wife for "putting up" with him and called himself "more of a toad than a prince."
At the same time, Rosaldo too made her affections for her husband public via her social media account.
In her caption, she paid tribute to their married relationship and wrote words of intimacy, calling Derbez her one and only.
Presently, the couple has a daughter named Aitana. She is seven years old.
However, the popular actor's marriage with Rosaldo isn't his first.
Derbez was previously married to his ex-wife Victoria Ruffo with whom he shares son Jose Eduardo Derbez.
Eugenio has four kids with four different women. He had his eldest kid, daughter Aislinn Derbez, on March 18, 1986, with former partner Gabriela Michel.
Then, on February 18, 1991, he and his then-partner Silvana Prince welcomed their second son Vadhir Derbez.