Eugenia Cooney Addresses Accidental Nip Slip That Got Her Banned on Twitch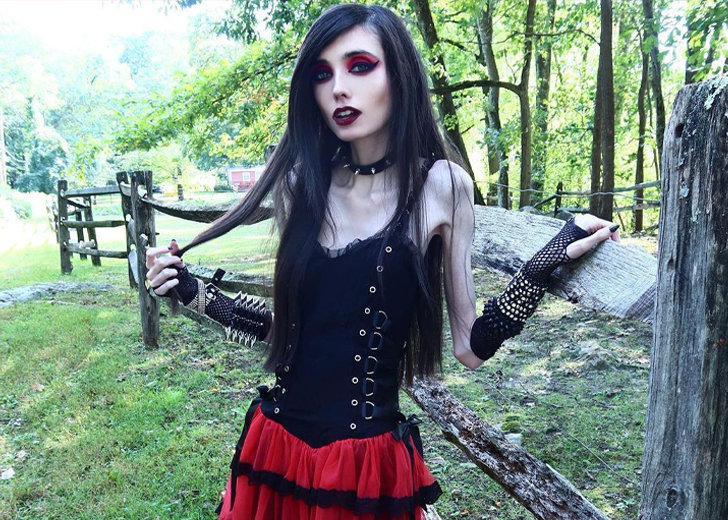 Eugenia Cooney recently made headlines, but not for the usual reasons. She is a YouTuber and Twitch streamer often criticized for her appearance.
On February 18, 2022, she received a Twitch ban, which divided the internet. It was reported that the ban was because of the nip slip she had while she was streaming.
Many believed she was flashing, while the other half thought it was merely a wardrobe malfunction. Finally, Cooney took to YouTube to explain what happened with her and the Twitch ban.
Eugenia Cooney's Twitch Ban Because of Nip Slip
This was the first time Cooney was temporarily banned from Twitch. Initially, many thought the ban was placed because of her glorifying eating disorders.
She has admitted to having eating disorders, but she has also claimed that she never glorifies it.
Regardless, many petitions have been signed to deplatform Cooney and get her banned from social media platforms like YouTube and Twitch. 
So when Cooney received her first ban, fans presumed it was because of all the petitions. But later, it was confirmed that the Twitch ban was because of her nip slip or unintentional flashing. 
After she was banned, a drama commentator, Rich Lux, reached out to Cooney and asked her about the situation. Via DMs, she confirmed she was banned temporarily for a day because of a nip slip.
It was because a fan asked to see her makeup closely while she was live on stream. So, while she leaned forward, she had a wardrobe malfunction, and her strapless dress slipped.
As a result, she accidentally and unintentionally flashed to her fans on the platform and hence got banned. Moreover, the clip of her wardrobe malfunction was reported and taken out of context.
However, Twitch did not confirm the reason for the ban. Cooney was unbanned from the platform after a day, seven minutes and 28 seconds.
Eugenia Cooney's Explanation for Flashing 
On February 20, 2022, Cooney uploaded a video on her YouTube channel titled 'I Got BANNED...I'm Sorry.' There, she said the same thing as she told Lux.
She understood why she received a one-day Twitch ban and apologized for it. However, she claimed the nip slip was not intentional, and once she realized it, she stopped the stream. 
But the damage had been done. The clip of her accidental flashing was reposted on different channels, and Cooney took one of the clips down from YouTube. 

Eugenia Cooney posing for a picture. (Source: Instagram)
She clarified she did so because she was not comfortable with her wardrobe malfunction being publicized in such a negative sense. It was taken out of context, so she took the clip down to protect herself.
After she got banned, many claimed that this was not Cooney's first wardrobe malfunction. She had allegedly flashed before, but the streamer claimed she had no reason to stream her nip slip.
She reiterated she had done nothing on purpose and everything was purely accidental. She confirmed she loved the platform and her followers too much to risk her career on it. 
She also squashed all rumors of her having secret deals for flashing on stream. In the end, she apologized to Twitch and her followers and thanked them for supporting her.