Who Is Eugenia Cooney Dating? Is She Serious about Her Boyfriend?
Eugenia Cooney + Jack Skellington = Forever.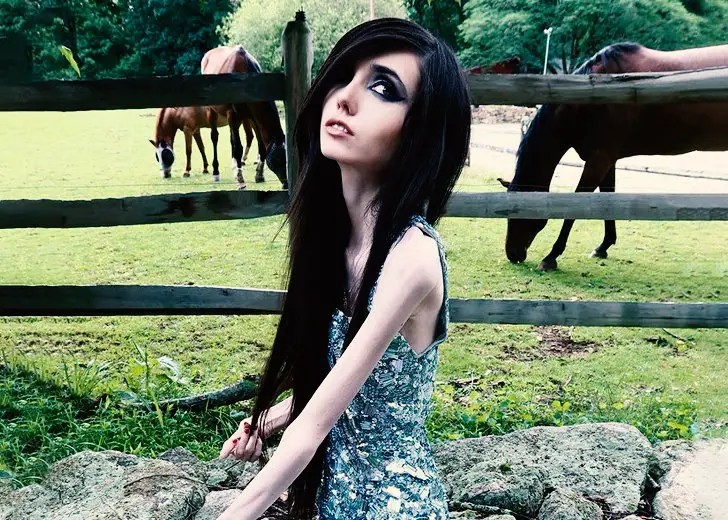 Eugenia Cooney is a YouTuber and social media personality who has been active on YouTube since 2011. She usually uploads vlogs, clothing and beauty hauls, and cosplay videos. 
Even though Cooney has been on social media for almost a decade, people want her out of the internet. This is because of her eating disorder and the controversy surrounding it. 
People believe she is promoting eating disorders and has been a prominent figure in the pro-anorexic community. Moreover, her pictures have been circulating as "thinspiration."
Cooney has addressed these allegations a couple of times, saying that she has not promoted the disorder. She has also denied being an inspiration for people with eating disorders. 
While people have been asking Cooney to get out of the internet and get help, the YouTuber continues to upload videos and pictures on her social media. 
Recently, she uploaded a troll video showing off her boyfriend and relationship.
Who Is Eugenia Cooney's Boyfriend?
On October 5, 2021, Cooney uploaded a video titled 'Meet My Boyfriend...' where she introduced her viewers to the love of her life. She started by giving a backstory of how she began dating her beau. 
Cooney said she had known her "amazing boyfriend" her whole life. She met him when she was around six years old and has been obsessed with him ever since. 
She said they had been together for a while now, and the relationship was getting serious since he moved in with her. Cooney had nothing but good things to say about her boyfriend. 
The YouTuber called her partner the best guy she had ever met and dubbed him as the "best boyfriend" she could ever have. She further said he had all the best qualities one would want, and the bond between them was exceptional. 
Cooney gushed about her relationship for a little over a minute, only to show her audience that she was trolling. She revealed her boyfriend to be Jack Skellington. 
Skellington is a fictional character in the 1993 film The Nightmare Before Christmas, as the primary protagonist. He is the "Pumpkin King" of Halloween Town, an imaginary kingdom dedicated to Halloween.
Eugenia Cooney's Obsession with Jack Skellington 
It is evident that Cooney is obsessed with Skellington. In the video, she wished that the fictional character was real so she could have a relationship with him. 
Similarly, she has a lot of Skellington merch —  dolls, plush toys, cushions, clothes, and jewelry.
She had uploaded a similar video in November 2015 confirming that she was obsessed with the character. She showed off her necklaces, scarves, hats, bags, and different toys. 
Some of the products were also sent to her PO Box by her fans and followers. In a video from 2016 titled 'I Have A Boyfriend,' Cooney once again referred to Skellington as her partner. 
Unfortunately, there is not much information about Cooney's other relationships and dating history, but looking at the situation, it seems like she wants nothing but to be Sally for Skellington.