Erika Jayne Reveals Unpleasant Relationship with Estranged Husband Tom Girardi Amidst Legal Scandal
Jayne continues playing the victim as legal battle with Girardi intensifies.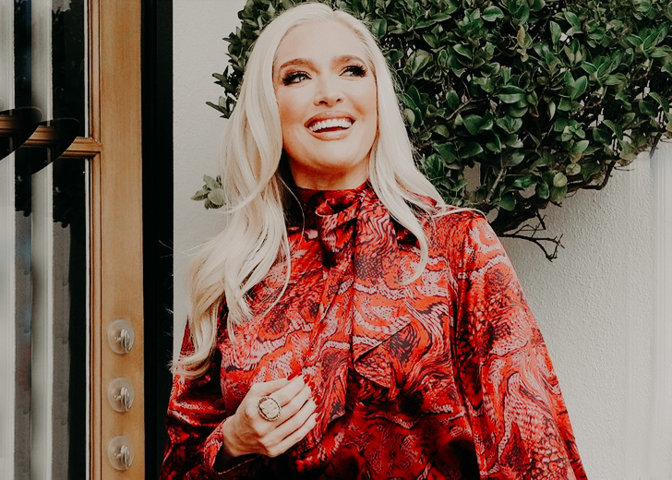 Actress and singer Erika Jayne recently spoke out against soon-to-be ex-husband Tom Girardi. The couple is undergoing one of the most controversial celebrity breakups to date, and it is no wonder Jayne had nothing good to say about her partner. 
On last week's episode of The Real Housewives of Beverly Hills, Jayne opened up to co-star Sutton Stracke about her husband as they spent a relaxing day at the ARTHA wellness sanctuary in West Hollywood.
Upon their arrival, Stracke noticed Jayne's new Bentley and joked that the car was a midlife crisis purchase.
To which Jayne responded, "Is that what I'm having? A mid-life crisis? Based on Tom's two previous divorces, he's a fighting [expletive] until the end. If I got a Bentley out of this divorce, I'd be thrilled."
Stracke then consoled Jayne and gifted her a "divorce kit," and reassured her that she had support from family and friends, which is most crucial in a divorce process.
Jayne also confessed that there were moments she felt "really lost" but that she had not contacted Girardi since they filed for divorce last year in November.
The pair lamented their marriages to "really powerful men," and Jayne stated how "mean and overly dismissive" Girardi is. 
Despite staying married to Girardi for 21 years and receiving financial support from him throughout, Jayne stated she was hurt that her husband did not attend even one of her Broadway shows in New York.
However, she said that her time alone reassured her that she could ultimately be fine living by herself.
Just the Tip of the Iceberg
Jayne's recent comments merely scratch the surface of what is a highly complex, multi-layered legal battle. The estranged couple has found themselves in the middle of several legal controversies.
In a preview for the upcoming episode of RHOBH, Jayne confronts news about a lawsuit that claims her divorce is a "sham" and a way for both parties to protect their assets. 
Chatting with Kyle Richards on the topic, Jayne breaks down in tears and says, "I could have never predicted this [expletive]. This is the end." While Jayne is quick to paint herself as a victim on the show, her real-life dealings seem to suggest otherwise.
In December 2020, Jayne and her husband were accused of embezzling settlement funds intended for the victims' families of Lion Air Flight 610, which crashed in Indonesia, killing all 189 people on board.
Though Jayne declined to comment at the time, she may have already implicated herself in her song XXPEN$IVE in which she says, "I take [expletive] off the runway, my money origami."
The comments section of this song is filled with prayers for the victims and their families.
Many people also openly expressed "disgust" towards Jayne's excessive lifestyle. Jayne also came under scrutiny for attempting to defame Justice Tricia A. Bigelow. 
In a set of since-deleted Instagram posts, she shared texts between her husband and Bigelow, stating: "This is Justice Tricia A. Bigelow. She was [expletive] my husband Tom Girardi and he was paying her Saks bill and paying for her plastic surgery." 
Justice Bigelow's lawyer responded that Jayne could be in serious trouble for doxxing a judge and that Justice Bigelow's and Girardi's relationship ended long before Bigelow met her husband. 
Girardi also comes with a lot of dirt on his shoes. He is a former attorney whose license was officially revoked in 2010. He also co-founded a law firm, Girardi & Keese, which has been sued more than 50 times for misconduct in law practice.
In addition, Edelson PC, a law firm based in Chicago, has alleged that Girardi is on the brink of financial collapse. 
Since then, Giradi, 82, has pleaded poverty in court. He also obtained a diagnosis for Alzheimer's and dementia, hoping to stop participation in the case.
However, the court is seriously reconsidering the efficacy of this medical report.