Eric Dane and Ex Wife Are Still Dedicated to Being the Best Parents for Their Kids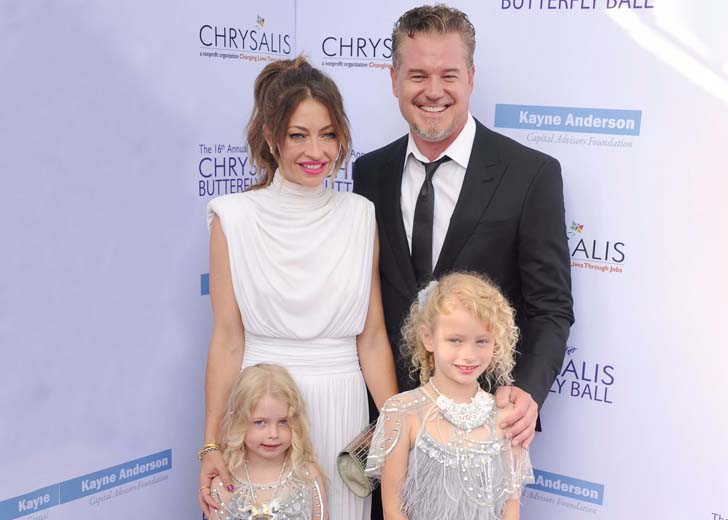 Eric Dane and his ex wife, Rebecca Gayheart, aren't letting their differences create turbulence in their kids' lives.
The Grey's Anatomy actor and the model have always agreed on one thing — their children are their top priority. And they agreed to keep things that way when they ended their marriage in 2018.
Things weren't smooth right from the get-go, but they settled into a good pattern as time went on.
Eric Dane and Ex Wife Rebecca Gayheart Focus On Co-parenting
On February 16, 2018, Dane and Gayheart officially announced they were separating after 14 years of marriage. She had filed the divorce papers earlier that day.
Their family life was one among many things mentioned in their divorce announcement. They expressed their commitment to maintaining a decent family dynamic despite their divorce.

Eric Dane with his ex wife, Rebecca Gayheart. (Photo: Eric Dane/Instagram)
"We will continue our friendship and work as a team to co-parent our two beautiful girls as they are the most important thing in the world to us," the former couple wrote in their joint statement.
In her divorce filings, she asked for joint legal and physical custody of their two daughters. Nothing about their split suggested they had any qualms about co-parenting. 
A year later, in July 2019, Gayheart spoke to People about how their co-parenting relationship was going. She hinted that things had been tough but exciting.
"There's a new normal for me and my family," the model stated. "And it's taken us a little bit to get that down. Not going to lie, it hasn't been easy."
She said that she and Dane were friends and were "doing [their] best to co-parent and maintain a family."
"And I think we're doing a pretty good job of it. Life is just good. There are so many exciting things happening," she added.
As for how they were handling their kids' future, she said they were trying to keep them in school despite both of their daughters having that "acting bug."
She also went right back to work after her split because she wanted to set an example for her kids.
"I think that as a female you need to be able too always take care of of yourself and never depend on a man," she told Us Weekly. "I'm going back to work and I think it's partly because I want my daughters to see me work."
Eric Dane and Rebecca Gayheart's Relationship
Dane and Gayheart first met after being introduced by a mutual friend. After the first meeting, they kept running into each other because they had a lot of mutual friends.
She was giving him hints from the very beginning, but it took him time to notice those. He eventually asked her out, and their 10-month-long dating life began.
A wedding was waiting for the two at the end of that stint. The couple got married in a hurry — they eloped in 2004.
"Otherwise, I would've talked myself out of it somehow," Gayheart recalled their wedding. They flew to Las Vegas, found a chapel willing to marry them "without a license in hand," paid their cab driver Sam fifty bucks to be their best man, and got married.
Then, they checked into a hotel for the night, woke up the next day, got their marriage license, and returned home.
They have kept the birth dates of their two daughters — older daughter Billie Beatrice Dane and younger daughter Georgia Geraldine Dane — a secret. However, not everything about their private life has been a secret.
In 2009, a sex tape involving the now-estranged couple and a third woman leaked. They were in a bathtub, with not many clothes on.
After saying he felt like documenting the whole ordeal in a video was a mistake in 2014, he backtracked on that comment in 2019.
"Absolutely not. Three consenting adults, one of them being my wife? I wasn't doing anything wrong," the Euphoria star told Glamour in August 2019 when asked if he still felt like it was a mistake.