Eric Christian Olsen and Wife Sarah Wright's Blissful Family Life with Three Adorable Kids
The star of NCIS: Los Angeles is married to his long-term girlfriend for nine years now!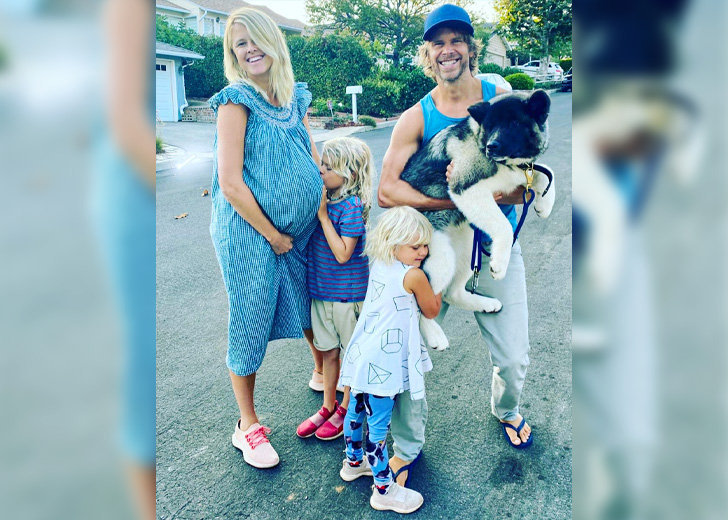 Eric Christian Olsen is known for his role as Detective Marty Deeks on the CBS television series NCIS: Los Angeles, and as Austin in the 2001 parody film Not Another Teen Movie.
The American actor is married to his long-term girlfriend and co-star Sarah Wright Olsen. The couple shares three kids together. Here's everything you need to know about the star duo.
Who Is Eric Christian Olsen's Wife Sarah Wright Olsen?
Just like her famous husband, Sarah is also an established actor in the entertainment industry. She marked her debut with the 1998 movie Enchanted.
She also played the character of Paige Chase in the sitcom Quintuplets as a series regular in 2004. She was portrayed as Chase for 22 episodes until the show ended a year later in 2005. 
Sarah established herself in the television industry when she was cast for The Loop, in which she played the character of Lizzy for seven episodes in 2006.
She has also acted in minor roles in series such as Parks & Recreation and The House Bunny.
Sarah began to rise to fame after appearing in 7th Heaven, when she played the recurring character, Jane, from 2006 to 2007. Her other acting roles include appearances in Made of Honor, Mad Love, and the Netflix series Spinning Out.
How Did Sarah Wright Olsen and Eric Christian Olsen Meet?
The couple met in 2006 on the film set of the Fox sitcom, The Loop. But they didn't click together right away. Sarah described her first impression of her husband as "a big jerk."
During a 2015 interview with ET, Eric revealed that he thought Sarah landed a role in the show because of her good looks and not exactly because she was a good actor.
He told his wife, "You were super gorgeous and not because you were talented and so I was mean to you the first time we met."
Sarah admitted that although she thought he was a bit rude, she later changed her mind as he came up to her afterward and apologized. He even laughed at her jokes.
When Did Sarah Wright Olsen and Eric Christian Olsen Get Married?
After their friendship sparked during the sitcom, Eric and Sarah soon started dating each other. The duo dated for five years before getting engaged in Mexico in 2011.
According to People, the couple walked down the aisle in 2012, in a private ceremony outside their home in Jackson Hole, Wyoming, a year after their engagement.
In June 2021, Sarah took to Instagram to wish her husband a happy ninth wedding anniversary, with a throwback photo from their wedding day. 
"Thank you for all the love, all the listening, for always leading our family in thoughtful communication," she wrote. "For all the surprises, the date nights, and the adventures. I love you. "
Do Sarah Wright Olsen and Eric Christian Olsen Have Kids?
The star couple has a beautiful family of three kids together: two daughters and a son.
Their first child, a baby boy, Wyatt Oliver Olsen, is eight years old, whereas their daughters Esme Olivia and Winter Story are five and one years old, respectively.
Eric welcomed his youngest in 2020 with an Instagram post, giving his followers an insight into what his newborn was like.