Inside Emma Thompson's Family Life with Husband and Kids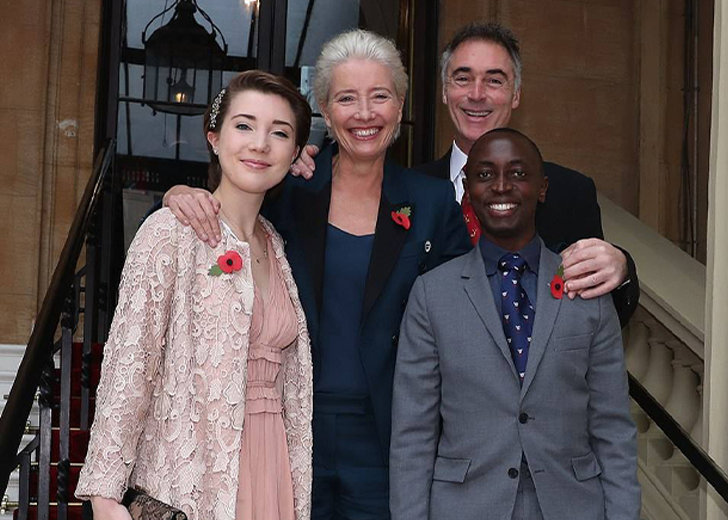 Emma Thompson has been married to her husband, Greg Wise, for 25 years. 
After their wedding, the couple started a family and had two children, daughter Gaia and son Tindyebwa Agaba Wise. 
Thompson was initially married to Kenneth Branagh, but it didn't work out. 
However, in 1995, love came knocking on her door for the second time when she met her husband. 
During her appearance on The Graham Norton Show in 2019, the actress revealed the pair first met on the set of Jane Austen's period drama, Sense and Sensibility. 
The couple was filming alongside Kate Winslet, Hugh Grant, and Alan Rickman. 
Initially, her husband pursued the Titanic star as his "witchy" friend had told him he would meet his life partner on set. 
Thompson explained her husband didn't think it would be her as she was married and quite a lot older than him. 

Emma Thompson and her daughter (Source: Gaia Wise/Instagram)
Wise took Winslet with him to Glastonbury, but she was so bored he thought it would not work out and felt his future partner might be someone else. 
Emma Thompson's Family
Coincidentally, Winslet suggested Wise date Thompson instead of her, as she thought they would make a great match. 
And Winslet was right. Thompson and her husband started dating, and after eight years, they tied the knot.
For those unaware, Thompson's husband is an actor known for various film and TV series, including The Crown, Cranford, and Walking on Sunshine.
However, his life changed when he was cast alongside his wife in his second film, Sense and Sensibility.
In 2019, Wise teamed up with his wife again and wrote the story for the festive film Last Christmas, which starred Emilia Clarke and Henry Golding.
The couple's wedding is thought to have taken place in Argyll, Scotland.
At the time of their wedding, their daughter was three years old. The Cruella actress had given birth to her daughter via IVF when she was nearly 40.
She wanted to conceive again, but falling pregnant was challenging. 
"I would have desperately liked to have had more children, and it's been a great agony for me," Thompson told The Telegraph. 
Emma Thompson on Adopting Her Son
Thompson let nothing stop her from having her second child. 
When her daughter was four years old, they adopted their son, Tindyebwa. 
The couple had met their son when he was 16 at a 2003 Christmas charity event she organized in partnership with the British Refugee Council. 
Their son was a Rwandan orphan who had been kidnapped and forced into being a child soldier in Rwanda. 
As a result, he had fled the country with the help of an aid agency. 
When Thompson and her husband first met their second child, he spoke little English
But that did not stop the duo from bonding with Tindyebwa.
They communicated and got to know one another through "a combination of sign language, laughing, [and] smiling."
Thompson then invited the child soldier to her family's Christmas Eve dinner, and the rest is history.