What Did Elliana Walmsley's Brother Do To Her & Her Mother?
Heavy accusations are being thrown around in the Walmsley household.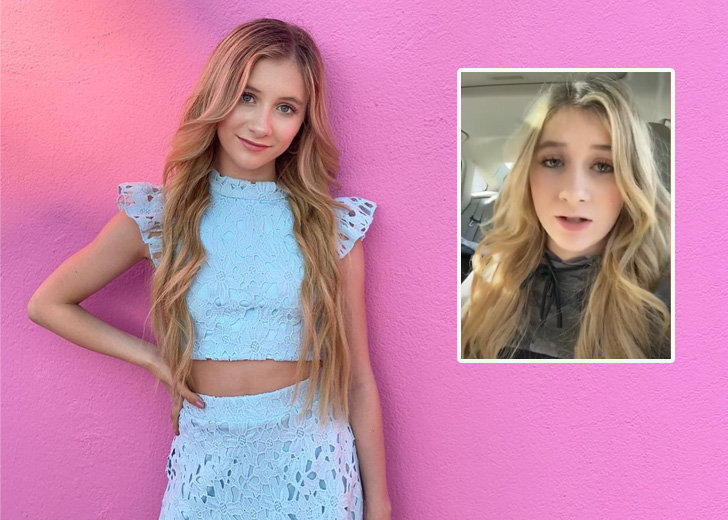 TRIGGER WARNING: ABUSE
 American dancer, model, and social media personality Elliana Walmsley has a tragic story with her brother. When she made her story public, it surprised and shocked everyone that the dancer had to go through such traumatizing situations in life. 
This article focuses on Elliana's Walmsley coming out against her brother, who instead accused their mother of abuse, and the aftermath of it. So here is everything we know about it. 
How old was Elliana Walmsley when she started dancing?
Born on June 23, 2007, Elliana Walmsley is a 15-year-old dancer who has been dancing since a young age. She is most recognized for appearing in seasons six, seven, and eight of Lifetime's Dance Moms from 2016 to 2019. She is also a former member of the Abby Lee Dance Company mini-team. In 2018, she appeared in the inaugural season of Dancing With The Stars: Juniors. 
In addition to dancing, Walmsley has succeeded as a social media influencer and vlogger. Her Youtube channel has 1.75 million followers, and Instagram has 2.4 million followers as of writing. She has also ventured out to acting with the American web series Chicken Girls since 2020. 
The Boulder, Colorado-born star studied at Joffrey Ballet before making her television debut in 2015. She had also been crowned Miss Petite Dance America.
Elliana Walmsley's mother, Yolanda was accused of abusing her children
Yolanda was accused of abusing her daughter Elliana ever since the mother-daughter duo was on Dance Moms. In Season 7, Episode 8 of the reality show, Elliana said she was sorry to her mother for not winning and quickly got out of the room. 
The other moms called out Yolanda for her daughter's weird behavior and hinted that she was abusing Elliana. They also said that Elliana's behavior affected other teens in the group. 
Similarly, Yolanda has been called out various times by the show's and Elliana's fans for emotionally abusing her daughter. 
In addition, in 2020, Elliana's brother Luke started exposing his mother on social media. He usually used TikTok and Instagram to upload videos of his mother being verbally and physically abusive. 
In the videos uploaded, Luke accused his mother of beating him and his siblings, being drunk and high on drugs and kicking him out of the house when he was 15. His videos were re-uploaded by various Instagram pages, where he often responded. 
Similarly, an arrest report of "Yolanda" floated around on the internet. According to the report, she was arrested in Boulder for domestic violence on July 3, 2020. 
Elliana defended Yolanda and accused brother Luke
After Luke started uploading videos to his TikTok, Elliana did the same, but she defended her mother instead. She said that Yolanda had never raised a finger at her.
 "No, my mom has actually never laid a finger on me. She's never hit me; she's never abused me or anything," she defended her mother. 
In an interview with Girl's Life, she said she looks up to Yolanda the most. This is because Yolanda gives excellent advice to her daughter, and Elliana can't do anything without her. 
The dancer defended her mother even in her brother's TikTok videos comment section. She said everything Luke was saying was a lie.
Luke retaliated and reminded his sister of when Yolanda was hitting her, and he had to hold their mother back. While Elliana had only good things to say about her mom, it was not the same for her brother.
Elliana accuses her brother of physical abuse
In the TikTok videos she uploaded to expose her brother Luke in 2020, Elliana accused him of abusing her in several instances. She did not go deep into the abuses because she could not legally do so and claimed that she was protecting him from her "deranged and psycho" brother. However, some YouTubers and Tiktokers have reported that he allegedly "molested" his sister. 
"My brother actually did something really, really terrible to me when I was five years old and has continued to do it. I, for legal reasons, actually can't say what it is," she explained in a video. 
"If it continues to get really bad and he continues to still post stuff,I probably will have to expose it but let's just say it's really really bad and it took away like my innocence. I don't want to talk about it's a very, very, very like sensitive subject for me like I want to cry every time I think about it, but no,my mom is not abusive. Actually, she's just protecting him for me because he's deranged and he's honestly a psycho," she added.
Elliana later uploaded another video in which she further revealed that her brother took her "innocence" when he was ten, and she was five. She also disclosed that the abuse traumatized her and claimed that Luke had been in jail several times for his actions. In addition, she accused Luke of grabbing their mother and shoving her. 
"He's done so many terrible things, like the list goes on and on it's insane, but what he did do like when he was like 10 like he did go to jail. He's been to jail multiple times. Also, like last night he said he was like gonna kill my mom. He's like, next time I see you, you're gonna be dead you're gonna be six feet under, and it's like really scary for me he also grabbed my mom and like shoved her, which was not okay," she recalled. 
She continued the video by relating what led to the viral video of his brother in which he was seen aggressively trying to attack someone. She stated that he and her mother had requested her father not to bring her brother Luker to their place for the "few days" they were there, but he eventually ended up showing up, and "everything blew up," leading to the "big fight."  During the arguments, Luke also stole her phone, and the police had to get it back. 
Meet Elliana Walmsley's family members
Elliana was born to her mother, Yolanda, and her father, Kevin Walmsley. The parents raised her in Colorado alongside her two older brothers, Jakeob and Luke Walmsley. 
The dancer is exceptionally close to her family, except for her brother Luke. Her of her. In addition, Yolanda manages her daughter's career.
Both of her parents are highly supportive of her and have made appearances on her social media.
Are Jentzen and Elliana together in 2022?
Ellina is dating the Youtube actor Jentzen Austin Ramirez, who is a year younger than her. The pair are known as "jelliana."  He was born on August 8, 2006. The pair broke up in December 2021 and again got back together in 2022. 
How much money does Elliana Walmsley make? 
Multiple sources have estimated Elliana Walmsley's networth, and the figures lie between $400 thousand and $5 million.