Inside Edward Bluemel and Girlfriend Mary Beth Barone's Relationship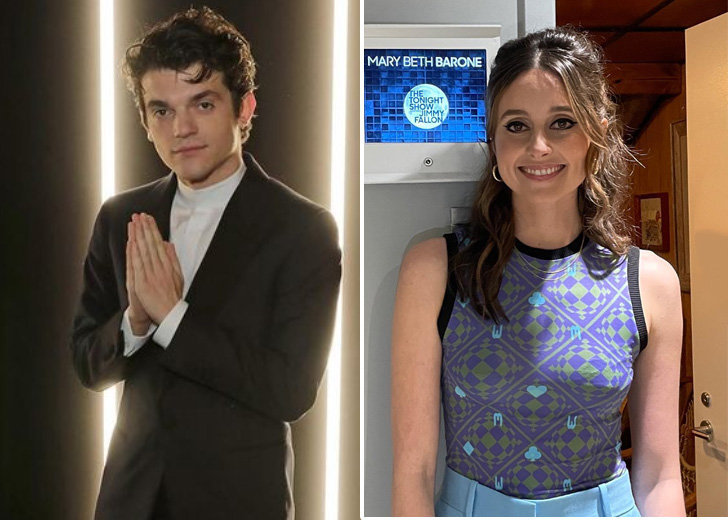 Killing Eve star Edward Bluemel is in a relationship with his girlfriend, Mary Beth Barone. The pair went Instagram official in October 2021 with a post on Barone's Instagram.
In one picture, Bluemel and his girlfriend could be seen posing for a photo together in front of a mirror.
Barone, who is a comedian, didn't forget to include humor in her post, and she posted a picture of Kermit the Frog laying in bed as pink heart emojis floated around him to signify love.

Edward Bluemel and girlfriend Mary Beth Barone went Instagram Official in October 2021. (Source: Instagram)
Barone could also be seen kissing a poster of Edward Cullen from Twilight in another picture.
Though Bluemel and his girlfriend have posted plenty about each other, the duo have revealed very little about their relationship.
Here's a look at who Barone is and her relationship with Bluemel.
Who Is Mary Beth Barone?
Barone is a Manhattan-based comedian, improviser, and actor. She has also appeared in several podcasts throughout the years and hosted a few herself.
Born in 1990, the 32-year-old comedian was raised in Manhattan, New York, where she attended a local high school. Barone later joined a university but dropped out before completing her Bachelor's degree.
Barone then began her job as a front desk executive before turning her attention to comedy.
Since then, Barone has found much success as a comedian. She was named one of Comedy Central's Up Next in June 2019 and appeared in the channel's Clusterfest showcase.
Her works have caught the attention of several well-known publications, with the likes of TimeOut New York calling her standup "dark postmodernism" and "ingenious self-aware."
Vulture also named her among the best and coming comedians to watch out for in 2020, where she was dubbed the "undisputed queen of Hot Girl Comedy."
Barone is also a podcaster who hosts Obsessed alongside fellow comedian Benito Skinner, who is also her best friend.
Aside from her work as a standup comedian and podcaster, Barone has also contributed several op-eds to various publications, including The Cut.
Edward Bluemel & Girlfriend Mary Beth Barone
Not much is known about Bluemel's relationship with Barone. However, both Bluemel and Barone have made several posts to express their love for their partner.
In October 2021, Bluemel uploaded a picture of himself and his girlfriend staring at each other, with a picturesque sea in the background.

Edward Bluemel with Mary Beth Barone. (Source: Instagram)
"Too busy flirting to notice the lads behind us driving off in our brand new super yacht," he captioned the post jokingly.
Barone also dedicated a sweet Valentine's Day post in February 2022, where she uploaded several pictures and clips of herself and her boyfriend together.
"My ten slide pp on why I believe monogamous love still exists," she wrote in the captions.
However, she didn't always seem to view love in such a way. In an article she wrote for Paper Mag back in May 2020, she revealed she hadn't taken dating seriously since a breakup back in 2016.