Robert Pattinson's Movies: Filmography From 'Twilight' To ' The Batman'
Pattinson is now set to play Batman in Matt Reeves 'The Batman' (2021). Here we look at the actor's strange evolution from his much-controversial role as Edward Cullen in 'Twilight' to another disputed casting in 'The Batman'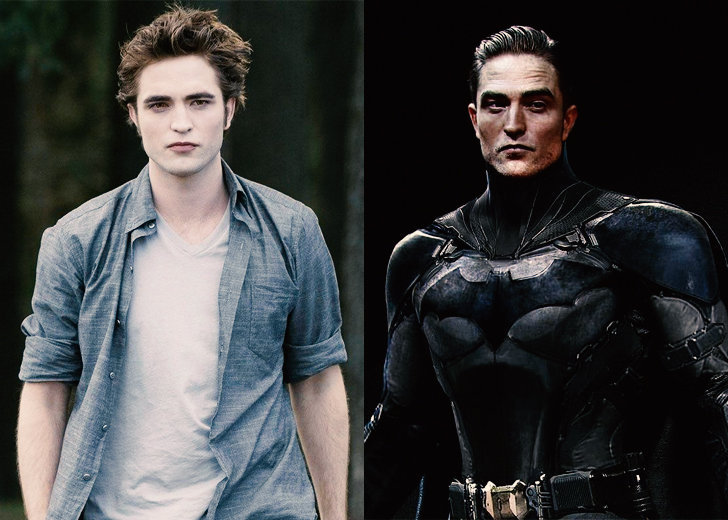 Despite trying to stay off the radar ever since his mega role as Edward Cullen in Twilight (2008), Pattinson has managed to make headlines in every role he plays. 
From playing a rival wizard to Harry Potter in Goblet of Fire (2005) to a sparkling vampire in Twilight to a shady lighthouse keeper in The Lighthouse, Pattinson's career has often taken unpredictable trajectories.
Pattinson is now set to play Batman in Matt Reeves The Batman (2021). Here we look at the actor's strange evolution from his much-controversial role as Edward Cullen in Twilight to another disputed casting in The Batman. 
'Twilight' In 2008
Pattinson made his big-screen debut playing Cedric Diggory in Harry Potter and the Goblet of Fire (2005).
Despite having relatively fewer scenes than his co-star Daniel Radcliffe, Pattinson managed to steal the spotlight whenever he was on screen. His performance in the movie earned him critical acclaim and helped him to become a household name.
However, it was the much divisive role of vampire Edward Cullen in Twilight that brought the actor wider fame. For the role of Edward Cullen, Pattinson beat other contenders such as Ben Barnes, Jason Rathbone, and Henry Cavill. 

Robert Pattinson in Twilight, 2008 (Photo Source: IMDb)
Financially, the film made $407 million with a budget of only $37 million and put Pattinson as the next big Hollywood star.
'Twilight' Sequels & Other Projects
Pattinson then continued to deliver box office results for four consecutive Twilight sequels from 2009 to 2012. The last two films, Breaking Dawn Part One (2011) and Breaking Dawn Part Two (2012), alone earned just north of $1.5 billion with a total budget of $246 million. 
During his tenure as the youthful vampire for four years, he went on to act in other films like Little Ashes (2008), Remember Me (2010), Water for Elephants (2011), Bel Ami (2012) and Cosmopolis (2012). 
These films were smaller productions that offered Pattinson a chance to flex his acting muscles and explore his limits. The success and money he had earned from Twilight gave him the freedom to pursue more offbeat, indie roles at the time. 

Pattinson as Salvador Dali in Little Ashesh, 2008 (IMDb)
From amongst his indie film roles, the most notable one on his resume is Salvador Dali in Little Ashes.
Although the film was widely panned by audience and critics alike, Pattinson was commended for capturing the shyness and flamboyance of the Spanish surrealist artist, Salvador Dali. 
Shying Away From Spotlight
2014
After his massive popularity in the Twilight series and also his impressive offbeat resume in smaller productions, Pattinson was being sought after by many studios. Despite many offers, the actor chose to stay relatively obscure by playing only unconventional roles. 
For the next five years, the actor would choose independent films and would go on to receive wide critical acclaim. 
Pattinson's next two films, The Rover (2014) and Maps to the Stars (2014), would premier at the 2014 Cannes Films Festival simultaneously. 
For The Rover, Pattinson received rave reviews. Variety praised him, stating, "Pattinson was among the chief surprises of the film who brought dignity to a role that could have easily been milked for sentimental effects." 

Maps to the Stars, 2014 (Photo Source: IMDb)
His other Cannes premiere, Maps to the Stars, was a satirical drama on the excess of Hollywood. The film competed for "Palme d'Or," the main prize in the Cannes Film Festival.
His co-star, Julianne Moore, won the "Best Actress Award" at the festival. His other co-stars in the film include Mia Wasikowska, John Cusack, Robert Pattinson, Olivia Williams, Sarah Gadon, and Evan Bird. 
2015
Like the previous year, Pattinson again delivered stellar performances with two indie films that both premiered at the 65th Berlin International Film Festival. 
In Queen of the Desert, Pattinson played  T.E Lawrence, aka Lawrence of Arabia. He starred alongside Nicole Kidman and James Franco in the movie.
After the first movie of 2015, Pattinson received praise for his turnaround in the second Berlin premiere as Life Magazine photographer Dennis Stock in Life (2015). 
Life dealt with the friendship between photographer Stock and Hollywood actor James Dean when the former was assigned to take pictures of the actor.
The film gave audiences the story behind some of the most iconic images in Hollywood, and a peek into the life of a gifted yet troubled persona that was James Dean.
'The Lost City of Z'
With four back to back critically acclaimed performances, Pattinson was gradually shedding his old baggage of only being named as a Twilight star.
But he later took a complete U-turn starring in the large studio production project, The Lost City of Z (2016). The move was a joint production between Paramount Pictures and Plan B Entertainment. 
In the adventure drama that revolved around the search for the supposed ancient city around Amazon, the London native played Corporal Henry Costin alongside Charlie Hunnam as fellow explorer Percy Fawcett, Sienna Miller as Nina Fawcett, and Tom Hollan as Nina Fawcett's husband. 

Pattinson in The Lost City of Z, 2016 (IMDb)
For the role of Corporal Costin, the English actor lost 35 pounds. His acting in the movie earned him rave reviews from critics for his subtle, albeit brilliant performance. 
Good Times and Career Renaissance
Pattinson managed to shake off his infamous Edward Cullen image in just four years since his appearance. The actor stood out from the crowd of actors who are still attached to the characters they portrayed in their early careers.
In 2017, Pattinson starred in another arthouse independent film Good Time by Safdie brothers. Good Time was a neo-grindhouse thriller which the actor himself described as a "really hardcore kind of Queens, New York, mentally damaged psychopath, bank robbery movie." 
The film premiered at the 2017 Cannes Film Festival and critics claimed his performance in the movie. Some even said that it was his career's best film. For the role, he also won his first "Independent Spirit Award" for "Best Male Lead." 

Pattinson in Safdie Brothers' Good Time, 2017 (IPhoto SOurce: IMDb)
After Good Time, Pattinson quickly followed his indie success with another offbeat, eccentric role in Claire Denis' 2018 sci-fi horror, High Life (2018), which was to be his last film of 2018. 
In 2019, his movie The Lighthouse came out with a bang. Upon its release, it was quickly picked by Cannes Film Festival for 2019 premier. The movie was widely acclaimed for the Pattinson's and his co-star, William Dafoe's performance, and the vision from the directorship of Robert Eggers.  

Pattinson and co-star William Defoe in The Lighthouse, 2019 (IMDb)
Pattinson's next two films of 2019, The King and Waiting for the Barbarians, premiered at the 2019 Venice Film Festival with positive reviews. 
Tenet and Step Back Into Franchise
After years of avoiding the spotlight and playing smaller studio roles, it now seems that Pattinson is ready to work with the big-budget productions after being courted by two of the biggest names in Hollywood: Warner Bros. and Christopher Nolan. 
Maybe because it was Pattinson's versatile resume with smaller budget films that convinced Nolan to sign Pattinson for his next 2020 time-bending event film, Tenet.
This move was a good fit for Pattinson since he was only willing to work with interesting directors with a good story at heart. 
During the filming of Nolan's film, the actor was cast in another humongous role of Batman for Matt Reeves' The Batman. The movie set to be released in 2021.

Pattinson's first screen test as The Batman, 2021 (Photo Source: IMDb)
Ironically, the actor has chosen two of Hollywood's biggest projects back-to-back after avoiding years of the spotlight. This move could turn out in favor of the actor since they will be another benchmark in his resume.