Eddie George Wife, Son Net Worth, Stats & Coaching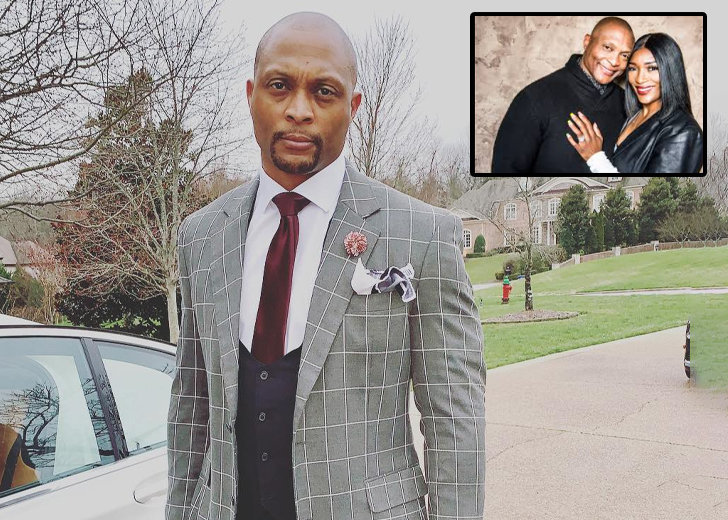 Tennessee State head coach Eddie George has been married to his wife Tamara "Taj" Johnson, also known as Taj Johnson-George, since 2004. Together, the husband and wife are parents to two children.
She is a former lead singer of the now-disbanded Grammy-nominated American R&B vocal trio SWV and an eight-season strong contestant in the famous American reality show Survivor (Survivor: Tocantins, 2009). She had joined the reality series that she never watched after she got a call from the show that they wanted to cast an NFL wife. 
Taj has an estimated net worth of $600,000. 

Eddie George and his wife Tamara "Taj" Johnson (Source: Instagram)
It has been over 17 years since the pair tied the knot, but George and Johnson have only grown closer.
In an Instagram post, George made in April 2021 to wish his wife Taj a happy 50th birthday, he wrote she was "getting better with time," while adding #agelessbeauty at the end.
Read the full article to get exclusive coverage on Eddie Geroge's marriage with his wife, his family, and his children. Also, the article includes brief coverage of his career, net worth, and salary. 
Eddie George  met His Wife Taj in a mall
George first met his spouse at a mall in Orlando in 1994. The former NFL player was there with his former teammate Shawn Springs and spotted the lead singer of SWV.
He approached her for an autograph but recounted she had her hands fully occupied with bags and denied his request.
In a separate interview, George added he felt like she had been very rude and told her he was never buying another album of hers again.
He also made a mental note to get back at her after he blew up.
George won the Heisman Trophy the next year and went out to celebrate at a club in New York. There, he ran into her along with some of her friends.
He was later approached by a friend of Taj. "And I get a tap on my shoulder and it was her friend. And her friend says, 'My girlfriend wants to meet you.' So I walk on over and it was her [Taj]." After that he shared her about the last time he had met with her. 
In her defense, Taj said to him that she didn't follow football, implying that she was not ignoring him intentionally.
The two have been inseparable ever since.
 Eddie George says Wife pressured him to Marry Her
After eight years of dating, George and Johnson got engaged in 2003.
A year later, the two took a step further in advancing their relationship. They tied the knot on June 20, 2004, in Rockleigh, New Jersey.
It took place a month after she earned a Bachelor of Business Administration from Belmont University in Nashville.
In an episode of Oprah Winfrey Network's Black Love, George revealed Johnson had pressured him to marry her.
"You left me with an ultimatum. You said that if by the time you graduated, I had not given you a ring, you were going to leave," he said.
How many Children do Eddie George and his Wife Taj have?
The couple welcomed their only child together, son Eriq Michael George, in 2005. It was a difficult pregnancy and Johnson was bedridden for the first five months of it.
Their son 6 foot and 3 inches son Eriq is also into football. He committed to Tennessee State in January 2023. His dad had once commented that Eriq should not go to Michigan or Jackson State since those were his two prominent rivals when he was himself a player for Ohio State University.
George uploads a picture of his family alongside a Christmas tree to celebrate the occasion in December 2021 (Source: Instagram)
Johnson is also stepmother to George's son from another relationship, Jaire David. She refers to him as her oldest son.
Eddie George's said he didn't Cheat on his Wife
George was subjected to a cheating rumor back in 2012 after the news of him being in pro golfer Rachel Connor's car, while she was caught for DUI, came out.
George later released a statement saying he wasn't cheating on his spouse.
On the day of the event, they had met through a charity golf event and had dinner together with other people attending the event.
He added Connor was simply trying to be nice by offering him a ride as they lived close by.
What is Eddie George's Net worth and Salary?
According to Celebritynetworth, George's estimated net worth is $2 million. He has a five-year contract with the Tennessee State Tigers till 2025. 
According to The Tennessean, the deal makes him subject to an annual salary of $400,000 along with additional incentives of $100,000 (subject to conditions). 
Prior to his coaching career, he had a pro-NFL career from 1996 to 2004. He was drafted by Tennessee Titans in the first round of the NFL Draft.
In 2004, he signed a one-year contract with Dallas Cowboys and the deal was worth $1.5 million plus incentives, but only could play 8 months before he suffered from a fractured scapula
In his professional NFL career as a running back for nine seasons, George's final stats were 10,441 rushing yards, 3.6 yards per carry, 68 touchdowns, 268 receptions, 227 receiving yards, and 10 receiving touchdowns. 
Where did Eddie George go to High School?
After retiring from football, George got an MBA from Northwestern University's Kellogg School of Management. And if you are wondering where he went to high school, he went to Abington Senior High School in Pennsylvania before transferring to Fork Union Military Academy after 10th grade. The school had a disciplined military lifestyle everyone followed.
At the military school, he made a calculated decision to stick up for a postgraduate year to have a higher chance of landing in a reputed college to play football. In his final year with the school, he rushed for 1372 yards. 
Later, he joined Ohio State University where he would major in landscape architecture. There, he had an illustrious career with the Ohio State Buckeyes and he ultimately won the famous Heisman Trophy. He was also named as first-team All-American.