Is Dwight Howard Married? Has Five Kids with Five Different Girlfriends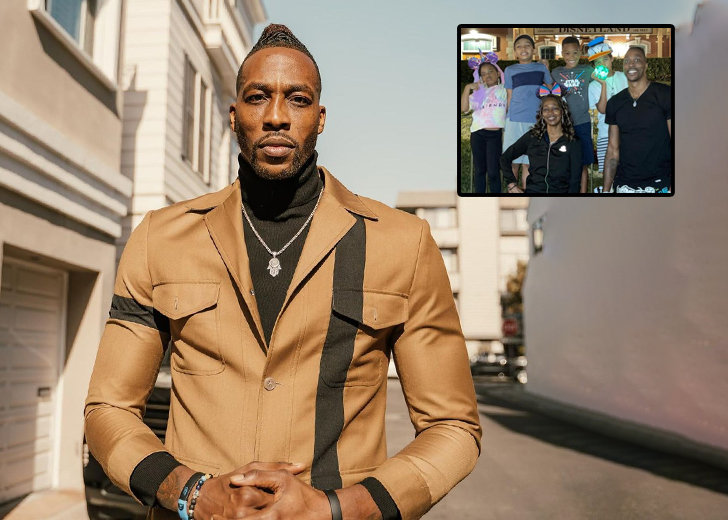 Dwight Howard has a messy personal life with controversies relating to each girlfriend and kids. 
Throughout his 16-plus seasons in the league, basketball superstar Howard has compiled an outstanding resume for himself.
That is not to say that Howard hasn't had his fair share of ups and downs over the last few years.
He enjoyed a rebirth in the 2020 season as one of the Los Angeles Lakers' key pieces. And now, his personal life, particularly his kids, has drawn much attention.
Is Dwight Howard Married?
As busy as he has been on the court, Howard has had a busy life off the court. And his family life has become a significant topic of discussion in recent years. 

Dwight Howard posing for a picture with his kids. (Source: Instagram)
Among them have been his various relationships — five different women, to be specific. And while he has not been married to any of them, he has a child with each girlfriend. 
Howard, better known as the Superman in the NBA, seems to have secretly been married to Te'a Omari Cooper, a professional basketball player. 
And as secret and speculative as their marriage is, so are the reports of their quiet and discreet separation.
With that, he has found himself with many responsibilities and complications. Speaking of which, he made headlines beginning in 2010 with allegations of abuse towards his son.

Dwight Howard's first son, Braylon. (Source: Instagram)
The Abuse Allegations
Howard had his son, Braylon, with his first public girlfriend, Royce Reed. In 2010, the former couple was embroiled in a bitter legal dispute. 
Reed had filed a motion to have Howard undergo supervised visitation with their son, claiming that he was unsuitable.
A judge in Florida concluded that she had breached court orders that barred her from mentioning Howard in the media by the end. He had initially sought approximately $500 million in damages.
He claimed Reed had disparaged him on Twitter and, in her appearances on the reality television show, Basketball Wives. Although the couple's paternity agreement stipulated a $500 fine for each time she mentioned him in public.

The NBA player taking a selfie with his kids. (Source: Instagram)
This wasn't the end of it. In 2014 again, his girlfriend alleged Howard for abusing their son. In addition, the basketball player admitted to hitting his child with a belt. 
He also explained that he had been chastised the same way as a child, and he said he didn't realize it was wrong. As a result, Howard was not charged for the claims.
More recently, in 2021, Howard was in a civil case with another girlfriend, Malissa Rios, over custody of their son David. Unfortunately, Rios passed away due to an epileptic seizure in its midst. 
The case was continued by Edelmira Rios but was soon settled with Howard maintaining primary custody. Currently, according to the NBA player's social media, it seems like he is active in his kids' lives a lot.
All of Howard's children have been out of wedlock. His kids include Braylon, Jayde, Layla, David, and Dwight III. 
In an interview with Graham Bensinger, he mentioned that getting hugs, kisses, and "I love you's" from the children is way better than slam dunks on the court.