Inside Alvin Kamara and Girlfriend Te'a Cooper's Dating History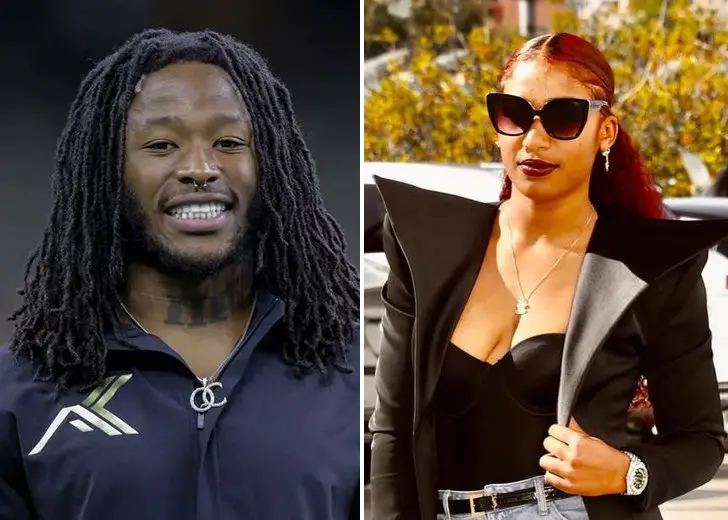 Alvin Kamara and his current girlfriend, Te'a Cooper, went public with their relationship in late September 2021.
But their relationship had been making headlines since a while back. They kept things on the down-low for quite a while.
Here's a rundown on their courtship over the past year or so.
When Did Alvin Kamara and Girlfriend Te'a Cooper Start Dating?
The first rumors about Kamara and Cooper being a thing came in July 2021. It was through his Instagram.
In the last week of July, people noticed Kamara uploaded a story in which he was hanging out with a female companion.
The NFL star did not show her face. Actually, nothing except her nails was visible in the upload.

Alvin Kamara with his girlfriend, Te'a Cooper, during their first public appearance on Instagram. (Photo: Instagram)
It wasn't much, but it was something. And people did not need much, either.
Around the same time, Cooper, too, posted on her Instagram stories. Internet sleuths noticed her nails and found them similar to the ones featured in Kamara's story.
Joining these dots, everyone concluded that the two might be dating or hanging out in the least.
Further confirmation came in September when Kamara posted a few clips from Cooper's game for the LA Sparks. He was there to cheer his girlfriend on.
That was in early September. Then, in late September, they stopped keeping things (relatively) secret.
The couple went Instagram official while appearing on Kamara's IG stories.
They have since been more open about their relationship, even posting having pillow fights with one another on December 22, 2021.
Alvin Kamara and Te'a Cooper's Dating History
Kamara and Cooper had gotten out of their respective relationships when they first started going out. The NFL player had a girlfriend while the WNBA star was someone else's wife.
Kamara was in a relationship with his stripper girlfriend, Just Ace. They had been dating since at least April 2019 and had some social media spats along the way.
For instance, she once publicly called his manhood into question.
But, even though they were dating, Ace constantly denied their relationship. This could have been because of an alleged non-disclosure agreement he made her sign.
He hinted at their breakup on July 1, 2020, through a tweet and confirmed it the next day.
Cooper was in a committed relationship. She was married to NBA star Dwight Howard.
They revealed their engagement in 2019, and she secretly became his wife in November 2020.
Howard first publicly discussed that he was married to Cooper during an interview with The Rematch that year.
However, their relationship wasn't to last. Speculations about their split started when she unfollowed him on Instagram.
She confirmed that later, during an IG live session in April 2021. "No, I do not go out with him. I'm not with him no more," she said during the session.
Cooper also wanted nothing to do with Howard and asked people not to raise further queries about the relationship.
She and Howard did not have any kids during their marriage. He has five kids from previous relationships.