Where Is Dusty Crum Now? Details on 'Guardians of the Glades' Star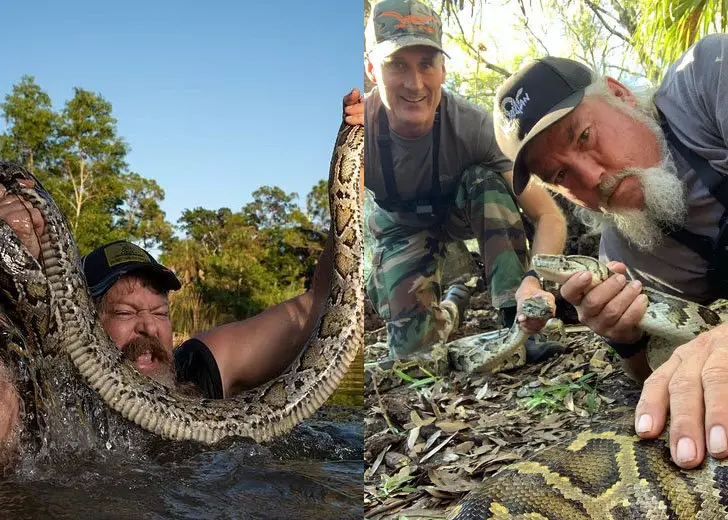 Guardians Of The Glades star Dusty Crum is well-known for being a python hunter whose work to protect Florida's Everglades from invasive species has been documented in the Discovery show. 
Aside from Guardians Of The Glades, Crum has also been a part of other similar shows such as 2020 Python Bowl, Swamp People, and Swamp Mysteries with Troy Landry.
Where Is Dusty Crum Now?
Crum made his TV debut with Swamp Mysteries with Troy Landry in 2018. After that, he made frequent appearances in the aforementioned shows over the next two years.
However, Crum hasn't appeared in any TV shows after 2020 where he appeared in 2020 Python Bowl and Guardians Of The Glades. While the reason for his absence from the TV screens is not yet known, the news of his recent accident was shared by multiple outlets.
TMZ reported Crum got in a major car accident which almost made him lose his leg. The python hunter told the outlet that he was riding shotgun in a truck on a Florida highway on November 2021 when the accident happened.
One of the truck's tires blew, resulting in the driver losing control of the vehicle. Crum revealed the truck fishtailed before flipping 3 times. During the mishap, he said he went out the window and was crushed by the weight of the vehicle.
Crum used his shirt as a tourniquet to stop the bleeding and tried to keep himself awake while waiting for the paramedics. He was later airlifted to Lee Memorial Hospital in the Fort Meyers area and the doctors were able to save his leg with 5 surgical procedures.
Crum is not insured and a friend of his has started a GoFundMe with the goal of raising $20,000 to help Crum get back on his feet. 
Dusty Crum's Salary
While Crum has never revealed how much he makes from his appearances on the shows, Men's Journal previously published an article about how much bounty python hunters got from bringing the giant constrictors in.
According to the article, the water district pays approved hunters a minimum wage of $8.10 per hour up to eight hours a day. Additionally, they pay the python hunters $50 per python up to four feet and $25 per foot after that.
Crum has made many impressive catches over the years, including a 16 feet, 10 inches python and another 16 feet, 11 inches python. However, the largest python he caught was 18 feet, 8 inches in length and it would have earned him $400 in bounty.