Drew Lock Completes Two Years with 'Soulmate' Girlfriend — Inside His Love Life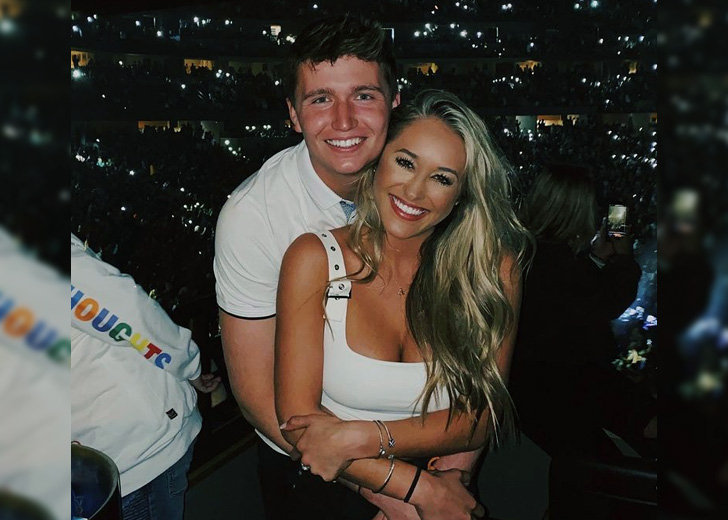 Drew Lock is head over heels in love with his longtime girlfriend, Natalie Newman. And that is evident, as the Denver Broncos quarterback, and Newman, an avid traveler, often posts pictures and videos together on social media.
The couple, who have been dating for over two years, even celebrated their three years knowing each other earlier this year on July 31.
On that day, Newman took to her Instagram to post a sweet snap of the couple and implied that she had a wonderful three years with her favorite person.
In the picture, she stood right by the side of her boyfriend and Lock, who coincidentally sported his number 3 printed jersey, gently put his hands on her back while posing in front of the football field.
"So happy that you two sweethearts are okay...and I'm looking forward to seeing you Natalie in Denver with the rest of family when we play the jets," an excited fan commented on Newman's post.
Another chimed, "My beauties."
Drew Lock and His Girlfriend Started Dating in September 2019
After starting their friendship sometime in early 2018, Lock and Newman eventually decided to be in a relationship in September 2019.
Three months later, the football quarterback also made his relationship with Newman when he shared a snap of the pair on his girlfriend's birthday. On January 1, 2020, he posted the picture, writing,
Happy New Year but most importantly Happy Birthday to this beautiful woman. I'm so thankful 2019 brought you into my life, you bring so many smiles to my face effortlessly! I can't wait to see what 2020 brings us.
Later in September that year, Lock was delighted to announce that he had an "eventful 365" days dating his girlfriend. In his anniversary post, he even revealed that he spent the quarantine with her, and during the period, he taught her fishing while she made sure he had a smile on his face every time.
The same day, she also grammed a series of their pictures and stated he was her best friend and soulmate simultaneously. "With a year full of so many things, loving you has been my favorite...Happy anniversary cutie, I love you the most always," she further wrote in her caption.
Interestingly, both of them didn't post anything on their second dating anniversary in September 2021. However, it is understandable as they have a minimum social media presence. 
Drew Lock's Girlfriend Is an Interior Designer
Lock's girlfriend, Newman, whose Instagram bio suggests she lives between Florida and Colorado, is an interior designer by profession.
Her social media also reveals that she is very good amongst her friends and has traveled to places like Maui, California, New York City, Turks and Caicos Islands, Costa Rica, and Hawaii.
Further, her LinkedIn profile mentions that she is fluent in speaking English and Spanish and has leadership and public speaking skills.