Dr. Disrespect's Wife Has Been with Him through Thick and Thin
Dr. Disrespect's wife, Mrs. Assassin has endured it all with him.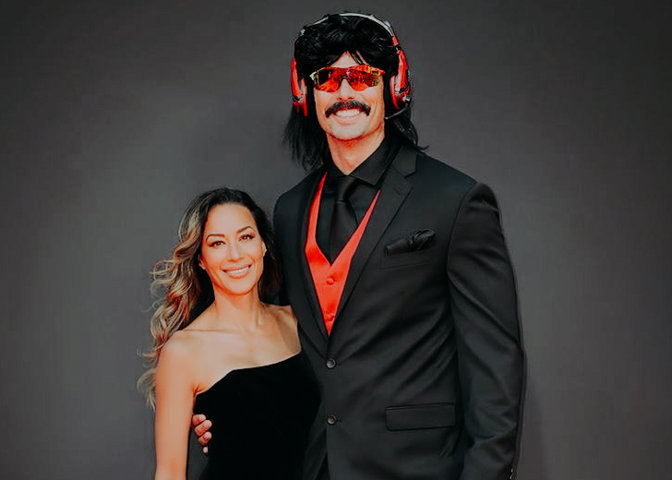 If you are big on Twitch, gaming, and streaming, there's a chance you've at least heard of Dr. Disrespect. However, it's been a while since he was banned from the platform.
He has recently announced he will be suing the live-streaming platform for their ban on him.
Doc has no doubt had a rough year due to the ban. But he has always had his wife, Mrs. Assassin, as she goes on Instagram, by his side through the good and bad.
Unfaithfulness, Reconciliation, And Bad Fortune
Mrs. Assassin has had to endure a lot during her time with Dr. Disrespect. Life with Dr. Disrespect, real name Herschel "Guy" Beahm IV, is not easy with all the attention he gets and the mess he makes.
The couple reportedly got married in 2013, and since then, they have had a couple of hiccups in their marriage. The first, and the most serious one, came in 2017. During a stream in December that year, he admitted to cheating.
In his confession, he teared up and acknowledged his "stupid (expletive) mistakes." Then, he said he was taking a break from streaming, saying, "I'm going to take time off to focus on my family, and I just wanted to let you guys know that."
Further, he extended apologies to Twitch, his followers, and sponsors. But he returned. And he came back with his family, seemingly stronger than before. From that moment, his wife started appearing on more of his streams and videos.
Usually, she appears as a hand that feeds him during the streams, adding a light, comedic touch to his usually stressful streams. However, less than a year after things got back to normal, disaster struck again for the couple.
The couple who is parents to daughter Alana couldn't expand their family of three to become four when Mrs. Assassin suffered a miscarriage in 2018.
Dr. Disrespect announced the loss of what would have been his son during a Twitch stream on June 13, 2018.
Handling Controversies and Bans
Dr. Disrespect is a character Beahm plays online. And with that comes the responsibility of keeping everyone entertained. However, during that process, he has sometimes crossed the line and been labeled as toxic and offensive.
One of those came in 2018 when he was accused of being racist. Jimmy Wong, a musician, called him out for his disrespectful caricatures of Chinese accents and language.
Dr. Disrespect responded to the accusation by pointing to his wife's ethnicity — she is multiracial, hailing from the small island of Molokai — noting that he had a lot of multiethnic, multiracial friends, and calling Wong's callout "laughable."
Then came his feuds with Twitch. Per Variety, the first, smaller ban came in June 2019 when he violated Twitch's privacy rules and California's Penal Code.
The bigger one came in June 2020 when Twitch permanently banned Dr. Disrespect from the platform, with reasons still unknown.
Mrs. Assassin has been supporting her husband through all these. She came out thanking fans for their support after the ban took effect.
With Dr. Disrespect's lawsuit set to make headlines soon, the outcome will be interesting. But even more interesting, or rather heartwarming, will be seeing Mrs. Assassin by his side.