Behind Donald Sutherland and Second Spouse Shirley Douglas' Divorce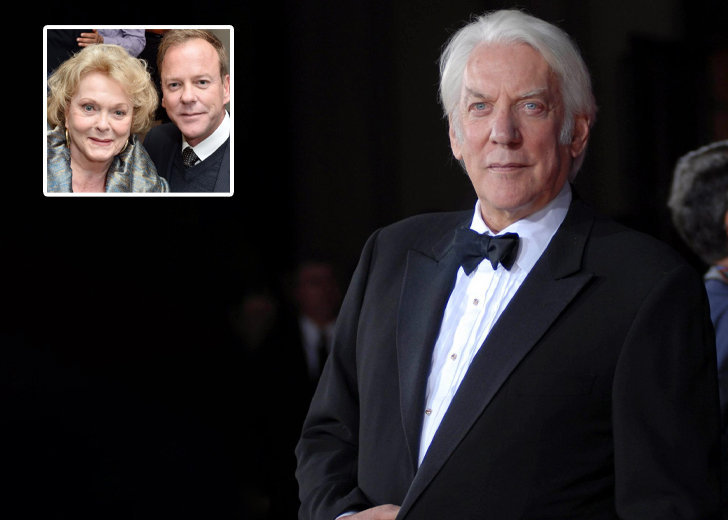 Donald Sutherland, who is currently 86-year-old, has been married three times.
The veteran actor is presently married to his third and current spouse, Francine Racette, with whom he got hitched in 1972.
But before that, he was first married to his former spouse, Lois May Hardwick, from 1959 to 1966.
Sutherland then went on to marry his second spouse, Shirley Douglas, in 1966.
His second spouse, Douglas, is one of two children of a Canadian social-democratic politician and the "father" of Canada's universal healthcare system, Tommy Douglas.

Donald Sutherland with his present spouse Francine Racette in 2000. (Photo: Twitter)
Donald Sutherland and His Second Spouse Had Twins
The two-time Golden Globe Awards-winning actor married Douglas after ending his seven years of marriage to Hardwick.
He had been together with Hardwick since their university days. But he had no children from his first marriage.
However, that quickly changed in his second marriage, as he and his then-wife Douglas welcomed twin children — Rachel Sutherland and Kiefer Sutherland — on December 21, 1966.
The couple named their son Kiefer after Warren Kiefer, the pen name of director Lorenzo Sabatini, who directed Castle of the Living Dead, in which Sutherland made his film debut.
End of Donald Sutherland and Shirley Douglas' Marriage
Even though Sutherland and Douglas' marriage seemed promising, it could not last forever. The marriage ended after four years in 1970.
But when they separated, the talented actor had already started an affair with Jane Fonda, an actress known for her role as Grace in Grace and Frankie.
According to The Guardian, Sutherland and Fonda's three-year-long relationship was a fiery union at the height of the actress' Hanoi Jane days.
The number 2 spot probably goes to Sutherland and Jane Fonda, who get massive "cool" points for having met at a Black Panther Party fundraiser. pic.twitter.com/GNi2qEts4A — Sir Francis (@Dred_Tory) January 25, 2022
"We got together shortly before we made Klute and then we were together until the relationship exploded and fell apart in Tokyo," he told the outlet about his relationship with her.
He continued to share, "And it broke my heart. I was eviscerated. I was so sad. It was a wonderful relationship right up to the point we lived together."
Talking about Douglas, she sadly passed away at the age of 86 in April 2020 due to "complications surrounding pneumonia."
Actor Kiefer Sutherland says his mother, actress Shirley Douglas, has died at the age of 86. The daughter of Tommy Douglas — who led the forerunner of the NDP — she was also once married to actor Donald Sutherland. Kiefer Sutherland tweeted the following message: pic.twitter.com/i75W2UCcvM — CBC News Alerts (@CBCAlerts) April 5, 2020
Son Kiefer Sutherland Talks about His Parents' Marriage
On a rare occasion, Sutherland and Douglas' son Kiefer spoke with Rolling Stone and recalled his parents' marriage and the experiences of growing up after their divorce.
He first shared an instance that happened before the divorce when the family didn't have any money and his father had a hole in his pants.

Donald Sutherland with his second spouse, Shirley Douglas. (Photo: Twitter)
But since his mother was a tough lady, the actor was often nervous to ask her to sew the hole in his pants.
Kiefer, also an actor now, went on to remember, "So where the rip was, he just painted his [expletive] black to match the pants. That's his sense of humor."
He later shared that Douglas left him and his twin sister with Sutherland after the divorce. But by that time, his father had established himself as a successful actor.
Due to that, his father took him and Rachel to school in his Ferrari, which he had won in a poker game.
He also remembered people staring at his father because he lived the larger-than-life movie star life, rocked his long hair with a great big beard to match, and always wore a leather coat.
Six months after the divorce, his mother returned and took her children with her to Canada, where Kiefer and Rachel spent the rest of their childhood.