Is Donald Sutherland Still Alive? His Near-Death Experience Discussed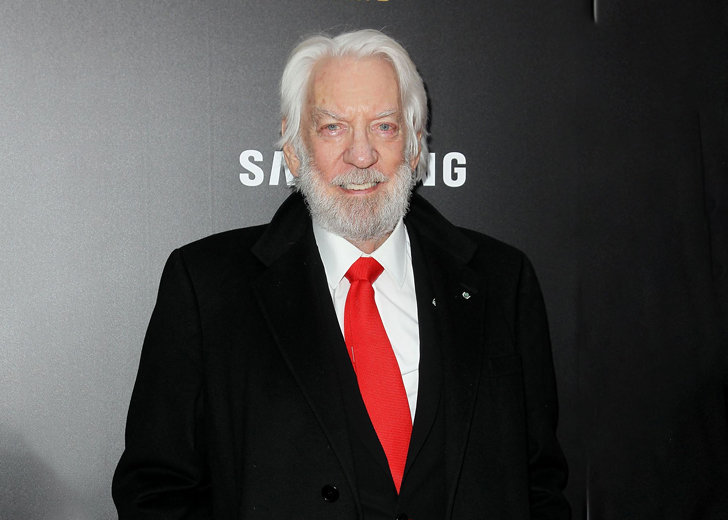 Canadian actor Donald Sutherland has been diagnosed with various diseases over the years.
Speaking with the Los Angeles Times [via Express UK], he once listed some of the illnesses he has suffered since childhood. 
The endless list included conditions such as polio, rheumatic fever, hepatitis, an appendectomy, pneumonia, and scarlet fever.
And then, there was also spinal meningitis, which was the most severe condition he had ever experienced.
That is because none of the other conditions but his spinal meningitis left him at death's door.
Is Donald Sutherland Still Alive?
Since Sutherland had a near-death experience in the 1970s due to spinal meningitis, an infection of the fluid and membranes around the brain and spinal cord, people are often curious to know about his health and if he is still alive.
That is one reason you will find the internet littered with people all asking the same question — is Donald Sutherland still alive?

Donald Sutherland at the premiere of The Hunger Games: Mockingjay Part 1. (Photo: Instagram)
To answer that first, the actor — whose film career spans more than seven decades and has been nominated for eight Golden Globe Awards — is still alive and allegedly living a healthy life.
He is 86-year-old as of this writing.
During an interview with Reuters in September 2019, when the interviewer asked him if he ever imagined not working, Sutherland sarcastically responded by saying he would have to die to stop working.
"I do imagine it, it's called dying, and I try not to imagine too much; I can imagine being dead but then I think about my wife and I don't ever want to leave her," he said while gushing about his longtime wife, Francine Racette.

Donald Sutherland with his wife Francine Racette in 2000. (Photo: Twitter)
The Citizen X star has been married to Racette, a French Canadian actress, since 1972.
He also shares three sons — Rossif Sutherland, Angus Redford Sutherland, and Roeg Sutherland — with her.
Donald Sutherland's Near-Death Experience
Adding more about the veteran actor's near-death experience, he reportedly died for a few seconds while he was filming the comedy war film Kelly's Heroes.
In another conversation with The Guardian, he shared that he "died in Yugoslavia in 1968 for a few seconds."
He later discussed his experience with death during a chat with Smithsonian Magazine.
He shared, "Standing behind my right shoulder, I'd watched my comatose body slide peacefully down a blue tunnel. That same blue tunnel the near-dead always talk about."
"Such a tempting journey. So serene. No barking Cerberus to wake me. Everything was going to be alright," he went on to remember.
Canadian actor Donald Sutherland is now 86. He has a film career that spans more than 55 years but remains one of the best actors never to recieve an Academy Award nomination. He first rose to fame in The Dirty Dozen (1967), M*A*S*H (1970), Kelly's Heroes (1970) and Klute (1971). pic.twitter.com/GgYFzFAuw8 — Alan Katzmann (@Katzo60) January 26, 2022
He also said that when he was seconds away from succumbing to the glowing white light, which appeared to be the bottom of it to him, he felt some primal force fiercely grabbing his feet and compelling them to dig his heels in.
Moreover, he went into a coma at the time and was flown from the filing location to Charing Cross Hospital in England, where he recovered for six weeks.
That said, the actor loves his life and does not want to give up living, according to his statement for GQ.
Due to that reason, he also finds it "ludicrous" that actors retire at 65 when the average life span extends for much longer.