Dolph Lundgren's Grace Jones — Life Changer and Orgy Haver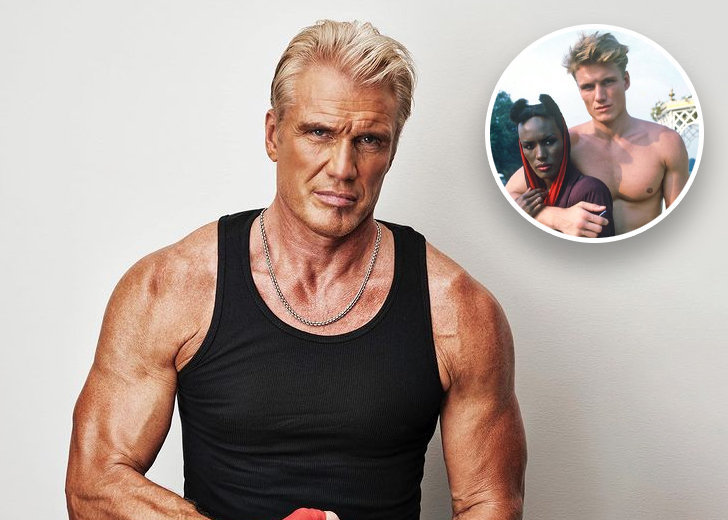 Dolph Lundgren has dated a lot of women in his time, but rarely has anyone been as high profile as Grace Jones. The two struck up a relationship in the early 1980s.
Theirs has been one of his most openly talked about, and one of the most open relationships to date. And that is because theirs was an interesting romance.
She changed his life in ways more than one. First, she changed his career trajectory, and second, she ran him out of breath in bed, which probably wasn't an easy thing to do in the 1980s.
Grace Jones Pulled Dolph Lundgren into Orgies More than Once
When Lundgren first met Jones, she was a big name in the music scene, having just started what would be her breakthrough years in singing and acting. It was in Australia that she first laid eyes on him.
Jones saw him across a nightclub where he was working as a bouncer in 1983. Lundgren had a master's degree in chemical engineering from the University of Sydney and was the European karate champion in 1980 and 1981 — a job as a bouncer was just to make ends meet.
So she hired him as her bodyguard. After her time in the land down under, she was to go to Boston. Coincidentally, he, too, was headed there the same year — he had a Fulbright Scholarship at the Massachusetts Institute of Technology he had to accept.
They returned together, but he didn't stay in Massachusetts for very long. Instead, he followed her to New York, and they became a thing soon after.
It was then that she introduced him to her world of wild multiple partner sex. Lundgren, during his interview with The Sun in 2018, confessed he had been a part of many orgies during his time with her.
He took part in threesomes and even fivesomes, which "happened on occasions, with or without Grace."

Dolph Lundgren with ex girlfriend, Grace Jones, in the early 1980s. (Photo: Facebook)
"Sometimes she would bring a girlfriend home and then I'd have to get up for work the next day and that kind of thing," he recalled. "I'd say at the most it was four or five girls, perhaps."
Those acts would leave him tired for the next day. And those next days were big for Lundgren; big because of Jones.
Grace Jones Changed Dolph Lundgren's Career Trajectory
A bright academic prodigy of bright academically inclined parents, Lundgren's career path was nothing but fixed. But Jones had other ideas.
After he started dating her and came to New York, Lundgren met a lot of A-listers through her, like Michael Jackson and David Bowie. He started to dissolve into Hollywood world and become a regular at parties.
On top of this, Jones suggested he try acting. And so he did, playing a small part in the 1985 James Bond movie, A View To A Kill.
His father disapproved of his move, but he felt like he wouldn't be satisfied as a chemical engineer, either. So, he kept trying. He was working as a bouncer at night and trying out acting and modeling gigs during the day.
Within a month of his appearance in the Bond movie, he was cast in the Rocky IV as Ivan Drago (with difficulty, it has to be noted) alongside Sylvester Stallone.
His life took such a turn after the movie that it destroyed his relationship with Jones.
"I literally walked in the theatre as her boyfriend with people trying to shoo me out of the way to take pictures of her," Lundgren recalled of the night he went to the Rocky IV premiere. "And, 90 minutes later, when I walked out, people were trying to take pictures of me, instead."
This is where the exhausting group sex comes in again. Their relationship didn't continue for long, but for as long as it did, the orgies did, too.
"It's great in theory but when you have to get up and fight Sylvester Stallone in the morning it's not such a good thing," he said.
After the movie came out, his demand increased, both in the press and among the ladies. Jones, according to Lundgren, couldn't handle them, and "within six months, the relationship was over."
Lundgren is now engaged to Emma Krokdal, but his romance with Jones remains the most discussed to date.