Dolph Lundgren Isn't Bothered By His Age-Difference With Fiancee | His Past Marriage, Children & Movies Discussed
Dolph Lundgren has been in the news lately for his freshly brewing relationship with Emma Krokdal. The news of their relationship broke out after they attended the Cana Dorada Film & Music Festival in January 2020 together. Keep reading to learn more about Dolph Lundgren's personal life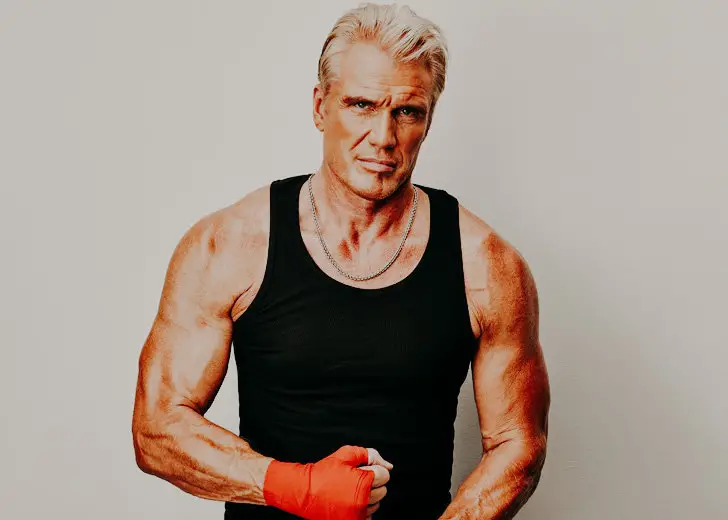 Quick Information
Date of Birth

Nov 03, 1957

Age

65 Years, 10 Months

Nationality Swedish
Birth Place

Spånga, Sweden

Birth Name

Hans Lundgren

Profession

Actor

Career

1978–present

Relationship Status

Single

Ex-Wife

Anette Qviberg (m. 1994–2011), Peri Momm (m. 1991–1992)

Divorce/Split

Yes (Twice)

Gay

No

Net Worth

$15 million

Ethnicity/Race

White

Father

Karl Johan Hugo Lundgren

Mother

Sigrid Birgitta

Sister/s

2

Brother/s

1

College

MIT, Washington State University, Clemson University, Amphibious Ranger School, Royal Institute of Technology, University of Sydney

Height/ How Tall?

6 feet and 5 inches

Weight

115 kgs

Hair

Short

Hair Color

Blonde

Eye Color

Blue

Daughter/s

Ida Lundgren, Greta Lundgren
Swedish actor Hans Lundgren, better known as Dolph Lundgren, has been in the news lately for his freshly brewing relationship with Emma Krokdal. The news of their relationship broke out after they attended the Cana Dorada Film & Music Festival in the Dominican Republic in January 2020 together.
Keep reading to learn more about Dolph Lundgren's personal life, including his relationship with Emma Krokdal, his previous marriage, and his children.
Dolph Lundgren & His Girlfriend Emma Krokdal Are Engaged
Dolph Lundgren met his fiancée Emma Krokdal, 24, at a fitness center in Los Angeles in late 2019. The 24-year-old works as a personal trainer at the Equinox center.
After they met, the couple trained together a few times and subsequently began to spend more time. In that process, they have been to various places together, including the Cana Dorada Film & Music Festival in the Dominican Republic in January 2020.
More importantly, the pair even got engaged within a year of their meeting. Lundgren announced the engagement through an Instagram post on June 17, 2020. In the post's caption, he wrote, "Something very special happened here in Sweden. D[heart emoji]E."
The Couple Aren't Bothered By Their Age Difference
The engaged couple has a 38-year age difference between them. Therefore, their age difference has been a major focus amongst the netizens — even more than their relationship.
However, Lundgren and Krokdal are not bothered by all the age-related comments and feel that "the age difference is not an obstacle."
Speaking with Dagbladet magazine in January 2020, Krokdal talked about how her family and friends have been supportive of her relationship with the movie star. In addition to that, she also talked about the negative feedback coming from various strangers and netizens.
Everything from family, friends, and acquaintances has actually been incredibly nice. I was a little worried about it at first, so I was surprised at how much good feedback we have received. From strangers, it has been a little more negative.
The Norwegian also shared in her interview that her fiancé is a kind and caring person, although his "unpredictable" work keeps him busy. 
He is incredibly caring and a kind person, and he is very comfortable to be with. It's not easy to find someone you get along so well with, so I think we both really appreciate having each other.
Dolph Lundgren Has Been Married Twice Before
Rocky IV actor Dolph Lundgren has had his share of experiences when it comes to marriages, as he has been married twice in the past. 
His first wife is Peri Momm, whom he was married to for a brief time. They got married in 1991 and separated the following year.
However, there is no conclusive information regarding the actor's marriage to Peri Momm. Many outlets have reported that Peri Momm was Dolph's wife at one point. 
Lundgren then got married to fashion designer Anette Qviberg in 1994. The husband-wife duo expanded their family after having two daughters, Ida and Greta Lundgren. His marriage with Anette, however, ended in divorce in 2011.
He Maintains Good Relationship With His Ex-Wife & Daughter 
Despite being divorced, Dolph enjoys an amicable relationship with his ex-wife Anette. In 2010, a year before their divorce, he called his wife his best friend. He acknowledged that physical attraction was only for a short time, and the emotional part of a relationship was what made it strong. 
The actor has heeded his own words and always maintained a friendly relationship with his ex-wife. The duo has been snapped attending various events together. What's more, the estranged husband and wife were also pictured having a good time together in Marbella beach, in 2017.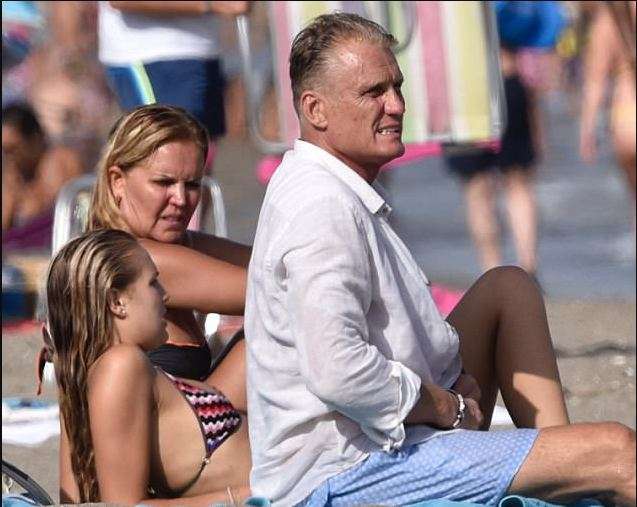 Dolph Lundgren relaxes on the Marbella beach with ex-wife Anette Qviberg and eldest daughter Ida in 2017 six years after the couple's divorce (Photo: Dailymail)
The connecting link between the ex-couple has been their daughters. Dolph, in many instances, has reiterated that his daughters have helped him open up as he was very self-centered in his early days.
The actor in return has provided his daughters with all the love and support and has even helped in their dating life.
Dolph Lundgren's Quick Bio | Age, Movies & Net Worth Discussed
Dolph Lundgren was born on November 3, 1957, to father Karl Lundgren, an engineer and economist for the Swedish government, and mother Sigrid Birgitta (Tjerneld), a language teacher. The actor stands at a height of 6 feet 5 inches (1.96 m).
The Swedish national was the European champion in Karate for the year 1980/81. His karate exertions added to his hunky frame and made him a big yes in the fashion world. However, he worked double shifts as a nightclub bouncer to make ends meet. And it was during his bouncer days he met actress Grace Jones. 
Initially, Dolph handled Grace's security details and later became her lover. The former couple dated for four years in the mid-80s.
His movie career started after he was recommended for a small role in the 1895 James Bond movie, A View to a Kill. Following that, his career soared to the next level after playing Soviet boxer Ivan Drago in Sylvester Stallone's acclaimed action-packed movie franchise Rocky.
Later, the 63-year-old actor started starring in more action-packed movies in the 80s and 90s. His incredibly ripped body made him an indispensable part of action genre movies in the last two decades of the 20th century.
He was also a part of the most expensively assembled action cast movie, The Expendables, along with the most significant names in Hollywood including Sylvester Stallone, Jason Statham, Arnold Swargenneger, and Jet Li.
Today, he has nearly 100 acting credits to his name, mainly in the action genre. He has also flirted in the directorial chair and has directed more than ten small budget movies. 
In addition to that, the actor is also a preacher of physical fitness. He looks entirely fit today as he did when he fought against Stallone in Rocky IV and credits his well-toned body to his healthy eating habits and regular gym sessions. 
His time in Hollywood has been fruitful economically with several commercial hits under his belt. His net worth of $18 million reflects the success he has had in his career.