Who Are Dieschaklin and Her Faux Husband on TikTok? Drama Explained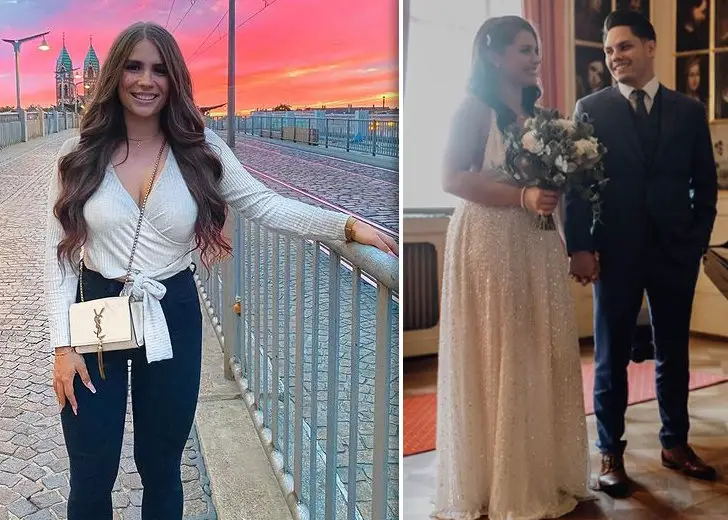 TikTok user who goes by @dieschaklin and her fake husband under the name Jeff2604 are viral on the video-sharing platform.
The duo became the front and center of attention after dieschaklin staged an ostentatious faux wedding to get her ex-boyfriend to text her and revealed the botched plan on her TikTok account in November 18, 2021. 
"Remembering the time I faked my own wedding and had a professional photoshoot so he would reach out," the woman wrote on the text overlay in her video, comprising a quick clip and a series of pictures of her fake nuptial.
The footage first showed dieschaklin regretting her plan as she put her palm on her face. Then, it displayed pictures from the ceremony. 
The first photo featured the internet user posing alongside her fake bridegroom.

Dieschaklin and her faux groom, Jeffrey Ligtas, in their fake wedding. (Photo: Stefan Kramberg's Instagram)
Matching the extravaganza, she wore a deep cut V neck, sleeveless gown while her literal partner-in-crime donned a black suit. 
The other pictures saw the pair dancing and posing affectionately around the lavish venue with horses and stables. 
Although dieschaklin tried her best to make the wedlock as authentic as possible with a professional photographer, actual dresses, and, most surprisingly, a make-believe groom, her plan turned out to be for naught. 
"Worst part is he watched my story and still didn't reach out," she wrote in the comment section of the video. 
TikTok Users React to dieschaklin's Viral Fake Wedding
Within moments after its upload, dieschaklin's video of a fake wedding started making rounds on the platform. And with its virality, every person had their opinion of the pretension.
Some TikTok users empathized with her desire to be noticed and lauded her effort.
One commenter wrote, "The feminine urge to do this," while another person penned, "my toxic trait is that I see nothing wrong with this."
A third user shared that she had also done the same thing, and her ex had reached out to her. In addition, he even stopped the ceremony and asked her to marry him. 
The person added all it took for the desired fairytale ending was the "right amount of crazy ladies." 
However, not all the commenters were on the same page. One particular person questioned her plan, wondering out loud why her ex would reach out to her on her wedding day. 
Another commenter opined that she should have just done a fake engagement instead of the dramatic ceremony, reasoning, "once the wedding happens it's too late."
However split the opinions were, one thing is sure: the viral video with over two million views and 450K likes skyrocketed dieschaklin to fame. In addition, it has also made her fake husband famous. 
Who Are dieschaklin and Her Faux Husband?
dieschaklin hasn't mentioned her real name on her TikTok or her Instagram.
However, going by one of her Instagram posts uploaded on April 18, 2021, her actual name is Jacqueline. She uses the same name on the discount codes on The Minxy Label products. The viral star models for the clothing brand. 
As for her viral fake husband, his real name is Jeffrey Ligtas, and he is in the real estate business.