DiDi Richards' Mom and Dad Helped Her Return from Spinal Injury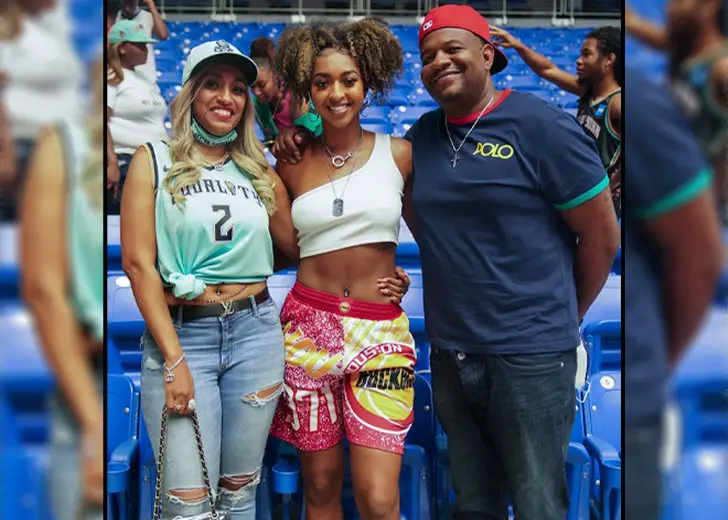 DiDi Richards suffered a severe spinal injury on October 24, 2020, that temporarily paralyzed her from the hips down.
Still, after just 38 days of recovery and rehab, she made it back to the court. 
While her dedication to the game and her strength remain things to be marveled at, she credited her mom and dad for giving her the strength to make it through. 

DiDi Richards on the basketball court following her recovery (Source: Twitter)
DiDi Richards' Dad Raised Her to be Tough
During an interview with Good Morning America right before her WNBA tip-off, Richards confessed that her father had instilled mental toughness through her formative years and into adulthood. 
"When the injury happened, it was kind of second nature," she confessed. 
She just knew it in her heart of hearts that she had an undeniable mindset and that she would work as hard as she could to make her way back to the court.
Keep in mind: this was at a time when she couldn't even walk. 
DiDi Richards' Tragic Accident
Richards was the star guard for the Baylor Lady Bears, playing in her senior season when the horrible accident befell the athlete. 
DiDi Richards has the rep for being one of 🇺🇸's top on-ball defenders.

Her lock 🔒 down 👇 defense includes 52 steals & 25 blocks, while leading the Big 12 in assists & assists-to-turnover ratio.

Congrats to @Deauzya for earning Big 12 Defensive Player of the Year!#SicEm pic.twitter.com/usX6SvSdZC — Baylor Women's Basketball (@BaylorWBB) March 9, 2020
She was airborne, attempting to intercept a pass, when she collided with teammate Moon Ursin at full speed in mid-air.
Richards landed on the floor, sustaining a spinal injury without radiographic abnormality that caused a temporary impairment, followed by temporary paralysis from the hips down. 
DiDi Richards' Surprisingly Speedy Recovery
After the incident at the court, she could not move her legs, let alone walk. At this point, thoughts of getting back to the court might have very well been a fantasy for many. 
Still, 38 days into recovery, Richards donned the Baylor jersey once more, totaling four points, seven assists, and two steals in a 67-62 victory at South Florida.
"That's her will. She's mentally tough," Richards' mom, Ungeanetta, told ESPN of her daughter's speedy comeback.
No one expected her to recover so quickly. She's just so determined. She's like a walking miracle.
DiDi Richards' Mom Was There For Her
The doting mom also told the outlet that Richards had always been an upbeat kid that got out of bed bright and early, giggling.
She'd often play her favorite music loud to start off her day. 
"If you're not a morning person," Ungeanetta told the outlet, laughing, "you probably don't want to wake up around DiDi."
On the day that Richards sustained that fateful incident, her mom was in Atlanta to show her support for a friend who had a family member going through a health crisis. 
When she got the call that her baby girl was injured, she flew back to Texas right away. 
By the time she'd gotten off the plane, she received a text from Richards saying she could wiggle her toes. 
When Ungeanetta got to the hospital, Richards was already trying to stand and walk. The accident happened on a Saturday, and there was only one thing on her mind. 
"My main thing was making it to our COVID test at 12:15 Monday like normal," she told ESPN. "I just kept telling the doctors and the physical therapist, 'I can do it!' I just wanted to be back around familiar faces, something that made me happy, which is my team and my coaches."
Her recovery was nothing short of a miracle.