Devin Singletary and His Dad Share the Same Nickname 'Motor', Here's Why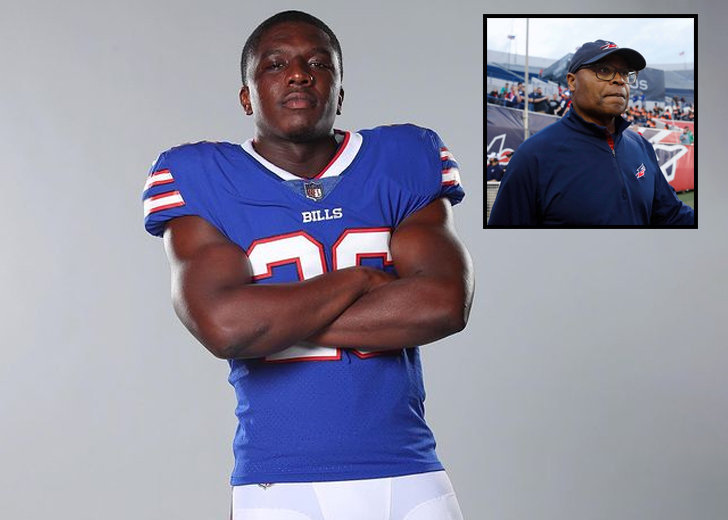 Devin Singletary and his dad, Devonn Singletary, are the epitome of the quote, 'Like father, like son.' 
Both of them are football players, and coincidentally, they are also nicknamed 'Motor.' Here is everything about the father-son duo. 
Who Is Devin Singletary's Dad?
Devin is an NFL player who plays the running back for the Buffalo Bills. He has been with the team since 2019.
There is not much information about Devonn except for the fact that he also used to play football. He played college football at Norfolk State.

Devin Singletary. (Source: Instagram)
In July 2021, Devin talked about his dad on the 34th episode of the Buffalo Bills podcast, Bills Pod Squad. While discussing Father's Day plans, he revealed Devonn was also nicknamed Motor. 
The NFL player said he was called Motor Jr. growing up, and Devonn was Motor. But now, Devin jokingly calls his father Motor or Big Motor, but usually, he simply refers to Devonn as 'dad.'
Devin also opened up about his son getting the same nickname. His son was called M3 by most of his friends because he is "Motor the Third."
The Buffalo Bills player's mother and father are no longer together. His mother, Sabrina Clark, is currently married to his stepfather, Keith Clark, and has adopted his last name. 
However, it seems like Devin is on good terms with Kevin. Back in 2019, it was reported by WPTV news that Sabrina and Keith had gone to Buffalo several times to see Devin play. 
In 2016, the NFL player revealed that his dad, uncle, brother, and cousin were shot. He gave little details about the shooting but said everyone was alive except his big brother, GB. 
Is Devin Singletary Related to Mike Singletary?
Many people think that Mike Singletary is Devin's dad since the two share the same last name. However, the two are not related. 
There is very little in common between them, except they have the same last name and are excellent football players. 

Devin Singletary. (Source: Instagram)
Mike is a legendary NFL player who retired to be a football coach. He initially played college football for the Baylor Bears and later was drafted by Chicago Bears. 
He was drafted in 1981 and soon became a household name due to his skills as a linebacker. He was also dubbed 'The Heart of the Defense' in the '80s. 
He played for Chicago Bears for more than a decade, from 1981 to 1992. He has received various accolades as a football player.
He was named the NFL Defensive Player of the Year in 1985 and 1988 by the Associated Press.
Similarly, in 1995, he was inducted into the Texas Sports Hall of Fame and College Football Hall of Fame. 
In 1998, he was inducted into the Pro Football Hall of Fame. After leaving Chicago Bears in 1992, he started coaching various teams in the NFL. 
He has coached Baltimore Ravens, San Francisco 49ers, Minnesota Vikings, and Los Angeles Rams.
He has also coached school, college, and other teams like Trinity Christian Academy and Memphis Express.