Devin Booker Owes His Success in Basketball to His Parents
Devin Booker's parents never got married.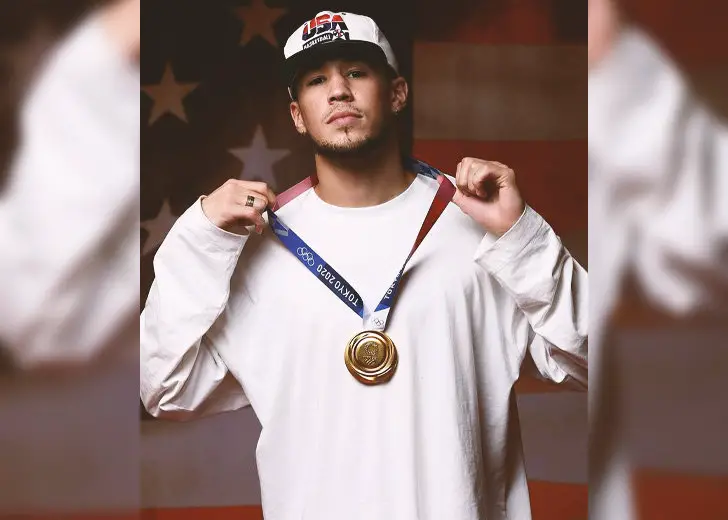 Professional basketball player Devin Booker is a seasoned shooting guard for the Phoenix Suns of the National Basketball Association (NBA). He even became the youngest player in NBA history with consecutive 50-point games at 22 in March 2019.
In addition, the Grand Rapids-born player received his first two NBA All-Star selections in 2020 and 2021 as a replacement player.
It turns out Devin's success as a basketball pro is a result of the upbringing provided by his parents, who backed him to excel in the game. For those uninitiated, his father, Melvin Booker, is a former basketball player, while his mother, Veronica Gutiérrez, is a cosmetologist by profession.
Scroll through as we bring in-depth information about his early life, family, as well as how his parents helped him become the player he is today.
Devin Booker's Early Life and Parents Nationality
Devin was born on October 30, 1996, to Melvin and Veronica. The couple, who never married, mutually co-parented their son, providing him with the values of their respective culture and ethnicity.
The famed basketballer's mother, a Mexican-American who predominantly raised Devin in his early years, taught him about the Mexican heritage. In contrast, his father, an African-American, educated him about the African culture.
And while living between his parents, he lived with his mother in Grandville, Michigan, a predominantly white town of about 15,000 people that is a suburb of Grand Rapids. Similarly, he lived with his father in Mississippi, a predominantly black city with around 13,000 people.
Devin Booker's Father Helped the Rookie Get into NBA
After spending his early years in Michigan with his mother, Devin moved to Mississippi with his father, Melvin, who was determined to see his son make it to the NBA. On the other hand, Devin was also motivated to make a name for himself, thanks to his father's aura around the basketball arena that inspired him. 
And this is what Devin had to say about his father when he sat down for an interview with The Undefeated in November 2016:
I meet a lot of people around the basketball business that talk about him like, 'People may not know who your father is, but he could hoop.' Me taking my visits from Missouri from eighth grade on, just the love that he got there is something that I've never seen before. 
In Mississippi, he played college basketball with the Kentucky Wildcats under the supervision of his father. As his performance started making the rounds, he was eventually selected by the Phoenix Suns in the first round of the 2015 NBA draft with the 13th overall pick.
Devin Booker Owes His Mother Everything
Devin, who is of American nationality, credits his mother Veronica for everything good he has done in his life. Speaking at Arena Ciudad de Mexico in January 2017, the Phoenix Suns player talked about his mother's influence in his life.
"I owe her everything, just growing up she raised me and my brother and sister and she never frown, she was always positive," he said of his mother.
He said his mother cared for him and never really cared about anything, as long as he was happy. He added that having such support from his mother was unbelievable.