Devin Booker's Complicated History with Ex Girlfriend Kendall Jenner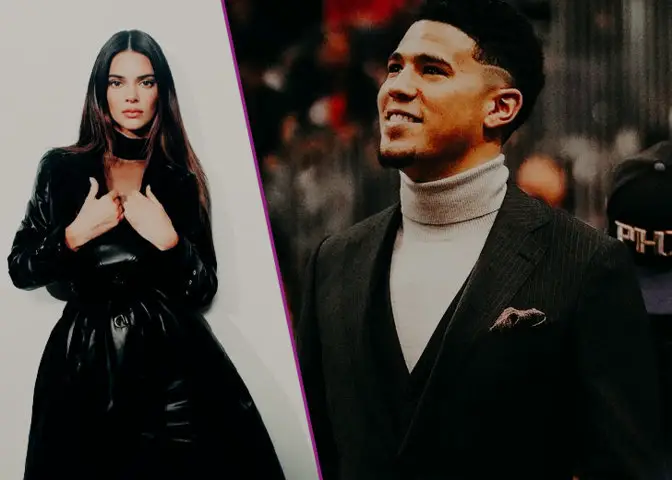 NBA Star Devin Booker has only ever dated two women in public. His first public girlfriend was Jordyn Woods, and they dated from 2018 to 2019.
Woods used to be close to the Jenner family, and that connection led Booker to meet Kendall Jenner. Their first meeting was a bit unconventional.
After the meeting, they stayed close and started dating from around mid-2020. Here's a detailed timeline of their relationship, from how they first came across each other to now.
June 2018 — Spotted On A Double Date
As mentioned above, their first real encounter with each other was unconventional. You don't usually meet your future girlfriend on a double date with your at-the-time girlfriend.
In early June 2018, TMZ spotted Booker, who was with Woods at the time, on a double date with Jenner and her rumored boyfriend at the time, Ben Simmons.
There must have been some great connection between the two going by how they ended up together later.
April 2020 — On A Mid-Pandemic Road Trip
About two years after their first meeting, TMZ caught Booker and Jenner in Sedona, Arizona, during a pit stop on their road trip together. They "looked like a couple," but sources later clarified that wasn't the case, or at least that was what was said.
Sources close to Jenner revealed they were just "hanging out" at the time and were friends, but nothing more.
August 2020 — Getting Closer
By this time, they're seen out together more often. They're running errands, going out to fancy dinners, and hanging out with friends at Malibu.
Sources close also confirmed they were getting closer and glad to be spending time together.
October 2020 — Breaking Rules And Attending Parties
Booker and Jenner apparently broke the stay-at-home orders to attend Kim Kardashian's 40th birthday party. Oh, the audacity! And they were probably thinking they were staying lowkey.
But Kardashians and lowkey don't really go together. And in an unintentional snap, they were spotted together at the party, further strengthening the relationship speculations at the time.
February 2021 — Each Other's Valentine
After a couple of not-so-subtle but still-not-official social media activities in January, Booker and Jenner went Instagram official on February 14.
Both took to their Instagram stories to post cute snaps of themselves together, confirming their romance.
A couple of days later, Jenner attended one of Booker's games for the Phoenix Suns. She even helped a group of fans get decent pictures at the stadium while she was at it.
March 2021 — Family Approvals
Sources were at it again, spilling inside details about Booker's relationship. This time, they revealed they had gotten more serious in their relationship.
Further, the sources also said this was the happiest Jenner had ever been in a relationship and that Booker has all the qualities she loves.
Immediately after this, another source chimed in, saying that Jenner's family really liked Booker. There was also a mention of engagement, but just that they weren't jumping into that just yet.
June 2021 — Cryptic Anniversary
Despite going public with their relationship, Booker and Jenner have never been that explicit about their personal lives. And the same was the case for even their anniversary celebrations on Instagram on June 13, 2021.
Both of them posted cute snaps of each other. But instead of any blatant mention of an anniversary, he just wrote "365" and "52" on his snaps while Jenner just shared pictures.
"365, 52, 1" ❤ï¸Â Kendall Jenner and Devin Booker celebrating their one year anniversary & kindly reminding us how single we are x pic.twitter.com/0vG5IHJ8Ap — Femme Luxe (@FemmeLuxeFinery) June 15, 2021
In the days after, details about how they wanted their relationship to remain private surfaced. Also, they reportedly moved in together.
July 2021 — Celebrating Achievements
Booker made it to the NBA Finals with the Phoenix Suns. And his then-girlfriend Kendall was right there to support him, even attending his game and posting a video from the game on Instagram. "I'm not emotional, you are," she wrote over the video.
She was apparently really engaged in the game and cheering him on from the stands.
Kendall Jenner supports her boyfriend Devin Booker in an oversize Phoenix Suns jacket and watching Her boyfriend Booker performed admirably in Game Five of the NBA Finals

Kendall Jenner receives stunning flowers from beau Booker pic.twitter.com/f7uO0AGK6y — Lilian Chan (@bestgug) July 18, 2021
By the looks of it, it seemed like Booker got himself into an amazing relationship. But that wasn't to last forever. 
June 2022 — The Duo Breaks Up
In June 2022, a source close to the couple told Us Weekly that they called it quits.
The pair "have been apart for over two weeks now," reported the insider. As for the reason for their breakup, the source mentioned they were taking time to focus on themselves and figure out if they were meant to be together.
Jenner was reportedly feeling like they were on different paths after they discussed their future together and realized they were not on the same page.