Derrick Barry Has More than One Boyfriend — A Look into His Love Life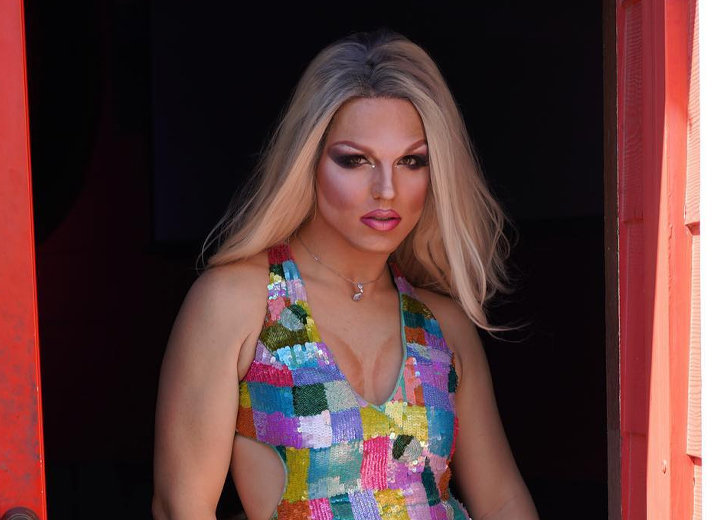 RuPaul's Drag Race expanded its drag dynasty with its new reality show RuPaul's Drag Race: Vegas Revue in August 2020. 
Vegas Revue was a different type of drag race. The six-episode documentary series had no competition. 
It followed six former Drag Race contestants as they prepared to take to the stage for RuPaul's Drag Race Live! Show in Las Vegas.
The cast included Yvie Oddly (Season 11 winner), Asia O'Hara (Season 10), Kameron Michaels (Season 10), Naomi Smalls (Season 8 and Season 4 of All Stars), and Vanessa "Vanjie" Mateo (Season 10 and Season 11). 
It also included Derrick Barry (Season 8 and Season 5 of RuPaul's Drag Race All Stars), who introduced fans to not one but two of his boyfriends.
Derrick Barry and His Boyfriends Are Throuple
Barry has been in a relationship with artist Nick San Pedro and fellow drag queen Nebraska Thunderf*ck (whose real name is Mackenzie Claude) for over a decade. 
Initially, it was just Barry and his boyfriend, Pedro. They met in 2005 during Pamela Anderson's Fashion show.
Fast forward to two years later, they were dating and moving in together. They had been together for five years when their best friend introduced them to Mackenzie in February 2012. 
After their first meeting, the three began hanging out regularly, and Mackenzie left for the military. 
During his time there, he thought about Barry and Pedro the entire time, and that's when he knew something was different. 
When he got back, the three of them started dating, and one month into it, MacKenzie realized he needed to make things official. 
"We had the sit-down. Like we got the text saying 'I need to talk to you guys. It's serious.' He sat us down and explained that he wanted to make it exclusive and I mean, it already was, but this putting that label on it," Barry told Huffingtonpost. 

Derrick Barry's first boyfriend, Nick San Pedro. (Source: Instagram)
While most people think they are in an open relationship, the three clarified it was the biggest misconception. 
Mackenzie noted they were like any other monogamous relationship, just with an extra partner. 
They kept everything balanced and did not leave room for jealousy, supporting each other in their endeavors and celebrating each other's success.
Derrick Barry and His Boyfriends' Family on Their Relationship
In any relationship, earning the acceptance of your partner's family can be an ordeal. And when it involves a throuple, it might be perplexing. 
When Barry and his partners introduced each other to their families, they had very different experiences.
Barry's first boyfriend, Pedro, grew up in a Cuban Catholic family and worried if his family could handle it. 
"It took a few years of adjustment for the family, but now most of the family embraces us with open arms," Pedro explained.
For Barry, telling his family was much easier since they knew he differed from most people. 
He said he had always been the adventurous one in his family, and he got a positive reaction, especially from his father. 
As for Mackenzie, he grew up in foster care and believed his upbringing was why he lived the way he did.