Inside the Private Lives of Dermot Mulroney, His Wife Tharita Cesaroni and Their Kids
They've been married for 12-years, without any major headlines.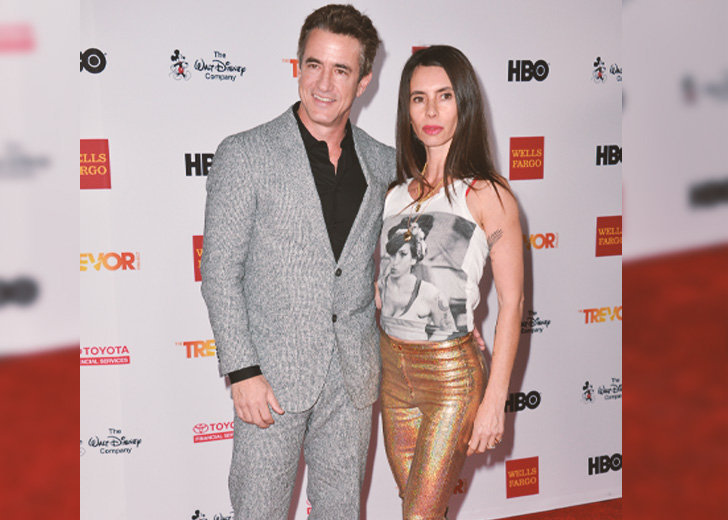 Dermot Mulroney is an acclaimed name in the entertainment industry, and as is the norm, fans are always curious to know about their idols. 
On that note, Mulroney's fans have long been questioning, "Is Dermot Mulroney married?" 
Mulroney has, for the most part, denied his fans the pleasure of getting an inside scoop of his marriage as both he and his wife lead private lives. 
Although a detailed account of their marriage has not been outed yet, it is noteworthy that Mulroney's wife, Tharita Cesaroni, has left her own mark on the entertainment business.
About Dermot Mulroney's Wife: Tharita Cesaroni
Born in Milan, Italy, to Franco Catullé and Italian singing sensation Emy Cesaroni, most anticipated Cesaroni to take after her mother's monumental screen presence and become a part of the performing arts community. 
Well, she did live up to some of those expectations when she tried her hand from behind the camera as a cinematographer and film producer.
She began her career in Italy, well before she met her American husband. 
But, upon closer inspection, there is not much known about Cesaroni's early life before she started a career in filmmaking or became Mulroney's wife.
Dermot Mulroney & His First Wife
Prior to his marriage to Cesaroni, Mulroney was married to his first wife, Catherine Keener, and the two were married for seventeen years, which by Hollywood standards, is a lot. 
The two met in 1988 on the sets of the movie Survival Quest, and they tied the knot two years down the line in November 1990.
On paper, they filed for divorce in June 2007. However, their marriage was on the rocks since two years prior, which does go on to explain why Mulroney remarried just a year after his divorce. 
Mulroney and his second wife got married in 2008.
According to reports from Nicki Swift, the couple split in May 2005. In their seventeen years of marriage, the couple welcomed a beautiful baby boy into the world, their son Clyde Keener Mulroney, who was born in 1999 and worked in Hollywood as a musician. 
Dermot Mulroney & Catherine Keener Divorced Over Irreconcilable Differences
As per court filings obtained by Extra, the couple cited irreconcilable differences as the primary reason for their divorce. The report read, 
There are irreconcilable differences between the parties that have led to the irredeemable breakdown of the marriage, and there is no possibility of saving the marriage, through counseling or other means.
Even so, Mulroney has been a present father to his son. He claimed to have an excellent relationship with his son. "I think I have a lot of credibility with him; I really make sure of that," he added. 
Apart from Clyde, Mulroney has two other kids from his second wife. They share two daughters: Mabel Ray Mulroney and Sally Mulroney. 
As for his first wife, apart from a few floating rumors of being in a relationship, she has been single since the two got divorced.