Raiders QB Derek Carr Says Family Is One of the Most Important Things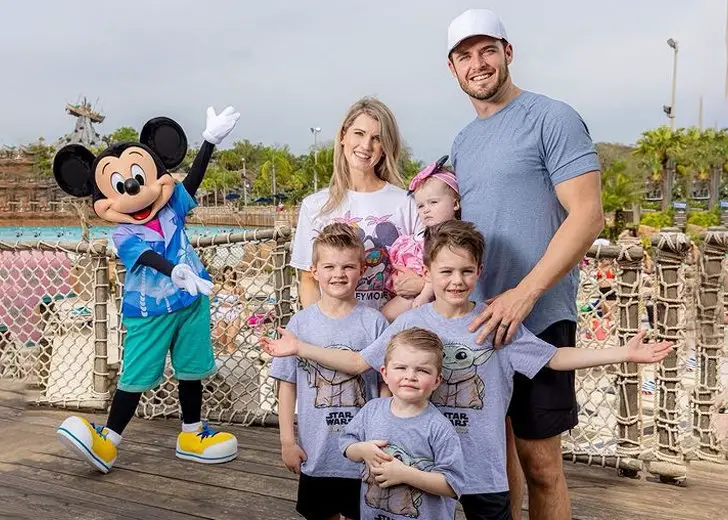 Los Vegas quarterback Derek Carr has found outstanding success in his career in the NFL. Football has played a vital role in his life, but it's not his everything. 
Aside from his professional career, Derek has two other things that matter the most in his life — family and faith.
Derek has talked about the aforementioned three things on multiple occasions, including on his personal website.
In a video uploaded on his YouTube account, Derek shared his family was the foundation for who he was as a person.
"I'm thankful for my family. Every morning I wake up, I see my beautiful wife. And then I sit down. I'm watching a film, reading my bible, whatever, and one kid comes running out, and then another one, and then another one," he said.
"All four of my kids, soon they are sitting on my lap. You know, I'm just like, 'Man I'm winning. I'm gonna be alright.'"

Derek Carr with wife and kids (Source: Instagram)
Derek Carr's Family
Derek was born in Fresco, California, to Rodger and Sheryl Carr. He is the youngest child of his parents. He has two older brothers — David Carr and Darren Carr. Similar to Derek, his brothers are also involved in sports. 
David is an NFL analyst with the NFL Network in Los Angeles, California. Before he took up work as an analyst, he was the quarterback for teams, including the Houston Texans, the Carolina Panthers, the San Francisco 49ers, and the New York Giants.
As for Darren, he is the head football coach at Bakersfield Christian High School in Bakersfield, California.
Derek is married to his wife of over a decade, Heather. The two have four children together.
Derek Carr's Wife and Children
Derek met his wife for the first time in 2010. She was working at a BJ's Brewhouse while completing her studies when she ran into him.
She recounted the story of their first meeting when talking to ABC in 2013.
"I had like diamond earrings in my ear and I had them both. I knew I did," she said. "And he said, 'Why are you only wearing one earring?'"
"And it made me check my ears. And I was like, 'that's your pickup line?' (It worked) it did work. I talked to him."
They tied the knot on June 29, 2012. A year into their marriage, Derek and his wife welcomed their first child together, son Dallas Carr. 
Dallas was born with a medical condition that tied up his intestines. Just twelve hours after his birth, he underwent three surgeries to untangle his intestines.
Their family of three grew larger in 2016 and May 2019, respectively, when Heather gave birth to their sons, Deker Carr and Deakon Derek Carr.
Derek and Heather welcomed their fourth child together, daughter Brooklyn Mae Carr in December 2020. He announced Brooklyn's birth with a short video on his Twitter.
Not long after her arrival, Derek joked about being a father for the fourth time, saying Heather did all the work and he got to hold her.