DeMarcus Cousins Has a Nice Life with Wife after Bad past with Ex-girlfriend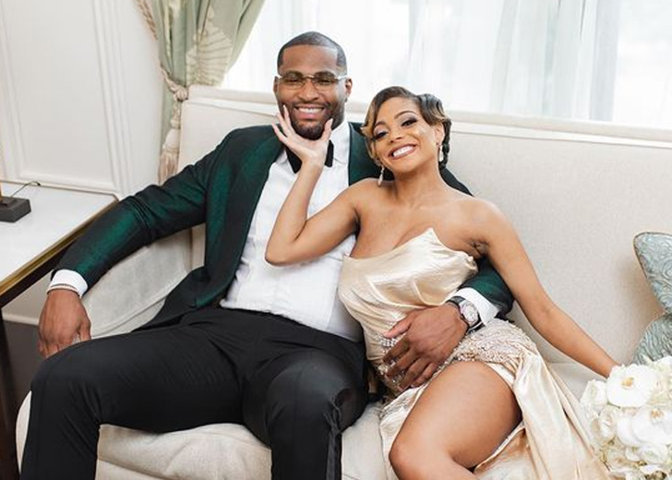 DeMarcus Cousins and his wife Morgan Cousins (nee: Lang) are living their best life as a married couple.
The duo has welcomed two kids into their family and has seemingly enjoyed parenthood together. 
While it is apparent the NBA star has found bliss in his love life, things weren't always like this.
Previously, he had a pretty terrible rapport with one of his ex-girlfriends.
DeMarcus Cousins' Dispute with Ex Girlfriend 
Before Cousins moved on with Morgan, he was in a relationship with Christy West. The duo even gave birth to a son. 
However, their relationship wasn't perfect, and problems surfaced long after they separated and had moved on in their lives. 

DeMarcus Cousins and his son. (Photo: DeMarcus Cousins/Instagram)
On August 27, 2019, reports emerged that Cousins had allegedly threatened to kill West. According to TMZ, the threats had been made on August 23.
The Milwaukee Bucks star had called West when she was at a trampoline park in Alabama with their then-7-year-old son.
Initially, Cousins requested her to let their son come to his wedding. "I'm gonna ask you this one more time before I take it to another level. Can I have my son here, please?" he reportedly asked. 
Christy bluntly denied the request, which infuriated the player. He threatened her, saying he would put a bullet in her head. 
After the heated altercation, West filed a police report in Alabama with a recording of the alleged threat. 
In the documents, the baby mama disclosed Cousins had allegedly choked her during previous ordeals. 
She sought restraining orders against the basketball player, noting that she was open to allowing him supervised visitations. 
Soon after the investigation, Cousins was charged with misdemeanor domestic violence and a third-degree harassing communications charge.
However, the charges were dropped in November 2019. 
DeMarcus Cousins' Relationship with Wife 
If Instagram is anything to go by, Cousins and his wife started dating around 2015. That was the year they started posting pictures of one another on their socials. 
After dating for around three years, the duo got engaged on July 4, 2018. Subsequently, they got married at St. Regis Atlanta in Georgia on August 24, 2019.
The basketball star wore a tux by Rich Fresh, and his partner donned a wedding gown by couture designer Daughters of Nonyelum. 
While Cousins' son didn't attend the wedding, fellow basketball players, including John Wall, Draymond Green, Anthony Davis, and Quinn Cook, witnessed the ceremony. 

DeMarcus Cousins' wife and his two kids, Luca and Quin, in 2021. (Photo: Morgan Cousins/Instagram)
Lily V Events had planned and organized the decorations for the party, and the lovebirds were admittedly delighted about how the day unfolded.  
"The entire event was amazing from TOP to Bottom… Literally," the pair told People after their wedding. 
The married couple welcomed their first child, son Luca, in November 2019. And soon, their second child, son Quin, joined the family.
While Cousins and his wife have kept the details of their kids' birth under wraps, both of them timely share their pictures on Instagram. 
It turns out Morgan also has a healthy bond with Cousins' son from his previous relationship.