DeForest Buckner's Wife Ashlyn Buckner Has Been the NFL Star's Constant Support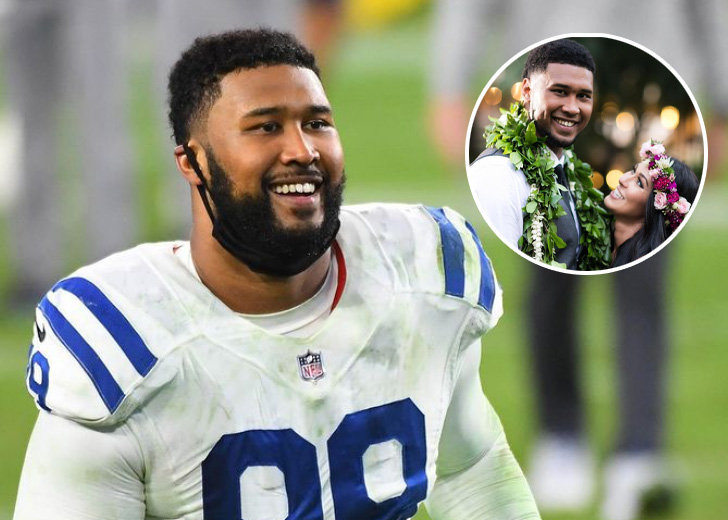 DeForest Buckner is a football player who currently plays defensive tackle for the Indianapolis Colts of the National Football League (NFL). Football is his passion, and he pursued the sport from a young age.
As an NFL player, he has accomplished a lot, and football is his one true love. However, the sport is not the only love of his life.
Buckner is also head over heels in love with his wife, Ashlyn Buckner, whom he began dating in college. His wife Ashlyn came into his life and made it a whole lot brighter for him.
DeForest Buckner and His Wife's Love Story
DeForest met his wife in the summer of 2015 in Oregon. It was right before their senior years at the University of Oregon.
As if their romance was right out of Wattpad, the NFL star was a defensive tackle for Oregon Ducks, whereas Ashlyn was a cheerleader for them. They were introduced to one another by their friend Shane.
Shane was on the same cheer team as Ashlyn, so she took her to Rennie's, a hangout spot for the students at the university. Once DeForest and Ashlyn met each other, they instantly hit it off.
However, both were cautious about them dating and being in a relationship. The couple was in their senior years, and they did not know where their future would take them.
They were burdened with the thought of their careers, and they prioritized it over dating. However, they had intense chemistry, and eventually, they caved in and started dating.
But it was not without hardships. DeForest was planning for his NFL draft, but he did not want to move further than the West Coast.
If he could not stay near the West Coast, then his relationship with Ashlyn was doomed. He told the 49ers on October 4, 2018, that they were "still newly dating," and Ashlyn "wasn't going to move her whole life" for him.
Similarly, Ashlyn had also indirectly told him being drafted to any team east of Texas was the end of their relationship. Luckily for him, he was drafted by the San Francisco 49ers in the seventh overall pick in the 2016 NFL Draft.

DeForest Buckner and his wife, Ashlyn Buckner, on their wedding day. (Source: Instagram)
DeForest was excited that he had made it to the NFL and still could be with his future spouse. He said the excitement of the NFL followed with "thank God I get to keep my girlfriend."
And since then, the pair have been together.
DeForest Buckner and Ashlyn Buckner's Wedding
Soon after DeForest was drafted, the pair moved to San Hose. Ashlyn looked for a sales job there to be with her spouse.
Ashlyn also got serious about her beau's NFL career and learned her ropes around football. DeForest taught her about the sport, and soon, Ashlyn was able to examine while DeForest was playing.
The NFL player confessed Ashlyn was right both of the time, which was "impressive." Moreover, her doing so motivated him to do better.
By the summer of 2016, DeForest knew he wanted Ashlyn to be his wife. When he introduced her to his extended family in his hometown, Oahu, those feelings were affirmed.
She fit right in, and how she interacted with his family impressed him. Everybody liked her and said, "she was awesome."
After returning from the trip, in July 2017, they made a second trip to Oahu, where DeForest bought a ring to propose to his partner.
He hid the ring in his locker at Levi's Stadium, so Ashlyn would not find it. Fast forward to November 2017, DeForest made a plan to propose to Ashlyn and ask her to be his missis.
They did a sunrise hot air balloon ride and then went to Andretti Winery at Napa. Then, while taking a stroll in the vineyard, DeForest went on one knee and proposed to her.
Ashlyn said yes and was happy about their engagement. However, she missed her family and told him that her family being there was "the only thing that would make this day even better."
To her surprise, her beau had planned it all. So when they went to have lunch at a villa, her parents and siblings were waiting for them.
The two planned to get married in July 2018 and made plans accordingly. However, it was not an easy job to accommodate their families, friends, and around 250 guests.
In the end, they shared vows in a church in Hawaii, where they emerged as husband and wife. They then had a reception on the beach, celebrating their marriage and Ashlyn's "best day of her life."
As of 2022, the pair celebrated their third wedding anniversary and are parents to two sons.