Dean McDermott Keeps All Rumors Surrounding Him and His Wife Tori Spelling at a Distance
The couple has five children from their marriage.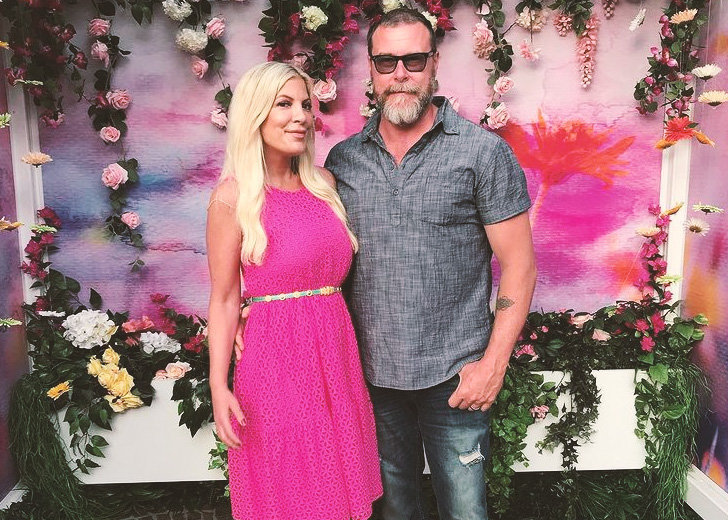 Dean McDermott finally shut the mouths of people who had been long speculating that the actor and his longtime wife Tori Spelling were on the verge of divorce.
In the Wednesday episode of The Feminine Warrior Podcast, the former Chopped Canada host addressed all the ongoing rumors about his personal life, stating he could not understand why people were so interested in the status of his marriage to Spelling.
"It's just weird that people need to know," McDermott said. "'What's going on with Tori and Dean? She's not wearing her ring.' Why do you need to know that? How is that going to affect your day?"
He further said he was no longer interested in replying to anyone about the speculations. However, he was also fine with people who still wanted to think he and his wife were having a sour relationship. "OK, if that's what you want to think, then think it," he added.
The divorce rumors started earlier this year in March when Spelling was spotted without her wedding ring. But he revealed during the interview that there was no drama between the couple, and she had just forgotten to put it back on after taking it off to wash her hands.
Like his wife, the 54-year-old actor was also recently photographed without his ring, to which he responded by saying that it was yet another oversight. He explained,
I had a silicone utility ring that I took off when I was playing golf, and I put it in my pocket. And when I take my glove out, it fell out on the golf course. So, I lost my utility ring and then somebody saw that.
And because so many people made various speculations about the matter, McDermott said he would not even replace it.
Meanwhile, Spelling, 48, also made a few statements when recently she sat down with Jeff Lewis for an interview, which further brought speculations that the couple's relationship was going downhill.
In the interview, she stated she and her longtime husband had been sleeping in separate beds. She explained, saying that she developed a habit of sleeping with her kids and dogs in her bed at the time when McDermott was away from home for six months due to filming.
Hence, even when he returned home, she said it took her time to make space for her husband in her bed. 
...since he left [and] he was gone for six months filming in another country, they all stayed with me. So, I currently still have four in the bedroom with me who have yet to go back to their rooms, yes
But last month, when she again talked with Lewis, she said things were good between the couple and that they also had good family time at an event called Malibu Chill Cook-Off, where the family had been going since their son Liam was 1-year-old.
At present, Liam is 14-year-old, while Tori Spelling and Dean McDermott, who have been married since 2006, share four other children: Stella, 13, Hattie, 9, Finn, 9, and Beau, 4.