A Look at David Hyde Pierce's Relationship with His Long-Term Partner Brian Hargrove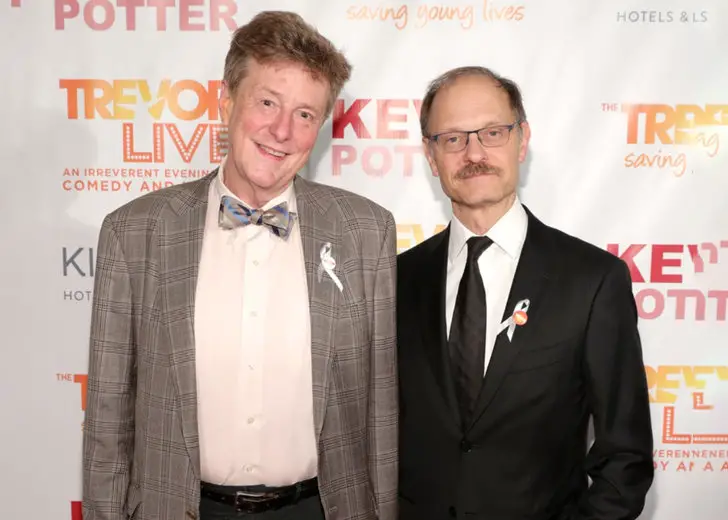 David Hyde Pierce and his husband, Brian Hargrove, tied the knot on October 24, 2008, after over 25 years together.
Pierce previously spoke about his marriage to his longtime partner during an appearance on The View in May 2009.
The Frasier star had taken Hargrove as his husband in a quiet ceremony, just days before Proposition 8 was adopted as law in California, banning same-sex marriage.
Because of this, Pierce and his husband found themselves in a tough spot.
"Brian and I always kept a low profile. We didn't hide our lives. We got married very quietly last Oct. 24 and thought that was fine," he shared.
"Suddenly, the state of California said, 'No, it's not.' What we thought was sort of a private, personal decision turned out not to be."

David Hyde Pierce with partner Brian Hargrove (Source: YouTube)
Pierce and his partner later found out that their marriage was valid, as it had occurred in the brief period when same-sex marriages were legal.
But despite that being the case, Pierce opened up about how frustrating and anger-inducing the situation had been. He shared he had been active in gay-rights rallies because of the aforementioned incident.
"I've been going because I had the experience of having this private thing suddenly dragged out into the public, and people I don't know take a vote," he said.
David Hyde Pierce and Partner Brian Hargrove
Pierce found much success as an actor after playing the role of Dr. Niles Crane in Frasier from 1993 to 2004.
But with success came public scrutiny, and the actor has been very open about being uncomfortable with fame.
"It's not something I'd ever been interested in or sought out," he said during an interview with Vulture.
Pierce kept a low profile for all of his career. And because of this, there were many speculations and rumors surrounding his sexuality.
It was only in 2007 that the actor confirmed he was gay. However, his friends and family have been aware of it since long ago.
Pierce shared he never sat down with his family and had a talk with them about being gay.

David Hyde Pierce during his appearance on 'SNL' (Source: YouTube)
He also recounted the story of how his parents found out about it. "I brought home the guy I was in love with. And they met him and loved him and embraced him, and he was a member of the family instantly."
Pierce first met his husband back in 1982. At the time, both Pierce and Hargrove were actors and shared the same agent.
As gay people weren't so openly accepted back then, his partner, Hargrove, had a pretend girlfriend. And because of it, Pierce initially thought Hargrove was straight.
However, as they spent more time together, Pierce learned his husband, Hargrove, was gay, and they eventually got together.
Since then, Pierce and his partner have worked together not just in real life, but also in their professional life.
Pierce previously directed the musical comedy It Shoulda Been You, which had a story and lyrics by his husband.