Did David Harbour and Lily Allen Split? Behind Divorce Rumors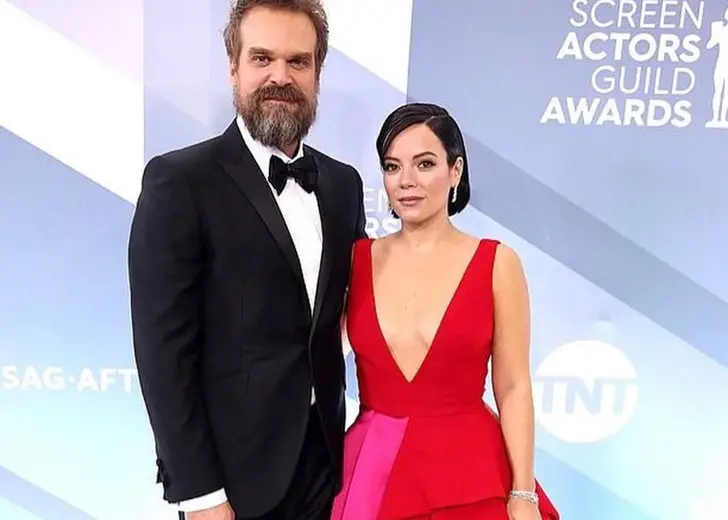 David Harbour and Lily Allen began their married life in September 2020. She even professed to prefer her life with him in it on their first anniversary.
But a month after their first year together, rumors started circulating that claimed they were headed for divorce.
Is there any truth to these speculations, though?
David Harbour and Lily Allen's Divorce Rumors
Speculations that Harbour and Allen were on the brink of a split started in November 2021. This began with a report from Radar Online that stated a few things.
The publication noticed Harbour in New Orleans, Louisiana, on November 1, 2021, going out and about.
The absence of a wedding band on his finger prompted the publication to speculate a divorce.
The report also noted that he was in a joyful mood despite the missing ring. He was on set in New Orleans, shooting for his movie, We Have A Ghost.
Radar Online also reported that he was spotted chatting with a blond woman, again in a not-so-gloomy mood.
Harbour didn't miss wearing his ring just on set, though. Several witnesses also saw him running errands around town, and even in these situations, he was not wearing a ring.
This report took the fans by surprise. Many were and still are curious about whether Harbour and Allen have actually broken up.
Are David Harbour and Lily Allen Still Married?
People's curiosity usually leads them to the internet, where they look for information, whether that be from reputed outlets or gossip junctions on social media. And this is where Deux Moi comes in.
On February 1, 2022, an anonymous person posed a question about Harbour and Allen to Deux Moi. They had asked if they were still married.

According to an anonymous submission on Deux Moi, David Harbour and Lily Allen's divorce rumors are not true. (Photo: Deux Moi/Instagram)
At first, the page responded, saying they had not heard this and "would be surprised if true."
Then, an update came through on the matter from another anonymous informer.
The informer claimed a few things that hinted the divorce to be false.
"this [sic] is not true," the submission began. Then, they claimed that a friend of theirs worked at a LA hotel where he saw Harbour and Allen checked in.
They had their kids, Ethel and Marnie, with them and were "having the best time!"
According to the informer, this happened in the final week of January 2022 and subsequently opined that unless the couple had broken up within a week, the divorce rumors were false.
There were also other hints about their relationship not ending. A few weeks after Radar Online's initial report came out, the duo stepped out for Knicks vs. Suns at the Madison Square Garden on November 25, 2021.
Harbour married Allen on September 7, 2020, in a Las Vegas wedding that an Elvis Presley impersonator officiated. For the afterparty, they served refreshments and went to In-N-Out burgers.
On their first anniversary, Allen posted many pictures from their wedding day. In the caption, she wrote, "I prefer my life with you in it. You can stay."
She deactivated her Instagram later that month after getting some heat for criticizing a takeaway pizza company.