Pink Floyd's David Gilmour Loves Being a Dad to His Eight Children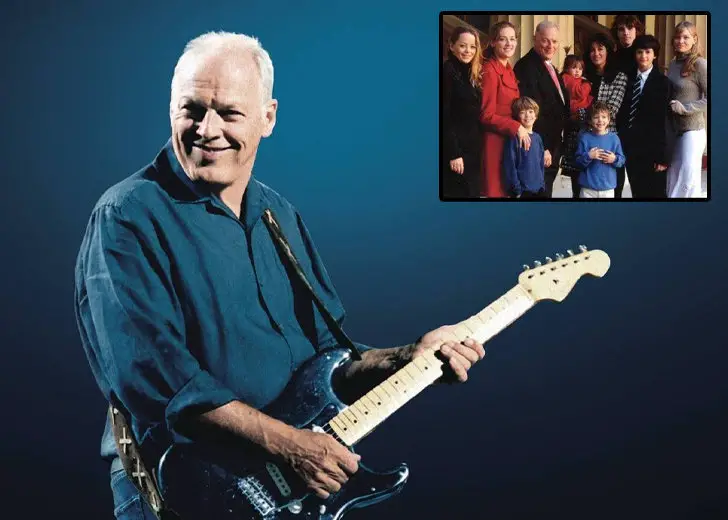 David Gilmour, the legendary Pink Floyd singer, is a happily married man. He has been married to his wife, Polly Samson, an author, since 1994.
The couple has four children: three sons, Charlie Gilmour (1989), Joe Gilmour (1995), and Gabriel Gilmour (1997), and a daughter, Romany Gilmour (2002).
Charlie is not the biological son of David, as he was born to Samson and her ex-partner, Heathcote Williams.
"I came on to the scene when Charlie was two," David told The Guardian of meeting Charlie. "I loved Polly and I also loved her little boy. He was fantastic."
The 75-year-old singer also has four more kids from his first marriage with model and artist Virginia "Ginger" Hasenbein.
He had his first child, daughter Alice Gilmour, in 1976, followed by daughter Clare Gilmour in 1979, daughter Sara Gilmour in 1983, and son Matthew Gilmour in 1986.
David Gilmour Loved Parenting His Children
During the previous interview with The Guardian in August 2016, David talked about his parenthood experiences, stating he loved being a dad to all his kids.
He shared he was away from home because of his work commitments most of the time.
But that didn't stop him from being an amazing father, as he always made sure he looked after them properly when he was around them.
"I love being a dad," he said before adding, "It's full of frustrations and annoyances and stuff, but the great moments are just so great. They are lovely. There are those moments, and have been with all of my children."

David Gilmour celebrating Christmas with his children. (Photo: Instagram)
The legendary singer further recalled taking care of his wife Polly and raising his adopted son Charlie when he had just married her and was yet to welcome other three children.
David shared his wife had glandular fever and was weak; therefore, he was happy to wake up early, make breakfast, and drop the then-two-year-old Charlie to school in Highgate.
David Gilmour and Daughter Romany Play Music Together
David and Romany are often spotted playing music together and mesmerizing the fans.
For instance, the singer took to Instagram on April 26, 2021, to share a video of him and his daughter recreating their version of 'The Magpie,' which was originally done by David Dodds.
"This one was in celebration of the release of @charliegilmour's Featherhood memoir," he wrote in the caption.
Impressed by Romany's talent, a fan noted, "Romany has a beautiful voice."
"What a beautiful family you have, your family are everything," another fan praised.
Besides, David also spends time with other family members — either by going out together or entertaining them with his powerful songs at home.
For example, he stepped out to enjoy lunch with his wife Polly and son Charlie in London in June 2021.
The singer also seemed to be in good spirits as he smiled back at people who recognized him while walking alongside his family on the street.