David Brooks' Wife Is 23 Years Younger than Him — Is She His First Spouse?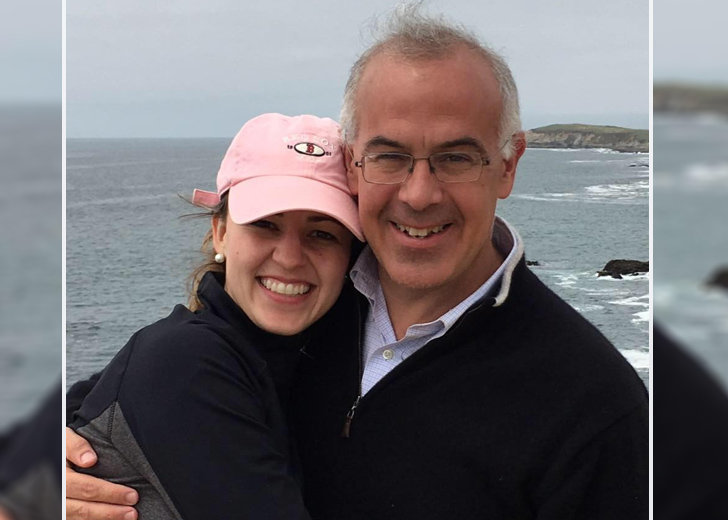 David Brooks found love in his research assistant Anne C. Snyder, twenty-three years younger than him. And the feeling was mutual.
The duo bonded despite the age gap and was speculated to be dating since the early 2010s.
However, Brooks and his wife didn't make their relationship public and denied the dating speculations initially. But their budding chemistry was pretty apparent. 
David Brooks and Wife's Love Story
Brooks gave a shout out to Snyder for guiding him to write his 2015 book, The Road To Character.
He said, "If there are any important points in this book, they probably come from Anne." No surprise, they got close during the project as Snyder worked closely with him for three years. 

David Brooks(middle) and his wife Anne Snyder Brooks at Duke Divinity School in October 2019. (Source: Twitter)
Brooks and Snyder's relationship became public when he wrote a paragraph about her in his book, Morality and Inner Life. It made people guess their romantic engagement.
He spoke highly of her and gushed about the "lyricism of her prose" and the "sensitivity of her observations." Brooks added that she motivated him to write the book.
According to The Washington Post, they married in Washington D.C. in 2017. The owner of Atlantic Media threw a rehearsal luncheon for the couple before their wedding.
While the pair tied the knot happily, their union spurred criticism regarding their age difference. After their marriage, people even called Snyder his "trophy wife."
But Brooks and his wife remained strong and have been so as of this time of writing. 
Snyder works as editor-in-chief for Comment magazine. She has also authored a book titled, The Fabric of Character: A Wise Giver's Guide to Renewing our Social and Moral Landscape.
David Brooks' Relationship with First Wife
Before Snyder, Brooks had already tied the knot once. He met his first wife, Sarah Brooks, when they were students at the University of Chicago.
She converted to Judaism and changed her name from Jane Hughes to Sarah after their wedding in 1986. 
After remaining married for twenty-seven years, the couple decided to end their marriage. They separated around late 2013 and had their divorce finalized in 2014.
A year before their divorce, Brooks had told Alec Baldwin how college needed to teach students about marriage. 
In the interview, he had explained that a good marriage would even make miserable lives easier, stressing a college course should be about "who to marry."
The New York Times columnist and his first wife have two sons and a daughter. Their eldest son Joshua Brooks graduated from Indiana University and is currently serving the Israel Defense Force.
Besides that, there is no information about his other two children.
Having said that, it is known co-parented their kids. Brooks even mentioned them and his first spouse in his 2015 book The Road To Character.