Who Is Danielle Bernstein's Boyfriend? Here's What We Know About Him
Bernstein is okay with sharing her favorite moments with her boyfriend, but not his name.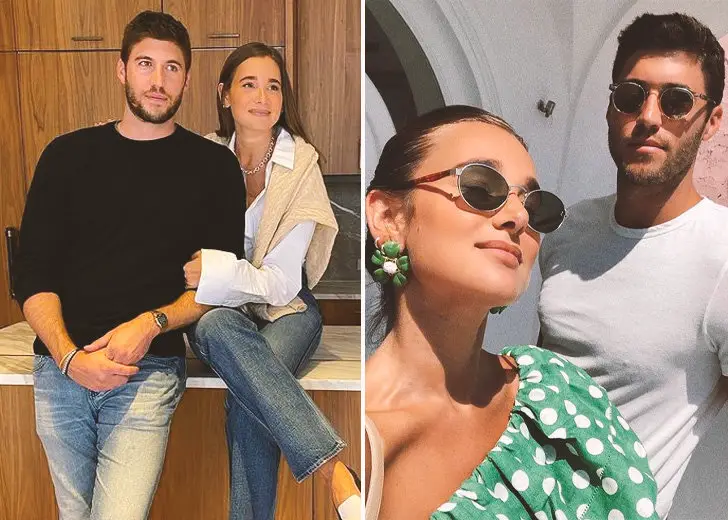 Fashion influencer Danielle Bernstein is anything but shy about flaunting her handsome hunk of a boyfriend on her social media. However, what's surprising is that despite her boyfriend making several appearances on her socials, his name is a mystery to most. 
Apart from his name, there are more than a few things that Bernstein has revealed about her beau over the course of their relationship, like the fact that the two of them have been an item for over two years.
The Boyfriend Is a Chef in the Making
First things first, we know for certain that Bernstein's boyfriend is a chef in the making, as per the fashionista's Instagram. 
On July 31, 2021, Bernstein shared a slideshow of snaps featuring herself and her beau spending some quality time in the kitchen. The first snap in the series saw both the influencer and her mystery man sharing a glass of white wine. 
Both of them were clad in kitchen aprons, and Bernstein couldn't help but land a loving peck on his cheek. 
The progression of photos that followed saw the boyfriend hard at work in the kitchen, the couple learning things together, and later enjoying a meal that they served in an outdoor dining setup. 
The latter half of the slideshow was dedicated to appreciating the landscape, architecture, and the overall aesthetic of their weekend getaway. 
However, it was in the caption that the social media celebrity spilled the beans. She revealed she had fallen in love with a "chef in training." Of course, with a series of photos so adorable, her followers couldn't help but gush over the couple in the comments. 
Danielle Bernstein Only Shares What Her Boyfriend Is Comfortable with
It turns out the decision to keep the identity of her boyfriend under wraps was made by the couple in unison. During an Instagram interaction in January 2021, Bernstein revealed that about 90% of the questions asked by her fans were related to her relationship. 
She then affirmed that the man she called her boyfriend was her best friend and her rock. Admittedly, he was a good sport who respected all of her endeavors, an action that she reciprocated. 
She explained she loved keeping things between the two of them sacred and private. But, at the same time, she loved sharing things about her life with her followers. She added, 
It's a fine balance and we're constantly communicating to make sure he's comfortable with the level of sharing.
Danielle Bernstein Is Not Shy about Flaunting Boyfriend
That being said, she is not shy about flaunting her partner on her socials from time to time. For instance, back in August, she uploaded a clip of the two of them spending time in the pool at La Peschiera Hotel. 
The boyfriend was in the pool as the influencer was basking in the sun in a white bikini. Just then, he pulled her into his arms, and the couple shared an intimate kiss in the water. 
In another update a week later, she shared a slew of pictures that framed the gorgeous couple. It's safe to say that in every one of those snaps, their love for each other was radiantly apparent. Apparently, those were Bernstein's favorite pics with her favorite person.