Who Is Daniel Sorensen's Wife? A Look inside His Family Life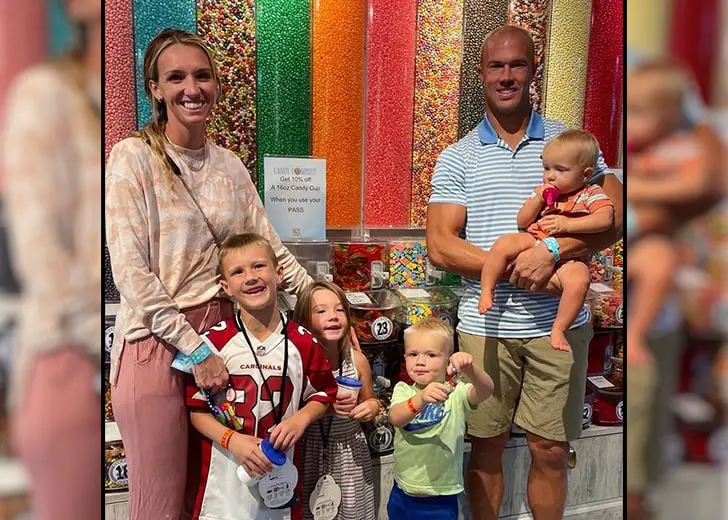 Daniel Sorensen has been with the Kansas City Chiefs for the entirety of his professional career in the NFL. The safety leaves his everything out on the field.
The secret to his play and dedication? His family.
Sorensen's support system is his wife; a relationship so complementary, it would not be too wrong to call it a match made in the heavens.
Daniel Sorensen's Married life with Wife Whitney
The Sorensens don't do social media much. But they do drop the occasional insight into their family life.
Sorensen met his wife, Whitney Jill Sorensen, possibly at college because they attended the same university. Their nuptials came in 2013.
The husband-wife duo said their vows on April 26, 2013. On their 7th anniversary in 2020, the Chiefs star penned a post detailing the ways in which she was valuable to him.
The player gave his reasons as to why he loved his wife. He gushed, saying she made him strong but also was his weakness.
Further, she also made him laugh and smile, made him playful, and happy overall.
The poem was accompanied by a photo dump, the first of which was their wedding picture.
He donned a grey suit with a white shirt and a matching tie, whereas Whitney looked lovely in a white wedding gown with a hip-length veil. The venue of their wedding was equally beautiful, with white blossoms.
In late December 2014, they received a nice gift for Christmas. They came to know that their first child was going to be a boy.
Soon after that, the family of two became a family of three as they welcomed their son Brooks. He is five years old now.
Then followed Kennedy, their second kid, who is now four. Harrison, their third kid, is almost two years old at the time of this writing.
And in November 2020, they welcomed their fourth and youngest kid — son McCoy James.

Daniel Sorensen with his wife Whitney Jill Sorensen and four kids; Brooks, Kennedy, Harrison, McCoy James. (Photo: Daniel Sorensen/Instagram)
Sorensen and Whitney have four kids and share a home in the suburbs of Kansas City.
About Daniel Sorensen's Wife Whitney Jill Sorensen
The reason why Daniel and Whitney might be a match made in heaven is due to their backgrounds. Much like her husband, Whitney has a background in sports.
She grew up in a family where her siblings were athletes themselves. Her brother played as a guard for Timpanogos High School, Salt Lake Community College, and Brigham Young University, the same university where Sorensen played college football.
Whitney wasn't any less of an athlete, either. She was a multi-sport athlete herself.
The now-mother-of-four-kids used to play soccer, do cross-country running, and competitive clogging. Additionally, she also used to be a member of BYU's folk dance team.
Sorensen admitted to the fact that she is a great mother.
"She is patient with the children and driven to be involved in the family. She always makes our family her priority and makes time for me and the kids," the Chiefs' safety during his interview with Deseret in January 2020.
Whitney also works as hard off the field as he does on the field. She is also active in the community, organizing and participating in community service events each month.