Inside Daniel Day-Lewis' Decades Long Marriage With Wife Rebecca Miller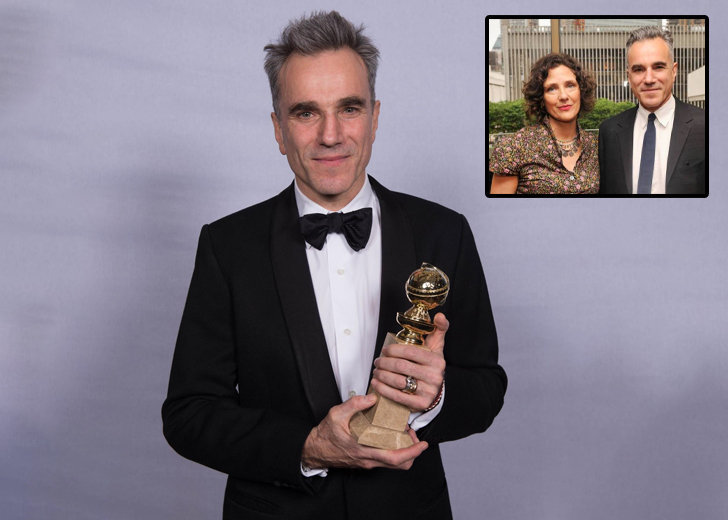 Daniel Day-Lewis has starred in less than 20 movies, but he is considered one of the best thespians of his generation. 
The actor selects his roles carefully, and some of his works include The Bounty in 1984 and My Beautiful Launderette in 1985. 
Despite the fame and success in Hollywood, he left the glamor world behind and led a quiet life with his wife, Rebecca Miller, in Ireland.
Daniel Day-Lewis and His Wife
Miller is also an actor, and some of her works include Personal Velocity (2002) and Maggie's Plan (2015)
Day-Lewis and his wife started dating in 1996 and got married months later.

Daniel Day-Lewis and his wife with Russel Havard (Source: Daniel Day-Lewis/Instagram)
They met during the production of The Crucible, which starred  Day-Lewis, Winona Ryder, and Paul Scofield.
Miller had set her mind on never getting married or having kids because of her phobia of marriage until she met Day-Lewis, and everything changed.
But the actress, who was already in her 30s, felt comfortable committing, saying she had "lived a lot."
"If I hadn't met the man that I met, I'm sure I wouldn't have been with anybody, I'm sure of it," Miller told the Financial Times in 2016.
The couple did not work together on the film, but they were introduced because the movie was an adaptation of a famous play produced by Miller's father, the famed playwright, Arthur Miller.
Daniel Day-Lewis and His Wife Worked Together
In 2005, the spouses finally worked together for Miller's film The Ballad of Jack and Rose. 
Day-Lewis starred as the lead in the movie, directed and written by his wife.
She had sent him an early draft of the script ten years before they met and married. 
"I sent him the script thinking that he was the right man to play Jack. I thought he was the best actor, and Daniel has something that makes people side with him," said Miller. 
But the actor rejected her with a note explaining that he was not ready to experience everything he needed to play Jack.
Miller didn't give up and approached him once again after marriage. 
Day-Lewis, who is picky with his projects, thought about it for a long time before he finally agreed. 
Daniel Day-Lewis and His Children
The couple seems to have a shared passion for cinematography, and perhaps that has led to a blissful marriage of over 25 years. 
According to reports, they live a quiet life in the deeply isolated village in Ireland and occasionally spend their summer in New York, where they have an apartment.
The duo has two children. Their older son Ronan was born in 1988, while their second son Cashel was born in 2002. 
During an interview with The Guardian, Miller shared she was stricter with her children than her parents were with her. 
"My children do chores. I think it's good for them. I was raised more rule-free. My mom really didn't want me as a girl to be a slave at all," she said.
Day-Lewis is also a father to Gabriel Kane Day-Lewis, whom he shares with French actress Isabelle Adjani.
According to reports, Lewis refused to acknowledge his son, but he has since changed his ways and now has a close relationship with him.