Know about Daniel Dae Kim's Wife Mia Kim, Marriage, Net Worth, Height, Age & Family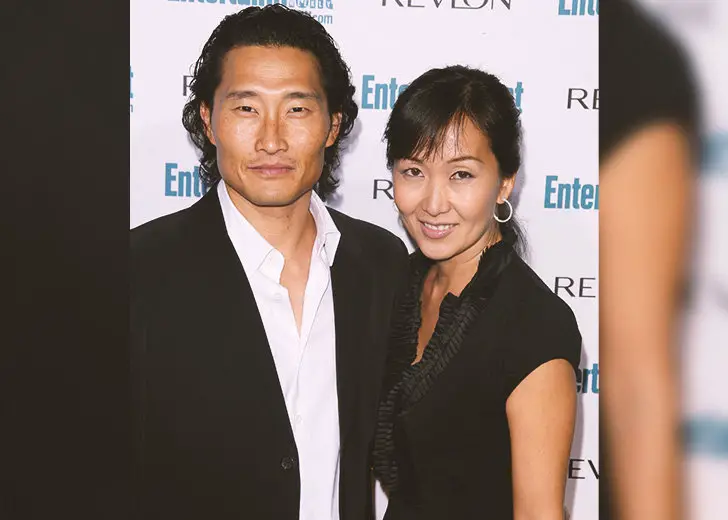 South Korean-born American actor Daniel Dae Kim is best known for his roles in Hawaii Five-0 and Lost. Throughout his more than three decades-long television and movie career, he has been pushing for diversity in Hollywood.
He has also carved out a distinct identity as an advocate of the Asian American community who speaks out against discrimination. 
In fact, Kim decided to be a part of the American action police procedural series Hawaii Five-0 as detective lieutenant Chin Ho Kelly (2010-2017) for his sons: Zander and Jackson Kim. 
During an interview with Vulture, the actor, who has been raised in the United States since the age of 2, shared he starred in Hawaii Five-0 because he didn't want his sons to feel alienated growing up as he did. He said,
At that time, one of my sons was in elementary school, one was about to enter high school, and I really wanted them to grow up with a continuity of experience. 

Daniel Dae Kim with his sons Zander and Jackson in Montreux, Switzerland, in November 2017. (Photo: Instagram)
"I also appreciated what Hawaii had to offer to an Asian American family," he added, recalling how he felt very much like "the other"  for most of his upbringing while growing up in a steel town in Easton, Pennsylvania in a household led by an anesthesiologist father and homemaker mother.  
He added, "But my kids blissfully had never had to experience that. I did not want to put them in a situation where we went back to the mainland and they experienced that for the first time in the halls of high school."
In the same interview, Kim clarified that his family, his wife, and his sons were his priority. He also stated that he had expected the show to be more diverse because of Hawaii's diversity. He explained,
Though I knew what a CBS procedural was, whether this was naïve or not, I had hopes that Hawaii Five-0 would be different because it was a show set in Hawaii, where the majority of people are not white. I thought it was going to be more of an ensemble show, and if you look at the early marketing and promotion for the show, where Grace Park and I were featured equally as prominently as anyone else, it led me to believe that it could be. I was proven to be wrong.The reboot of Hawaii Five-0 premiered on CBS in 2010. The original marketing for the show prominently featured Kim and Grace Park alongside the white leads, Alex O'Loughlin and Scott Caan. Ultimately, the show's A plots would go to the two white leads, while Kim and Park played secondary characters. And also, let's be honest, I was able to make a good living.
Before the police procedural drama, Kim had got mainstream prominence from ABC science fiction drama Lost, in which he portrayed the role of fisherman-turned-hitman Jin-So Kwon (2004-2010), who gets lost on a mysterious island with his wife, Sun-Hwa Kwon.
In 2019, Kim was functioning as the executive producer of The Good Doctor when he was also cast as Dr. Jackson Han. 
And now in 2023, he is currently working on his next movie, Avatar: The Last Airbender, in which he has been cast as Fire Lord Ozai. He is also set to lead Amazon's spy thriller series Butterfly. 
In this article, we focus on the Busan native's marital life and family with wife, net worth, height, age, and more. 
Who is Daniel Dae Kim Married to?
Daniel Dae Kim has been married to his graphic designer wife, Mia Haeyoung Rhee, for over 28 years. The two tied the knot on June 12, 1993. Their intimate wedding was held at the First Presbyterian Church in Fairfield.
Kim is three years younger than his wife Rhee.

Daniel Dae Kim with his wife Mia Kim. (Photo: Instagram)
Currently, Daniel and his family comprising his wife and children are residing in Hawaii.
Previously, the actor had to split his time between Hawaii and Los Angeles (where his family resided) after being cast in Hawaii Five-0, hence he planned to move to the island.
"My wife and children are Korean, Korean-American, but in Hawaii, the American is assumed. You can grow up here without a chip on your shoulder because you're never made to feel foreign. I want that for my kids, so I am planning to make a life here," he told Hawaii Magazine in 2010.
How many Children does Daniel Dae Kim have?
Daniel Dae Kim and his wife Mia Haeyoung Rhee welcomed two children into their family.
Kim and his wife gave birth to their first son, Zander Kim, in July 1996. He is currently an editorial assistant at Black Dog & Leventhal, a publisher of illustrated books for readers of all ages. 
As per his official website, he usually works on non-fiction topics such as basketball, dogs, and Schitt's Creek. 
Zander graduated from Brown University and he was also the co-creator and staff writer at Ex-Bullpen, a baseball blog, until 2018.
Kim and his wife also have another son, Jackson Kim, who was born in January 2002. Jackson is currently attending New York University and is a fashion model signed with Wilhelmina Models.
Why did Daniel Dae Kim Left 'Hawaii Five-0'?
Kim left Hawaii Five-0 after seven seasons in 2017. The reason for him leaving the show, which was one of his major works, was being unable to gain pay parity with fellow original cast members Alex O'Loughlin and Scott Caan.
Kim wasn't the only one trying to renegotiate a pay parity among the cast members.
Grace Park, who played the role of Kono Kalakaua in the series, also sought equal pay. Ultimately, both of them left the show at the end of season 7 after their requests weren't fulfilled.
In the aforementioned interview with Vulture, Kim had gotten candid about his time in Hawaii Five-0. He described the difference between his pay and that of Alex and Caan to be "significant."
Kim also shared that he had taken a huge pay cut. "One thing that has never been properly reported is the amount of pay cut I took to do 'Hawaii Five-0' from 'Lost.' It was drastic, and it was never made up," he explained.
The actor further added that the goal at the negotiating table was to make all the castmates into the ensemble he had thought they were when he got into the show. He also asked for his pay to be raised back to where it was when he was starring in Lost.