Who Is Dakota Fanning Dating? Is Henry Frye Still Her Boyfriend?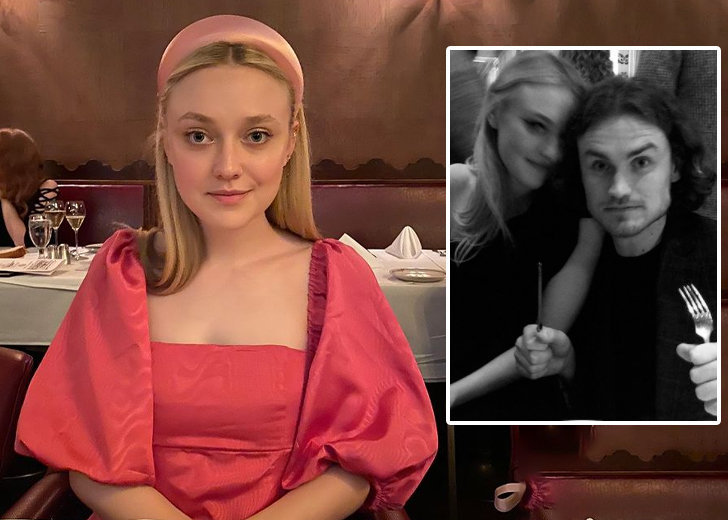 Dakota Fanning has been very private about her personal life.
Despite the secrecy, she has been long romantically linked to Henry Frye, a non-public figure whose full name is Clayton Henry Frye.
Fanning started dating Frye around mid-2017, or as it seems so from her Instagram posts.
She had first introduced her boyfriend to her fans and followers in October 2017, posting intimate pictures with her partner and captioning the post as "Lovers."
Fanning's Relationship Timeline with Boyfriend Henry Frye
Fanning and her boyfriend were spotted attending a Knicks Game and enjoying their time together on February 6, 2018.
The graduate from the University of Vermont was seen affectionately keeping his hands around Fanning as she chatted and laughed with him.
Thereon, their relationship progressed smoothly, and Fanning and Frye were making public appearances as a couple within three months.
The lovebirds attended DuJour magazine's Memorial Day Weekend party at Gurney's Montauk Yacht on May 30, 2018. 
After the party, insiders for Page Six reported they were serious about their relationship. So much so, Fanning was traveling to Cape Cod to meet her boyfriend's parents. 
Following that, Fanning and Frye put some PDAs on display on August 28, 2016.
They stepped out hand-in-hand, strolling the streets of Manhattan after relishing a dinner date. Both of them laughed and smiled as they walked the streets with matching looks. 
Are Dakota Fanning and Henry Frye Still Dating?
Since 2018, Fanning and her partner have kept their relationship close to their heart. They have also posted no updates on their social media accounts. 
Many fans are assured the pair has broken up, keeping the split away from the public. 
However, some people also believe the duo is still dating secretly. And the influential source for the idea is Fanning hasn't deleted Frye's pictures from her Instagram.
One such post is from February 2018, when Fanning uploaded a picture with her boyfriend and referred to him as "my valentine" in the caption.
Although some hints can be extracted from such evidence, it is uncertain if Fanning and Frye are still dating.
And the debate will only continue until the I am Sam actress opens up about her relationship or introduces a new boyfriend. 
Before Frye, Fanning was reportedly dating model Jamie Strachan from around September 2013 to 2016. 
Dakota Fanning Can't Wait to Get Married
Although Fanning prefers privacy regarding her personal life, she has been vocal enough to share her opinion regarding relationships.  
In an interview with Glamour in January 2013, the 27-year-old shared she had a "weird vision of relationships."
She explained that because her parents only dated each other their whole life and married, she always thought relationships were supposed to be that way.
She opined that if the goal wasn't to get married, it was useless to date. "I don't want to waste my time on it," she added.
The Georgia native shared a similar sentiment in an interview with Vogue Australia in January 2018.
Adding to that, she expressed she was already thinking about the next steps in a relationship for her future. "I can't wait to be a mom. I can't wait to get married," she uttered, clarifying that those things were significant to her.