Dacre Montgomery's Girlfriend Liv Is Super Supportive of His Career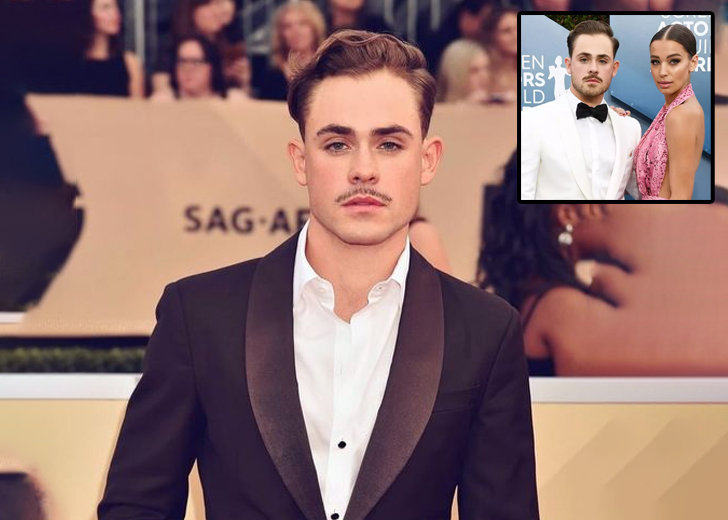 Dacre Montgomery has been with his girlfriend Liv Pollock for over four years. Since the two got together, they have attended many public events, including the Screen Actors Guild Awards.
Both Montgomery and Pollock have expressed their love and appreciation for one another on multiple occasions.
In November 2019, the Stranger Things star took to Instagram to post a black-and-white picture of himself and his girlfriend. He wrote how much she meant to him in the caption.
"This woman right here is the backbone of everything I do. She's the brains AND the elegance," he penned.
"She's the one that packs up her bags and moves around the world for me. She's the one that wakes up in a different hotel room everyday, because she's there supporting me."

Dacre Montgomery with girlfriend Liv Pollock in November 2019. (Source: Instagram)
Montgomery further added that his girlfriend helped him live in the present and not take things seriously.
He noted she was his emotional support and described her as the "sounding board and the intelligence" who often helped him flesh out ideas.
Similarly, Pollock has also expressed her love for Montgomery through her socials. Around the same time that he made the aforementioned post, she uploaded a series of photographs of the two at a beach.
"My everything," she captioned the Instagram post, followed by a black heart emoji.
Who Is Dacre Montgomery's Girlfriend?
Pollock is a model associated with Vivien's Model Management, an Australian modeling agency. She primarily modeled for swimwear but transitioned to fashion modeling in 2019.
Speaking on the change, Pollock said it was challenging, but in a good way. "It took me out of my comfort zone… it was more refined and an incredible opportunity to show what I can do."
Pollock is also studying design while simultaneously working as a model.
In fact, it was her and Montgomery's mutual love for design that played a big part in them getting together.
"We are both also really passionate about design - I'm studying architecture and Dacre studied interior design," she told The Daily Telegraph. "So we were drawn to each other through our mutual love of design."
Pollock also added that Montgomery's fame did not affect their relationship as it had been built on similar values and adventurous nature.
"Just because his career places him within the public eye doesn't and would never be a factor that we would let influence our relationship," she remarked.
Dacre Montgomery and Girlfriend's Relationship
Montgomery and Pollock are both from Perth, and they met through mutual contacts from work. The pair initially developed their relationship by talking through social media.

Liv Pollock marked her fourth anniversary with Dacre Montgomery. (Source: Instagram)
While it's not known when they started communicating, she marked their fourth dating anniversary with a post on Instagram on November 28, 2021. 
"Another lap around the sun with you … thank you for 4 of the best. Love you always," she captioned the post.
Pollock previously took a gap year from the University of Western Australia to move to Atlanta with Montgomery and be with him while he was working.