Meet Cynthia Nixon's Three Children — Here's What We Know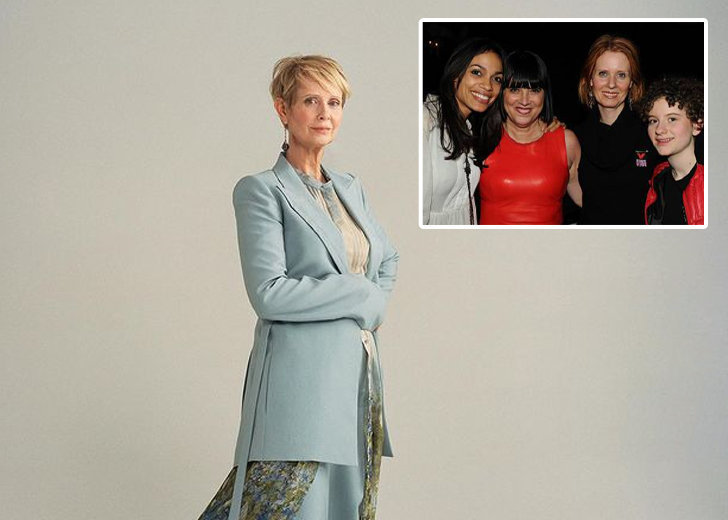 Cynthia Nixon is a mother to her three children, Samuel Joseph Mozes, Charles Ezekiel Mozes, and Max Ellington Nixon-Marinoni.
Her kids, Samuel Joseph and Charles Ezekiel, were born from her relationship with her former boyfriend, Danny Mozes.
Likewise, Nixon shares her son Max Ellington with her wife, Christina Marinoni.
Getting to Know Cynthia Nixon's Children
Nixon's first child Samuel was born in 1996, while Charles was born in 2002 while the actress worked in the popular television show Sex and the City.
She was pregnant with her second child while filming for season four, and her character Miranda Hobbes' baby bump depicted in the series was real.
In 2018, Samuel came out as transgender. Samuel holds a graduation degree from the University of Chicago.
And after his graduation ceremony, actress Nixon took to her Instagram and shared a picture of herself with Samuel.

Cynthia Nixon shares a photograph with one of her children Samuel Joseph Mozes after his graduation ceremony. (Photo Credit: Instagram)
"I'm so proud of my son Samuel Joseph Mozes (called Seph) who graduated college this month," Nixon wrote in the opening sentence.
She followed her writing, saying she "salute him and everyone else marking today's #TransDayofAction. #TDOA."
But unfortunately, her post wasn't welcomed with overwhelming congratulatory comments.
Many of her fans and followers criticized the actress calling her "crazy," and Samuel Joseph's situation "just too weird."
Last but not least, another of Nixon's children, Max Ellington, was born in 2011, a year before her wedding with Marinoni.
After initially doing their best to keep the identity of his biological father away from the spotlight, the couple revealed it to be Michael Growler, who worked with Nixon on the Sex and the City movies.
In 2019, Nixon shared a picture on her Instagram where a young Max Ellington was seen receiving help from Growler in getting dressed for Halloween as Pennywise the clown.
"When your dad's a customer and you always wanted to be Pennywise…," And Just Like That… actress Nixon captioned the image.
While not in a legal relationship with either Nixon or her wife, Growler is understood to be the donor.
Cynthia Nixon's Relationship History with Wife
In 2001, Nixon and Marinoni met during a campaign for reform in New York's public school system.
Their friendship grew over the years, and in 2004 the couple started dating each other.
Before coming together with Marinoni, Nixon ended her fifteen-year relationship with former partner Mozes in 2003.
Nixon, who was never associated with a woman, said her decision to start a relationship with her wife wasn't her coming out.
Instead, it was Marinoni's charm that made the actress fall for her.
"It wasn't something in me that was waiting to come out. It was like, 'This person is undeniable. How can I let this person walk by?'" the mother of three children reportedly told the Advocate.
Flash-forward to 2009, and the couple had announced their engagement at a rally in New York City organized in favor of legalizing same-sex marriage.
They eventually exchanged their vows in 2012 during a private rooftop ceremony after same-sex marriage was given the green light in New York a year prior.