Corbin Bleu's Wedding Vows to Wife Sasha Clements Were Hilariously Inappropriate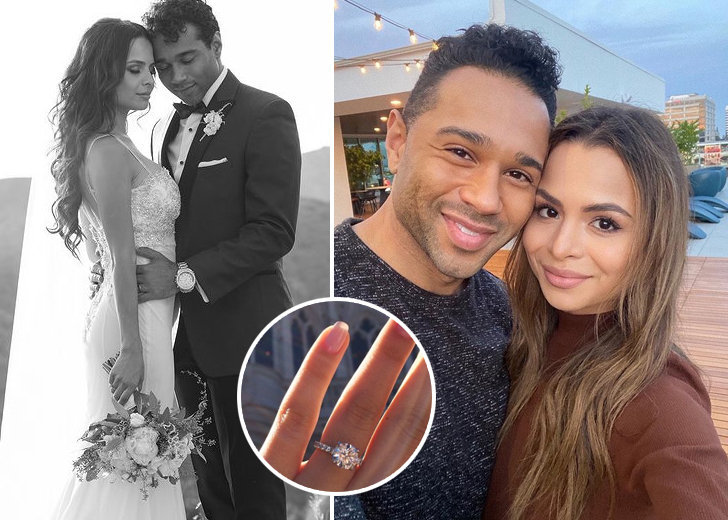 High School Musical star Corbin Bleu married his wife Sasha Clements back in 2016.
He shared details about his wedding during an appearance on LIVE with Kelly and Ryan.
He called the moment Clements walked down the aisle the "best moment" of his life.
Bleu also shared how he and his wife had written their vows themselves and how romantic it was. However, the actor also revealed that he said some slightly inappropriate things when sharing their vows during the wedding.
We wrote our own vows. Of course, we talked about being faithful to each other, putting each other as number one. But there was one that as I was writing it, I knew this was something that I was saying to her. And at the moment it was beautiful… but I forgot her father was sitting right there and I said, 'I vow to pleasure you.'
Corbin Bleu And Wife Sasha Clements
Bleu and Clements met for the first time in the coffee aisle of a Toronto grocery store in 2011. Clements shared she recognized him from somewhere but wasn't sure where, so she assumed he was someone she knew and approached him.
Clements realized she didn't know him after talking to him, but they eventually got to know each other. Bleu revealed they went salsa dancing for their first date and he fell in love with her the same day. 
After three years of dating, the High School Musical star proposed to his girlfriend at Disney World with an engagement ring he had placed inside a glass slipper. 
Clements recounted the moment and what happened afterward.
Corbin proposed at Disney World, and it was perfect. And right after he asked me and I said yes, fireworks went off and people were cheering. Then we stayed in the castle.
The duo tied the knot on July 23, 2016, at Hummingbird Nest in Santa Susana, California. Bleu and Clements wanted to incorporate how they met in their wedding and kept espresso cups with coffee and almond biscotti as their wedding favors.
Speaking to People about their life after the wedding, Bleu shared he was happy to have her as his wife. "She's my favorite person in the world, and she's my best friend. Honestly, if I was trapped in a bubble with her for the rest of my life, I'd be very happy."
Who Is Corbin Bleu's Wife?
Like Bleu, his wife is also an actress. She made her debut as a professional actor in the 2005 fantasy movie, The Snow Queen.
Clements landed her first recurring role as Kiki Kincaid in Majority Rules in 2009. By 2011, she had appeared in a total of 26 episodes on the series.
Some of Clement's other works are Life with Boys (2012), Degrassi: The Next Generation (2015), and Open Heart (2015).
She also appeared as herself in a 2016 episode of Say Yes to the Dress. The episode followed Bleu and Clements in their quest to find her dream dress for their wedding.