Colton Underwood and Jordan C. Brown Are Engaged and Are Set to Marry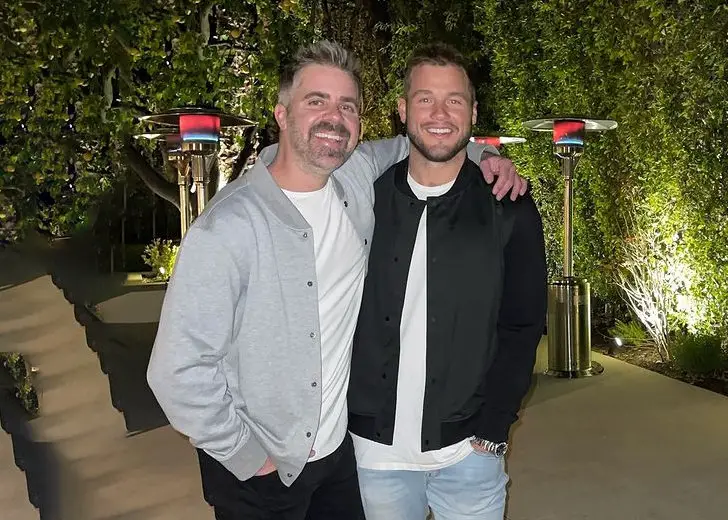 The Bachelor star Colton Underwood got engaged to his partner, Jordan C. Brown in February 2022. Brown surprised Underwood with a proposal during a weekend getaway to California to celebrate Underwood's 30th birthday.
Underwood and his boyfriend broke the news of their engagement on their respective Instagram with a picture each from the celebration. In Brown's post, he and his fiancé can be seen popping a bottle of champagne.
"The only time in my life I'm ok with wasting a bottle of champagne. I love you babe," he captioned the post followed by a string of celebratory emojis.

Colton Underwood with partner Jordan C. Brown during their engagement (Source: Instagram)
In Underwood's post, he and Brown could be seen walking hand in hand with huge smiles on their faces. The Bachelor alum also expressed his excitement towards his upcoming life with his partner.
Colton Underwood Is Engaged to Boyfriend Jordan C. Brown
On March 22, 2022, Underwood took to Instagram to upload a short clip that was full of pictures from the day he got engaged.
According to husband and wife photographers Anthony and Kendal DeLaura, the snaps were taken at Post Ranch Inn in Big Sur, California.
When talking about the proposal, Underwood revealed it came as a surprise to him.
"We knew very early on that we were meant to be for each other. My only thing was, 'I want to be surprised when you ask me.' So, he did a great job," he shared.
Colton Underwood's Wedding Plans with Partner
Underwood and his boyfriend got engaged after roughly a year of dating. However, both of them have said they feel confident about the other being the one for them.
While the reality star and Brown have not yet shared anything concrete about their wedding plans, they are already looking forward to it.
"As far as the wedding goes, we obviously have a lot of planning to do, but there's been quite a backlog of venues, so we're still trying to figure it out," Underwood said.
"But we're just enjoying the moment right now and enjoying the space and time of life that we're in."
Underwood also previously revealed he wanted to have kids.
He said he felt like he was "born to be a dad," and expressed how he couldn't wait for the day to come.
However, he also noted that he and his partner did not have any true timeline for when they wanted to expand their family.