Collin Morikawa's Parents Fully Supported His Golfing Interests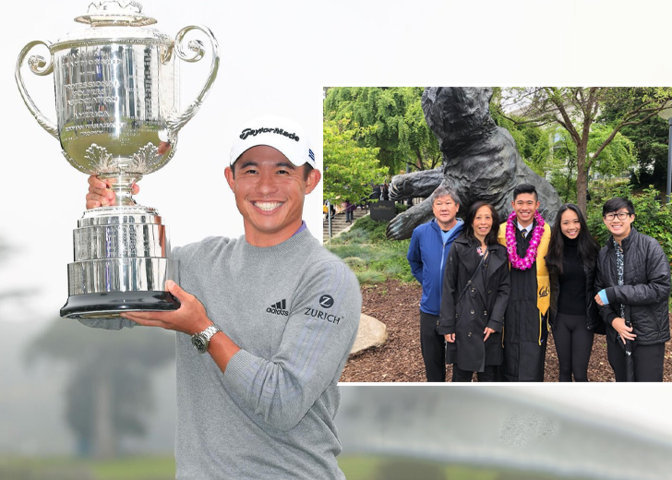 In July 2021, Collin Morikawa captured his second major championship at the 149th Open Championship and became the first men's golfer to win his debut at two separate major events.
He thanked his family and parents for his history-defying win. 
Morikawa was born on February 6, 1997, to Debbie and Blaine Morikawa in Los Angeles, California.
And for those wondering, "is Collin Morikawa Japanese," Morikawa is indeed of Japanese descent.

Collin Morikawa with His Parents and Siblings (Source: Collin Morikawa's Instagram)
His parents ran a successful commercial laundry business in LA that delivers linens, tablecloths, and the likes to restaurants in the area.
The earnings from the business offered Morikawa and his brother a comfortable upbringing.
I've been very lucky. We never had to think about money growing up. I wasn't a kid that wanted many things. But if I needed something, or I wanted something. I was very lucky to have parents who could afford stuff like that.
Collin Morikawa's Parents Pushed Him
It was his parents who pushed him into golfing. 
Morikawa shared to Golf Digest that his family often traveled to Hawaii, where his fraternal grandparents still live. 
When Morikawa was 5, his parents convinced the organizers of a junior golf camp at Scholl Canyon, a 3,039-yard, par-60 track, to let him participate even though he was too young.
There, an instructor named Rick Sessinghaus worked. 
Sessinghaus only trained the better players, and Morikawa slowly got interested in the game and progressed, and when he was eight years old, he finally got the chance to be coached by Sessinghaus. 
So after I went through the camp, my parents could see I was getting better. So they approached Rick to see if he would coach me, and by the time I was 8, we had started this relationship.
Fortunately, Sessinghaus agreed, and by the time Morikawa was ten years old, he quit playing other sports.
Under Sessinghaus' guidance, Morikawa progressed by leaps and bounds during the next few years, until the coach was convinced that Morikawa had something special.
They spent years perfecting Morikawa's golf swing, and their relationship continues to this day. 
Collin Morikawa Finishes College
Morikawa finished college before fully focusing on golf. He attended Berkeley and golfed for the college team.
He emerged as the top player as a freshman in 2015-16. 
He was ready to turn pro, but Morikawa knew he was not prepared at 19, so he joined the Haas Business School just as his golf had taken off.
He shocked people with his decision. After all, why did a golfer need a business degree? 
Morikawa explained he did not just want to golf but understand everything that was going on around him.
During his sophomore year, he also met Katherine Zhu, a player on the Pepperdine women's golf team. 
They have been together ever since and currently live with their dog. In 2019, Morikawa finally went pro.
He shared Zhu has helped him a lot during his tournaments. He noted that traveling with her during tournaments has helped him relax off the golf course. 
And thanks to the unconditional support of his girlfriend. Morikawa has been winning.